Military pilots no longer deal only with predator drones when airborne, but also actual predators—namely, birds. Aircraft commonly collide with birds in flight, and tests have shown that the jet engine is the part of the plane most vulnerable to bird strikes. So the Air Force developed the chicken gun test if jet engines are protected—it simulates a high speed bird impact by firing a dead chicken into the engine from a compressed air tank.
Once she found out about esoteric military innovations like this one, best-selling author Mary Roach knew she had her next book topic. Ms. Roach, who has authored six books and also writes the monthly "My Planet" column for Reader's Digest, specializes in topics that mix science with what she calls "reported humor."
"I'm looking for things that lend themselves to a humorous touch, because most things in life really don't", Ms. Roach told the Observer in a phone interview.
Military science may not seem like a subject that lends itself to laughter, but Ms. Roach didn't let that stop her. While reporting a story for Smithsonian magazine on the world's hottest chili pepper and how the Indian army uses the piquant seasoning as a weapon, she realized that the science of warfare was much broader than just tanks or machine guns.
Grunt: The Curious Science of Humans at War, the new book that is the result of her investigations, will be released June 7. It goes behind the scenes to investigate aspects of the armed forces that are AWOL from other books, such as weapons development, military clothing design and the role of maggots.
Yes, maggots—a group of entomologists is experimenting to see if they can be used as a wound-healing technique in battle. Evidence from as far back as World War I shows that when the insects are inserted into an open wound, they suck out the infection and help it heal more quickly. As Ms. Roach writes, these creatures aren't as disgusting as they sound:
"Medical Maggots are less off-putting than you might imagine. Straight out of the vial, they're the size of cupcake sprinkles. When they're not eating each other alive, they're kind of adorable. They move like inchworms, like something you might see humping along the pages of a children's book."
Ms. Roach said that she didn't have a detailed outline before she began writing, relying instead on word of mouth from military personnel. For example, even though she ends the book with a section on medical examiners, the Armed Forces ME office was the first place she visited.
"I'd go one place, and over the course of reporting I'd hear about other projects," she explained. "The topics presented themselves as the information unfolded. The things in the book changed a lot as I was reporting."
From the beginning, however, Ms. Roach knew that she didn't want to write a conventional military thriller.
"Much of what is written is about the drama of combat and facing the enemy, and the aftermath of that emotionally," she said. "You forget about the day-to-day stresses of war."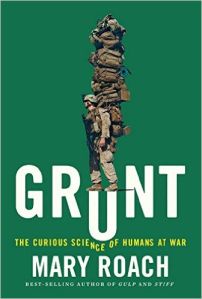 Some of these stresses are actually pretty universal: Ms. Roach found that Navy officers, like many civilians, deal with sleep deprivation. Some junior crew members on submarines get only three to five hours of sleep a night because of frequent drills and testing.
"It makes sense when you hear it, though it hadn't really occurred to me," Ms. Roach said. "It tends to get lost in the high drama of firefights and loss of life."
Many of the struggles soldiers face at home are equally traumatic, especially if they've lost a body part. But Ms. Roach said she found that soldiers, whether they'd lost a leg or a penis, had a surprising sense of humor about their condition, and she tried to reflect this in her writing.
"I'm imagining the person I'm writing about reading the chapter," she said. "It's a system of checks and balances. Humor happens when something is uncomfortable, and is a product of my not knowing what to say or how to behave. It's a little intuitive."
Ms. Roach hopes her readers have a similarly intuitive understanding of both the humorous and serious aspects of war once they've finished reading Grunt.
"There's a tremendous amount of dedication and work that doesn't get covered very much," she said. "I want people to come away with respect for and recognition of that work."