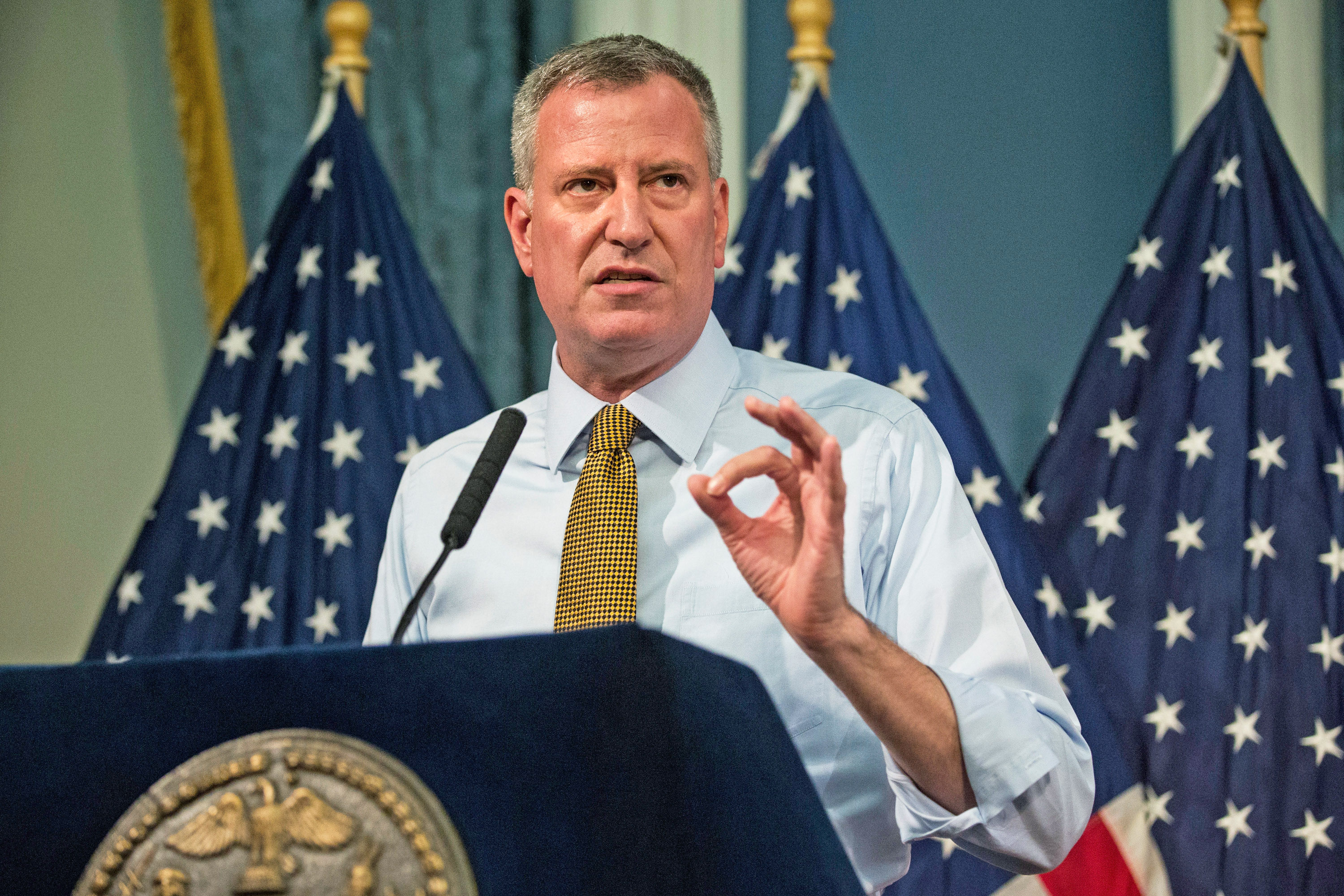 It took about two and a half years, but the mayor's lined up a regular radio gig to take listener questions every Friday on WNYC's Brian Lehrer Show—a move that comes just as his press secretary has announced her departure from the administration.
"I'm going to be doing more and more town hall meetings. I'm going to be doing lots of things to communicate directly to my fellow New Yorkers," Mr. de Blasio told Mr. Lehrer, who noted his show had asked Mr. de Blasio to be a weekly guest when he was first inaugurated but had been shot down. "Brian, you know, at the beginning of the administration we had a lot we had to get done quickly. A lot of that is now underway and working, and I think this is the kind of format that makes sense to have even more direct contact with everyday New Yorkers."
Former Mayor Michael Bloomberg took questions weekly from radio host John Gambling, and Mayor Rudy Giuliani also held a weekly call-in show (where he once famously berated a man about keeping pet ferrets). But Mr. de Blasio discontinued the tradition when he took office, speaking at first sparingly and mainly to WNYC and the hip hop radio station Hot 97. He also did not hold in-person town halls for the first few years of his tenure—arguing that he got plenty of input from everyday New Yorkers when working out his Park Slope YMCA.
But gradually, under press secretary Karen Hinton, that began to change. Mr. de Blasio began holding town halls in each borough, and expanded his use of radio as a favored format—even before today's announcement, he's appeared as a Friday guest on Mr. Lehrer's show with increasing frequency in recent weeks.
Today's appearance on Mr. Lehrer's show came just hours after the New York Times first reported that Ms. Hinton, who joined the administration just under a year ago, had submitted a letter of resignation and would be departing in June, after Mr. de Blasio's budget is adopted.
Ms. Hinton has been well-like by reporters, who have credited her with making positive changes to a press shop that was once widely regarded as non-responsive the media inquiries. She formerly worked for Gov. Andrew Cuomo, who has been locked in a feud with the mayor, and it was not long after her arrival that Mr. de Blasio went on the offensive against him.
The mayor's press team, and Ms. Hinton herself, have still encountered fits and starts. Her early April resignation letter came right around the time Mr. de Blasio blamed his press office for a negative story about plans to delay the building of a critical water tunnel, insisting the administration's position had not been explained properly. And Ms. Hinton was not a part of the mayor's original inner circle, a tension that sometimes floated to the surface—as when the mayor's former press secretary, Phil Walzak, walked back comments she made about the governor last year.
Mr. de Blasio said today Ms. Hinton had done "a great job" and was leaving to spend more time with her daughter.
"Insiders may want to characterize, you know, the communications strategies the way they want to, but I think the people are receiving the reality of our policies. They're feeling the realities of our policies," Mr. de Blasio said.
But the optics of Ms. Hinton leaving aren't great—the mayor's administration and campaign are currently the focus of multiple criminal inquiries that have dominated the front pages of the city's tabloids.
"I think there's no one in the history of New York City politics that has convinced tabloids not to be tabloids," Mr. de Blasio said. "But the bottom line to me is, I'm fully responsible for everything done in my administration. I don't have anything bad to say about my team. If there's ever an instance where I haven't communicated sufficiently, or I've made a mistake, I take full responsibility. The buck stops here."