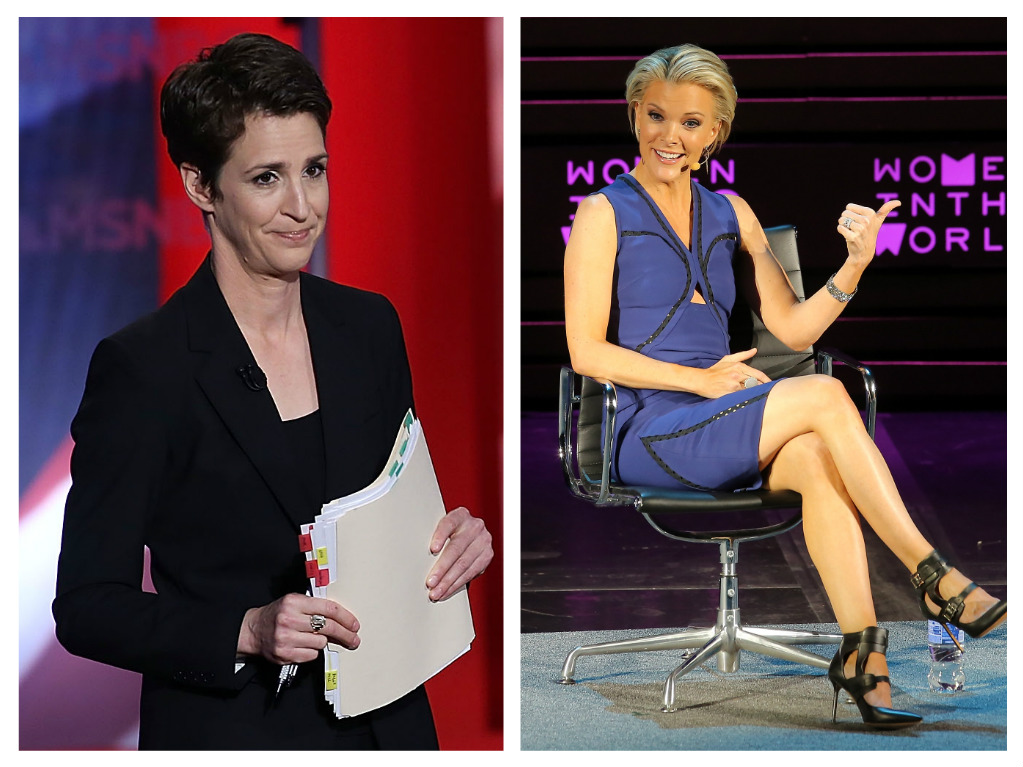 Megyn Kelly and Rachel Maddow occupy the same time slot and work in the same Manhattan neighborhood and both are stars in the cable news universe. But these two anchors dwell in radically different worlds when it comes to news judgment, particularly on political stories.
Compare and contrast, for instance, their shows on Wednesday night—Ms. Kelly on the right-wing Fox News Channel, Ms. Maddow on the progressive MSNBC.
For the first 11 minutes of Ms. Kelly's show, the screen was filled not, for a change, with high camera shots of Ms. Kelly's legs under glass. Instead, Fox ran almost continuous footage of violence outside Donald Trump-for-president rallies in New Mexico and California.
"An ugly display by angry demonstrators, directed at Donald Trump and his supporters," Ms. Kelly said. "A terrifying display in Albuquerque, New Mexico, where a protest quickly turned dangerous as anti-Trump forces erupted, burning American flags, attacking folks as they went to hear Mr. Trump."
The images on the Fox screen looked almost as chaotic as the four-person interview (all from remote locations) that Ms. Kelly tried to conduct with minimal cohesion. Thanks in part to Ms. Kelly's sloppy hosting, all four kept interrupting and shouting over each other.
It got so bad, Ms. Kelly rolled her eyes and burst into laughter. (Pssst! Next time, raise your voice and say twice the name of the person you want to speak).
The control room kept cutting from this debacle to images of police with horses, helmets and clubs. Then, signs bursting into flames. And smoke and pepper spray and big guys shouting profanities while wearing clothing that looked like the Mexican flag.
One of Ms. Kelly's loudest guests was David Wohl, a lawyer and Trump surrogate, who saw the great and nefarious conspiracy among the demonstrators.
"They're not protestors," he said. "They're organized, violent extremists who think they can threaten, harass and intimidate Trump supporters… They are energizing and galvanizing Trump supporters… Bernie (Sanders) and Hillary (Clinton) supporters are intransigence, anger, violence. 'We're going to destroy property, we're going to injury innocent people and cause total chaos.'"
It's the same elephant, sure, but their perspectives are very different.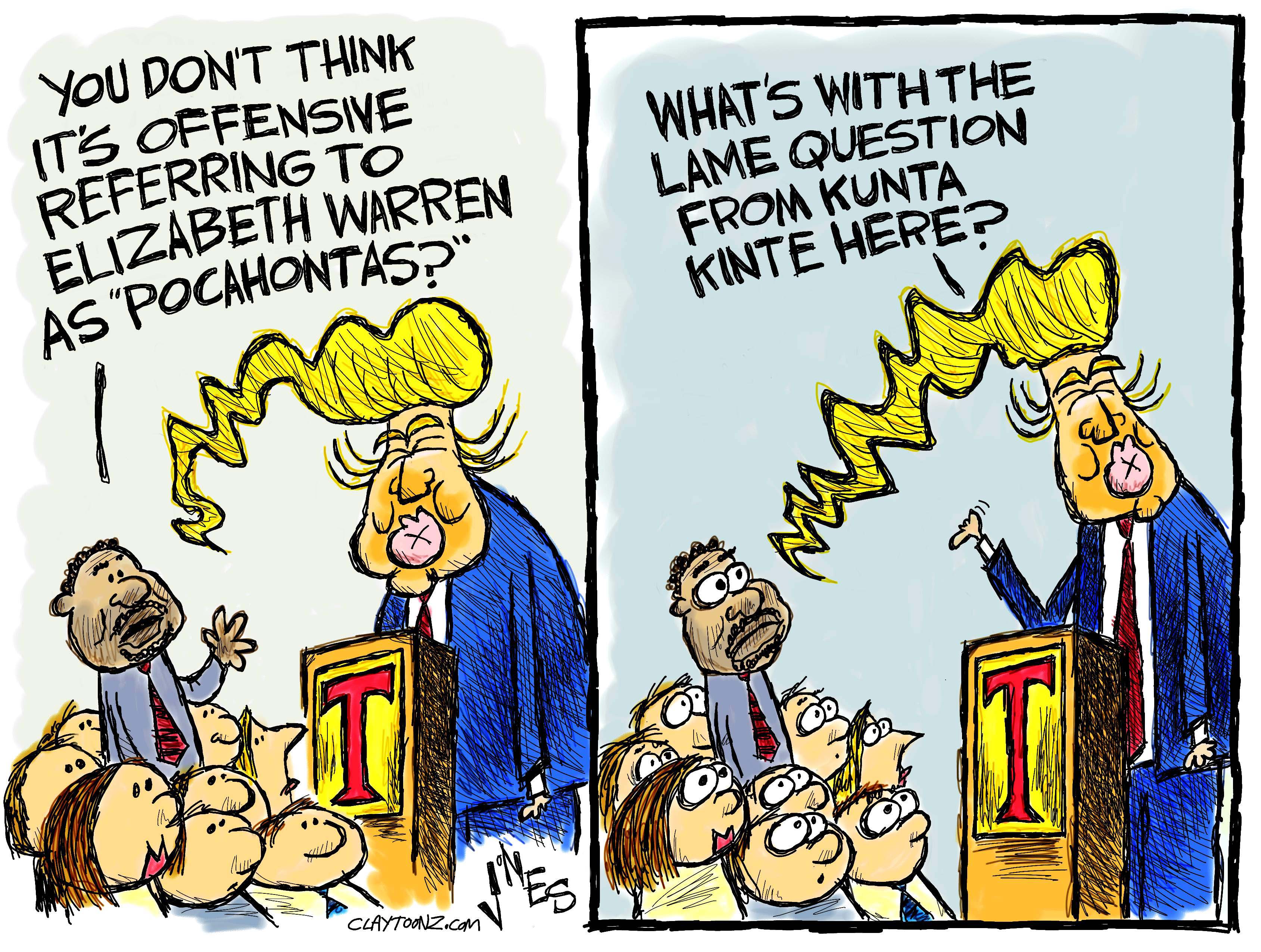 At no time did Ms. Kelly ask proof of this or address the reasons for such anger at Mr. Trump. Nor did she ask her guests. No protestor was interviewed.
But in the 20th minute of The Kelly File, Ms. Kelly introduced a segment about Mr. Trump insulting New Mexico governor Susana Martinez, who happens to be female, Hispanic and the chair of the Republican Governors Association.
Over at MSNBC, that very story was the lead segment of The Rachel Maddow Show, although—as usual—she took her sweet time to get to the point.
First, she showed actor Clint Eastwood talking to an empty chair in an embarrassingly bad sketch at the Republican Convention in 2012. Next, from the same convention, Ms. Maddow showed a bit about how New Jersey Governor Chris Christie threw his considerable political weight around backstage to get a video tribute to himself aired in the arena before his windy speech that didn't mention candidate Mitt Romney until the 16th minute.
Then, she showed a clip of Mr. Christie speaking. (Ironic how she found fault with him for burying the lead). Next, she showed Mr. Romney's acceptance speech, and dissed it for not mentioning war or his possible role as commander-in-chief.
Finally, she showed a flattering highlight of a speech by Ms. Martinez and praised it as the best oratory of the convention.
At last, after more than 10 minutes of backstory, Ms. Maddow reported that Mr. Trump had insulted this Hispanic woman who is head of the Republican Governors Association.
"We've got to get your governor to get going, OK?" Mr. Trump said to a rally crowd. "She's got to do a better job… We've got to get her moving. Come on, let's go, governor."
Ms. Maddow took offense.
"He seems to be implying that she was slow or indolent or something," Ms. Maddow said. "It was strange."
Calling Mr. Trump's words "emotionally unusual," Ms. Maddow said it was "an attack that was canted in a way I've never heard Donald Trump attack another politician before."
She said it was hard to imagine how Mr. Trump denouncing Ms. Martinez fit into any Republican presidential campaign playbook.
"But anybody who tells you that Donald Trump has turned over some new leaf and is now acting more presidential these days… that person has not been listening to Donald Trump," she said.
Her show kept getting better. Ms. Maddow delved into the peculiar insult Mr. Trump uses for Senator Elizabeth Warren, calling her "Pocahontas" because she has said she has some Native American ancestry.
His "racist, sexist name-calling" extends to Hillary Clinton, she said, noting Mr. Trump calls her "crooked" and "a low life." She showed a clip to illustrate his tone.
"She is a total lightweight, believe me," Mr. Trump said. "And I will never say this—but she screams. It drives me crazy. I didn't say it. I can't listen."
Finally, Ms. Maddow showed a clip of the guy named "Dave" who introduced Mr. Trump with the words "Even Bill Clinton chose other women. So should you."
Only after this material did Ms. Maddow show 45 seconds of video of the violence outside Mr. Trump's rallies as she moved into a short segment on the topic, the second on her agenda that night, a much different news judgment than that of Ms. Kelly.
The two of them are like the fable of the two blind men feeling different ends of an elephant. It's the same elephant, sure, but their perspectives are very different.
Disclosure: Donald Trump is the father-in-law of Jared Kushner, the publisher of Observer Media.