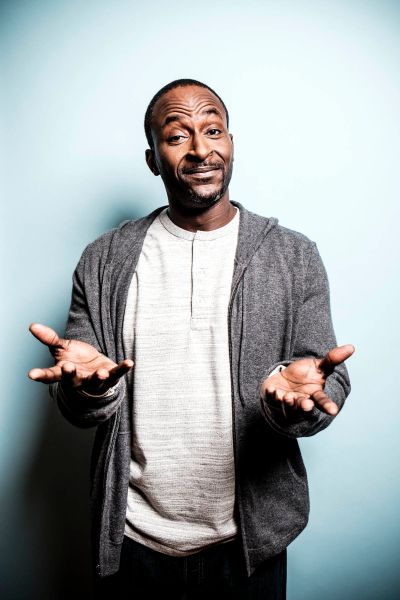 It was 1:30 p.m. on a recent Thursday, and Mike Yard was lounging on a couch in his office at The Nightly Show headquarters, on 54th Street in Hell's Kitchen. The space, which he shares with the comedian Ricky Velez, a co-correspondent, had the feel of a college student's dorm room in the lead-up to final exams, with sheets of paper strewn about and a lava lamp and a plasma globe begging to be plugged in. CNN was blaring from a flat-screen TV mounted on the wall, but Mr. Yard, who is 46, didn't seem to be paying the news any mind.
There was a lull in the day before rehearsals, and he was casually doing research for that night's show. Nina Schelich, the costume designer, walked in with an armful of clothing. "Can I wear that Brooklyn Dodgers shirt for the panel?" Mr. Yard, a die-hard Mets fan, asked. She told him no—no sports teams or logos on the air allowed. Mr. Yard, wearing a black Jacksonville Jaguars hoodie, slumped back in his seat. "Really?" he said. "Shit."
Ms. Schelich promised that she would bring him a raglan-cut shirt, since they were talking baseball that night. And sure enough, there he was, around 11:45 p.m.on Comedy Central, in a gray and white baseball tee, expounding on the dwindling African-American presence in the MLB alongside the show's host Larry Wilmore, contributor Holly Walker and the documentarian Ken Burns.
"Follow me on this one," Mr. Yard ventured, as the audience began to chuckle. "I blame Michael Jordan."
"What?" Mr. Wilmore said, incredulous.
"Think about it," Mr. Yard went on. "After he tried to play baseball in '94 and he stunk, black kids was like, 'Well, fuck, if Michael Jordan can't play, I'm not playing.' "
It was classic Mike Yard, an informed yet improbable theory, aware of its own absurdity, that just might be true if you squinted your eyes enough to blur outs its gaps in logic. It was also the observation of a veteran stand-up comedian attuned to the delicate subject of race but not willing to treat it delicately—an observation made not only for laughs but to elicit a kind of intellectual double take.
Mr. Yard has been doing a lot of that lately. Since he joined The Nightly Show last year, he has established himself as one of Larry Wilmore's most reliable and distinctly voiced correspondents: a sharp-edged, intelligent, unfiltered and often wince-inducing presence in late-night satirical news.
In "The Nightly Show Film School With Professor Mike Yard," for instance, the correspondent instructs viewers on the art of police brutality video production. "What's a bigger tragedy?" Mr. Yard asks, doing his best Alistair Cooke impression. "A black man getting kicked to death by the police or shooting it vertically?" In "The Y Files," an ongoing segment, Mr. Yard plays a nutty conspiracy theorist who draws connections that would make a 9/11 Truther look reasonable. Then there's "Black Batman," in which Mr. Yard plays … a black Batman who gets the shit kicked out of him when he meets with the cops one night. "I'm on your side!" he screams as the billy club blows rain down. "This is not what the signal was for!"
"You can tell that Mike just doesn't give a shit, and I love that," Mr. Wilmore told me in a telephone interview. "When you laugh at Mike, partly you're laughing at somebody you know is not being careful. He's just telling it like it is, and that's part of his charm."
***
Mr. Yard, who is tall but kind of slouchy and likes to wear comfortable purple sweaters, is an unlikely candidate to have achieved this kind of mid-career success. He didn't see it coming, anyway. "I'm older," he told me. "I never expect when I go on auditions that I'm gonna get it." Before he came on to The Nightly Show, he had been working—and working and working—for more than 20 years as a full-time stand-up comedian, a fulfilling if at times trying couple of decades.
"Yard was one of those people that I knew was just too undiscovered," said Rory Albanese, The Nightly Show's executive producer, who brought Mr. Yard on.
Born in St. Croix—he grew up in an affordable housing community in Frederiksted—Mr. Yard took a rather circuitous route to the stage. At the age of 13, he moved with his parents and siblings to East New York, in Brooklyn—at the time (the 1980s) a neighborhood overrun by crack and crime. He went to Hunter College and studied to be a computer programmer. "I stayed local because we were poor," said Mr. Yard, who still speaks with a slight Cruzan accent. But the curriculum didn't excite him.
In his early 20s, Mr. Yard worked briefly as a union representative at the Museum of Modern Art. He led a strike and won, which made him consider a future in that realm. "I was fighting for people struggling to pay bills, and we had to listen to rich people tell us that we weren't worth a fucking minor wage increase," he said. "We kicked their ass, and they can't tell you otherwise." He didn't pursue union work, but the experience gave him his sense of righteous indignation—and it serves him well on The Nightly Show, which, seemingly by design, often feels more serious than funny.
Though Mr. Yard came of age idolizing Eddie Murphy and Richard Pryor, he didn't come to see stand-up comedy as a career option until he met a security guard at Grand Central Terminal, when he was running a store for the MoMA. The guard, who went by "The Toothless Lover," was moonlighting as a stand-up comic. His catchphrase was, "I'm here to tell the tooth, the whole tooth and nothin' but the tooth."
Mr. Yard started helping The Toothless Lover write jokes, who, in return, encouraged the 24-year-old to write for himself. So he did. He jotted down two minutes of material and headed to the Uptown Comedy Club in Harlem for its "New Jack" segment, run by the late, great insult comic Monteria Ivey. "It was like the club that black comics would go to because you can't get into these mainstream clubs in the city," Mr. Yard told me. "They limit it. I've had bookers tell me, 'I already have enough black people on the show,' like literally to my face. Like it was not even an issue."
Before that problem became apparent, though, Mr. Yard had to earn the respect of his audience. The first time he got called to the stage, he choked and left the club. The second time, he was introduced by a young Tracy Morgan, who was emceeing that night, and Mr. Yard summoned the courage to go up with a bit of observation that women don't fart in front of you until you live with them. "That was my first joke I ever did," Mr. Yard said. "My girlfriend farted on my leg, and I was like, 'You never did this when we were dating.' " The joke got a lot of laughs.
Emboldened by the success of his first bit, Mr. Yard left his job and started working as a full-time stand-up, taking whatever gigs he could get. He worked his way through the Chitlin' Circuit, performing in barbershops, beauty salons, bars, bakeries. "I did a show one time on Flatbush Avenue in Brooklyn, and it was a bunch of thugs. I was scared as shit going in there, because I'm like, these dudes all look like they just left the drug spot, like they were gangsta looking," Mr. Yard said. "It was one of the best shows I've ever had in my life … One guy was laughing so hard that he threw his chair across the room. He was like, 'I'm done! I can't take it no more!' And he just fucking left. I loved it. I was like, 'Dude, come back!' And he was like, 'Naw, son, you killin' me right now.' "
After about a decade on the road, Mr. Yard had insinuated himself into the New York comedy scene—a relative unknown to the outside world but deeply respected by his peers on the stand-up circuit.
In 2011, his life was derailed. Mr. Yard's wife, the actress and TV producer Mia Amber Davis, died suddenly from a blood clot after a routine knee surgery. They had been married for just three years, and the reality of the loss paralyzed him. "She was my biggest fan," said Mr. Yard, who has a 21-year-old son from a previous relationship. "I did nothing. No stand-up or anything for about four months. I wasn't sure if I could ever do it again."
By the time Mr. Yard summoned the energy to get his career back on track, he had few aspirations beyond simply honing his craft and getting into better clubs. "I was just focused on the best stand-up that I could be," he recalled. Mr. Yard had made appearances as a stand-up on TV—Def Comedy Jam, BET—but the prospect of working as a late-night correspondent had never really occurred to him. He knew what kind of comic he was—race and relationships were among his particular strengths—and had, for the most part, gotten to where he wanted to be on his own terms.
***
Mr. Wilmore's show is unique in the late-night talk show universe because his correspondents are not only expected to go on field projects and perform in nightly skits—they are expected to have opinions on basically everything. At a time when Comedy Central viewers are mourning the loss of wise elders Jon Stewart and Stephen Colbert, The Nightly Show has stepped up and positioned itself as a program with mature, dependable perspectives—differentiating itself from Trevor Noah's slightly-less-sure-of-itself Daily Show, which, as Willa Paskin recently wrote in Slate, "mugs and winks like The Daily Show, but that has only a diluted point of view."
"We just realized, let's create our own bench," Mr. Wilmore told me. "We call it the barbershop." Mr. Yard's role in that barbershop "is to represent a part of the struggle that needs representing," as he put it. "I know who I am. I'm that guy who grew up in the hood and still goes to the hood almost every other day, and so I have that connection."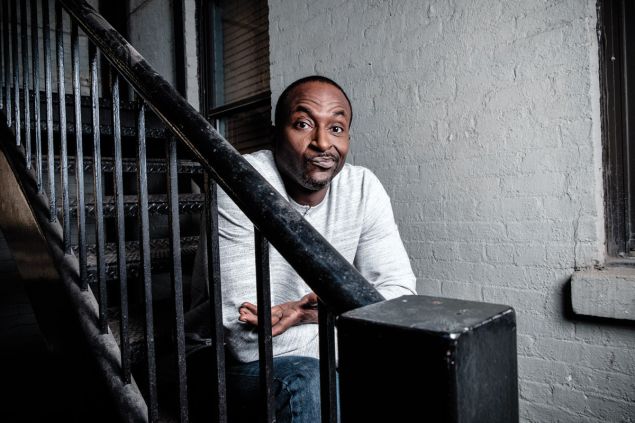 The transition from stand-up to a more sedentary gig on The Nightly Show came easily for Mr. Yard. "I've done this panel thing my whole career," he told me one afternoon not long ago. "The Comedy Cellar has a table for comedians upstairs, and all we do is talk about whatever's going on, and we have arguments, and we're usually the loudest ones in the restaurant."
Regarding the presidential race, the topic du jour, Mr. Yard said he isn't impressed with any of the three remaining candidates. He would love to live in the America that Bernie Sanders wants to create, but Mr. Yard doesn't think he has a chance, nor does he think Mr. Sanders' progressive agenda is realistic. "People give me shit about it," he said. "But I live in the real world." Mr. Yard doesn't trust Hillary Clinton, and Donald Trump—well, he's Donald Trump.
"I think I'm writing somebody in, to tell you the truth," Mr. Yard told me.
"Maybe Dave Chappelle," he mused. "He's a brilliant dude."
Having appeared regularly on The Nightly Show for about two seasons, Mr. Yard, who lives in East Elmhurst, near the LaGuardia Airport, gets noticed more in public now. One kid on the subway, for instance, asked if they could take a selfie together and then tried to sell him weed. (He didn't buy any.)
Looking ahead, Mr. Yard said he'd like to use his presence on TV to get into better clubs and perhaps small theaters. He recently got himself an agent. Mr. Yard still does stand-up on the weekends—his haunts are the Comedy Cellar and Stand Up NY. He has a regular podcast, too, called "Yard Talk," in which he discusses the subjects of the day with his co-hosts Luna Tee and Carla Keyz. Along with all that, Mr. Yard is working on an hour-long stand-up routine, more autobiographical than his previous stuff. He hopes to have it picked up for a special, perhaps on Netflix.
He watches The Nightly Show show every evening with critical distance, looking for imperfections he and his colleagues can improve on. Over the past year or so, he has butted heads with guest panelists, like Al Sharpton, who took issue with Mr. Yard's disappointment with Barack Obama's legacy. There have been times, too, when his unfiltered opinions and observations have riled viewers up.
On a recent panel in March Mr. Yard was discussing sexism with Nightly Show correspondent Robin Thede, Mr. Wilmore and Joanna Coles, the editor of Cosmopolitan. The subject was a tweet by Morning Joe host Joe Scarborough, which instructed Hillary Clinton to smile after a string of primary victories. Mr. Yard, as usual, took the contrarian angle, suggesting that he might agree. He only meant Ms. Clinton should be proud of her accomplishments; but the internet quickly seized on the sexist trope of men telling women to smile more.
"I've been dealing with this for like a week," Mr. Yard told me when we met in a private green room at The Nightly Show headquarters. "Apparently women find it quite offensive. I don't see the sexism in it, but I do see how it could get to the point where you're just sick of it. And I get it." But Mr. Yard also bristles at the assumption. "When you say it's sexist, you're saying you know exactly what the intention was. So you're a mind reader."
He was surprised by the backlash he had been receiving on social media but not entirely bothered by it. "I get passionate, and sometimes it might seem aggressive. But that's not my problem—that's your problem," Mr. Yard said. "I'm just speaking passionately, and if you feel threatened, then that's on you. I can't do anything about that, other than change who I am.
"And I'm not doing that for anybody."