Practicality is the new binding factor among those with an appetite for luxury watches. What's more, the usefulness of a favorite timepiece is cemented in the owner's experience. A watch represents a monumental moment in life. For Paige Hospitality Group president Brian Mazza, it was his wedding. For venture capitalist William Heath, an exotic locale visited with friends and family. For Steven Forkosh, creator of The Blu Market, it embodies validation of his success. And for Elliott Taylor, partner at Sutton & Taylor LTD, a no-holds-barred adventure around the world. For each of these men, beauty and utility are key to the watch they choose.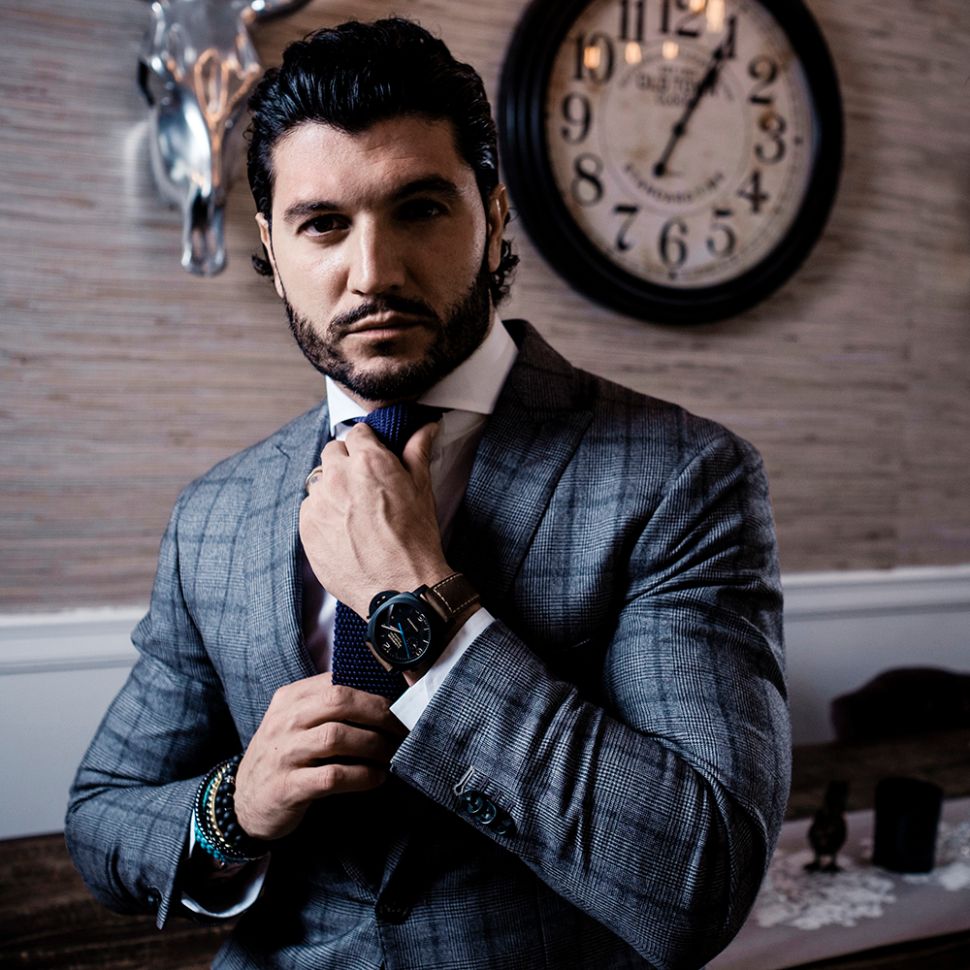 BRIAN MAZZA
Brian Mazza is one of the few who have cracked the code to a work-life balance. From his rigorous daily workout, to his all-hours role as president of Paige Hospitality Group, a rigid schedule plays a huge role in his life. His watch obsession began long before his career. "I initially got into watches while I was living in Florence, Italy," he recalled. "It's a country where men take their watch game very seriously. There was a watch boutique I would walk by that had the most beautiful collection of U-Boats and Panerais. I couldn't afford a Panerai at the time, so I purchased a U-Boat since it had similar characteristics. I always told myself I would one day own a Panerai." Among his timepieces, a Panerai Luminor Flyback Ceramica is now a cornerstone of his collection.
While his most recent acquisition is a flashy 1979 Rolex Oyster Perpetual Date Just complete with an 18k yellow gold lapis stone dial and handmade blue crocodile strap, he holds a special place in his collection for two particular watches both given to him by his wife, on-air hostess Chloe Melas Mazza. "She bought me two Rolex watches—a Submariner for Christmas, and a rose gold Datejust as a wedding gift," he said. "They will always be extra-special to me."
If he's not being gifted a hefty timepiece, he treads lightly when acquiring new ones. He works almost exclusively with Carl Cohen of CMT watches thanks to his acumen in the vintage sphere. "He has access to everything," Mr. Mazza said matter-of-factly; though, like a car, he's never afraid to discuss the flexibility of the price tag. "Always try and negotiate price," he advised. "You'd be surprised how often you can walk out paying less than asking price."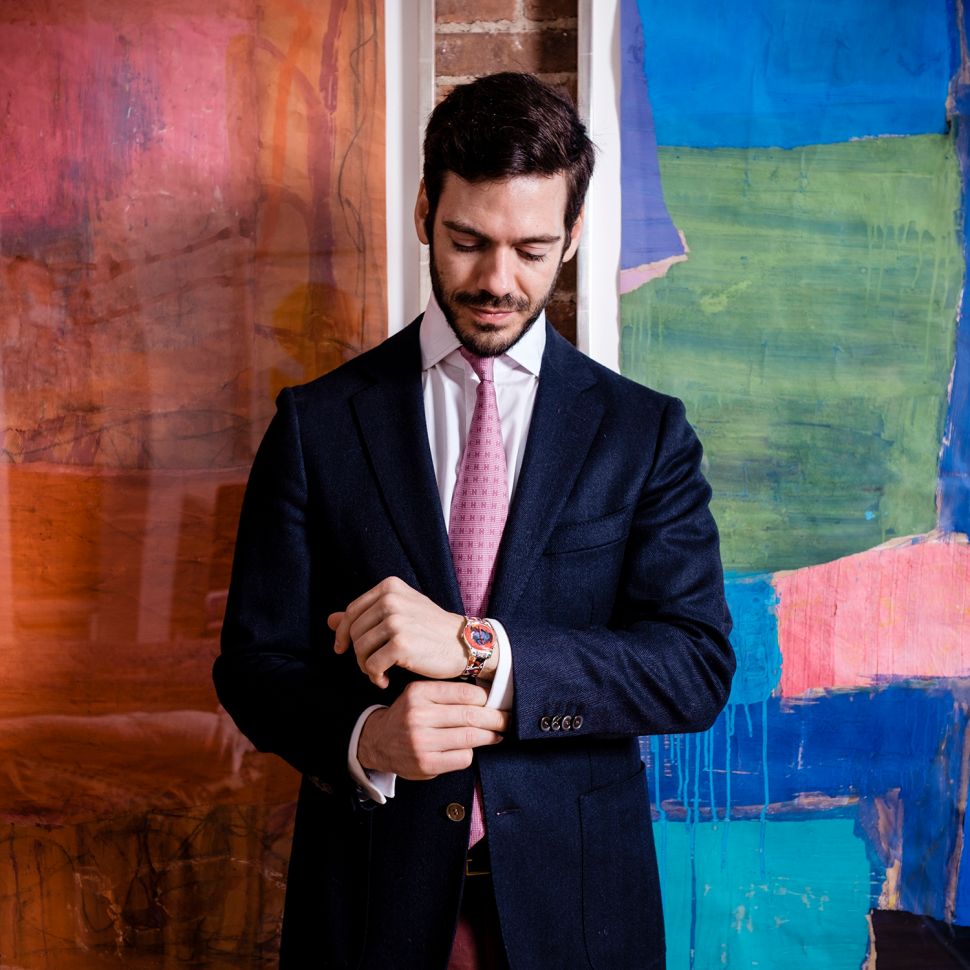 WILLIAM HEATH
William Heath, a young venture capitalist based in Manhattan, has never fallen victim to a watch with a hefty price tag. Instead, he is loyal to one brand: Swatch. "My first watch was a Swatch bought on a skiing holiday to Gstaad when I was about 7 years old," the Englishman remembered. "I picked a face and then mix-matched the watch strap. My mother still has the watch and keeps it on her dressing table, so from then on, I've always had a love of Swatch watches." Since the ripe age of 7, his arsenal of Swatches has blossomed to well over 200 styles, largely snagged in airports around the world. "My parents used to spoil me with a new Swatch when we went on holidays," he said. "So the watches became synonymous with memories of my travels.
"On a trip to Barbados, I bought a Swatch with a very chic blue-and-white striped face, white case, and blue strap," he recalled. "It's got red hour and minute hands and a yellow second hand. I wear it every time I go back to the island." There was also the all-black Swatch purchased en route to a friend's wedding in Croatia. "It's got a white face where there are multiple numbers for each hour scattered around the entire face," he said. "It befitted a weekend where the hours blended together and we celebrated until dawn."
The kid-friendly watches, which usually top out at just a few hundred dollars, are also a practical selection. Both Mr. Heath and his father now collect vintage Swatches, often found on web retailer Squiggly.com, as well as artist editions like the one selected for this story designed by Sam Francis. "This one always makes me smile," Mr. Heath said of the wacky, paint-splattered timepiece purchased in 1992. "I love Swatches because they're fun and collectible but not precious, although I'm very careful and treasure all of them."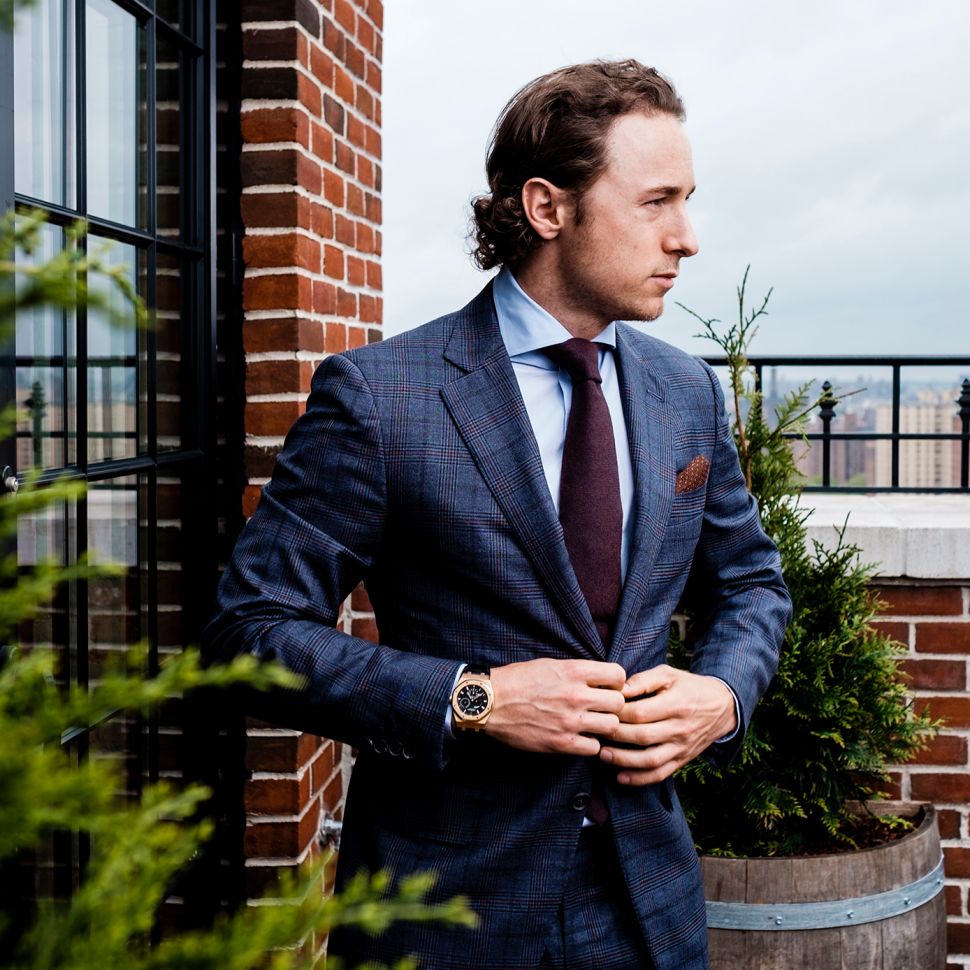 ELLIOTT TAYLOR
At just 26 years old, Elliott Taylor has the watch collection of someone who has been around longer. However, his timepieces do not sit in a dark safe. On the day we met he wore an Audemars Piguet Dual Time in rose gold. "This watch is beat up," he said, displaying the scuffed alligator strap. "I really wear these, and I don't send them in to get repaired. I try to figure it out on my own."
During his waking hours working at his family ranch in Napa Valley, Calif., Mr. Taylor tends vineyards and olive trees, and even ropes cattle, all while sporting a priceless timepiece. "Everybody asks me why I wear such an expensive watch while I'm on a ranch, but I've always been about using what you have right now," he said. "Everyone buys vintage wine and keeps it locked up for hundreds of years, and they die before they even get to drink it. I want to enjoy everything that I have, and honest to God, the more expensive they are, the worse they keep time to be completely honest. Some of the cheaper watches I have keep the best time."
The one watch he safeguards is an industrial Bell & Ross, of which only 250 were made. "It's black and white with an orange dial face," he said. "It looks like it came off the dash of a Pilatus PC 12." Beyond the ranch, Mr. Taylor has an obvious appetite for adventure, and his watches often stand in the line of fire, including one Rolex Deep Sea that beat the odds. "It's got this crystal, unbreakable face on it, and of course I cracked the face," he said of the diving watch. "Somehow I came up from spearfishing in Malibu, and the face was cracked. So I sent it into Rolex, and they said, 'No one's ever done this before.' "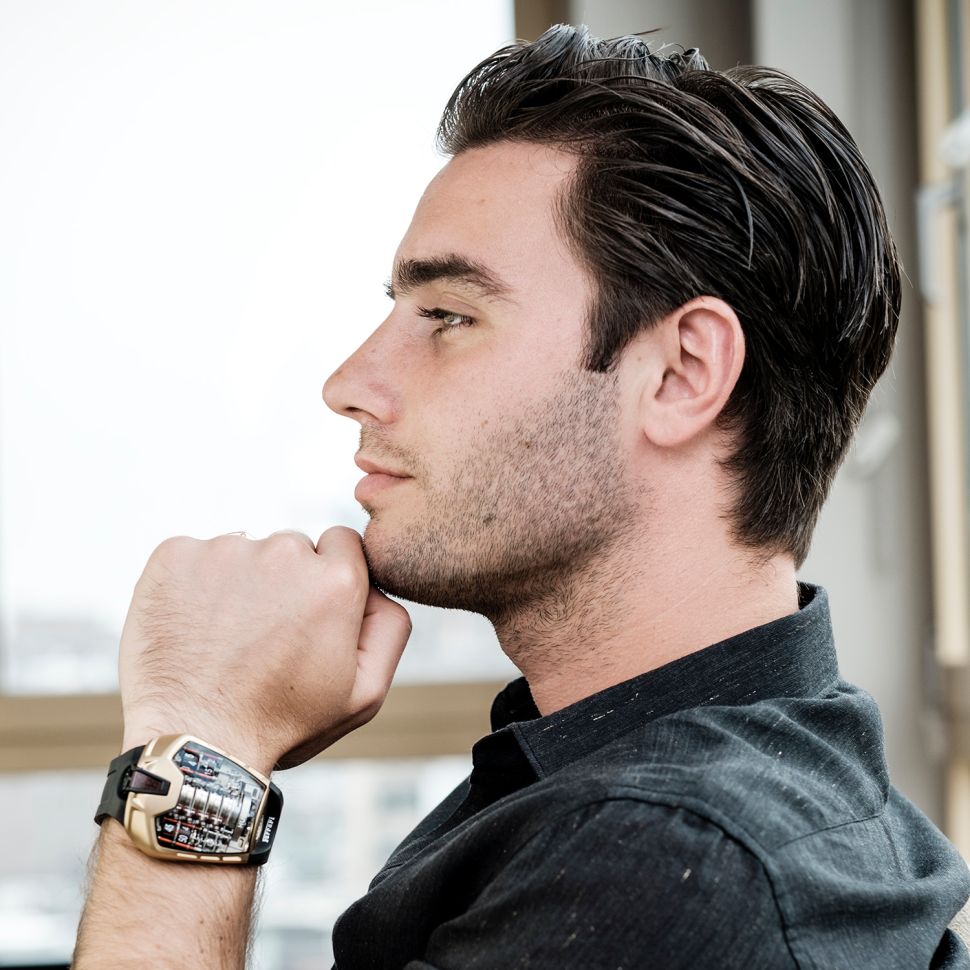 STEVEN FORKOSH
Steven Forkosh, president of social media advertising agency The Blu Market, is decidedly bullish on his watch collecting tactics, looking past the usual trappings of wealth. "I've always had a passion for watches," he said during a visit to The Blu Market headquarters in Soho. "Being a workaholic," he said of his first passion, though some of his others are material, "my first goal was to buy a Ferrari."
"I then realized that I couldn't work hard and showcase a Ferrari every day, I couldn't be constantly driving around in it, so I bought a Ferrari for my wrist." 
Mr. Forkosh's "Ferrari" was actually a Chronoswiss, but now he looks beyond the basics for other factors. Rarity has become an essential facet of Mr. Forkosh's collecting philosophy. "When buying a watch, I look for three things," he counted off. "High craftsmanship, dead stock production and low quantity being sold." This discerning view has shaped a collection and grown it to a grand total of 42 pieces, including a handful from his current favorite brand, Richard Mille. "My watches tend to find me," he added. "I'm known as the top high-end watch collector on the East Coast. If there's a luxury watch on the market, it passes in front of my eyes before reaching any other dealer, vendor or auction." Mr. Forkosh also touts his new wares for the Instagram masses on an account appropriately named "@MrWatchGame."