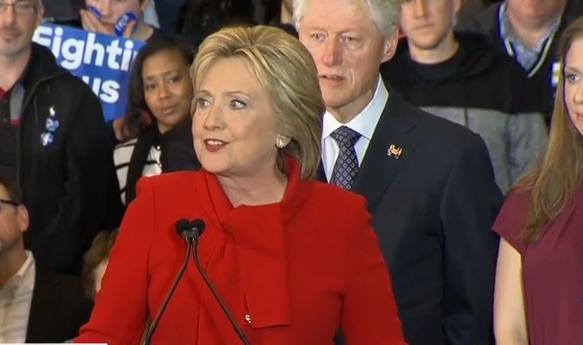 It's close.

The presidential election in New Jersey is close, according to this morning's Monmouth University Poll.

Former U.S. Secretary of State Hillary Clinton holds a narrow lead over Donald Trump in an early read of New Jersey registered voters five months before the general election, the poll finds.

Neither candidate has solidified support among core constituent groups.

In a head-to-head contest, Clinton currently has the support of 38% of New Jersey registered voters and Trump has the support of 34%.  Another 11% volunteer that they will vote for a third party or independent candidate even though the poll question did not include that option, and 15% say they are undecided.  The poll also presented registered voters with a four-way race including Libertarian Party nominee Gary Johnson and Green Party candidate Jill Stein. In this matchup, Clinton leads Trump by a slightly wider margin of 37% to 31%, with Johnson at 5% and Stein at 4%.  Another 6% say they will vote for some other candidate and 14% remain undecided.  New Jersey has voted for the Democratic presidential nominee in every election since 1992.

"Blue Jersey doesn't appear quite so blue at this stage of the campaign, but we should keep in mind that neither major party candidate has fully locked in the support of their partisan bases.  When and if that happens, the benefit should accrue more to Clinton than to Trump simply because Democrats outnumber Republicans in the state," said Patrick Murray, director of the independent Monmouth University Polling Institute.

In the two-candidate contest, Clinton has the support of 72% of self-identified Democrats and Trump has the support of a similar 73% of Republican voters. Trump holds a 44% to 29% lead among non-Hispanic white voters, while Clinton holds a 54% to 14% advantage among black, Hispanic, and Asian voters. Of particular note, 68% of black voters in New Jersey say they will vote for Clinton while only 1% back Trump, but 21% say they are undecided about their vote choice for November.

"Based on historical precedent, these undecided minority voters should break strongly for the Democratic nominee.  On the other hand, not much about the 2016 race has followed historical precedent," said Murray.

In other demographic findings, Clinton leads among women 44% to 28% and Trump leads among men 40% to 31%.  Voters under age 35 prefer Clinton (41% to 27%), while older voters are divided.  Among those age 35 to 54, 36% support Clinton and 32% support Trump, while among those age 55 or older, 40% support Trump and 37% support Clinton.  These demographic dynamics hold when the contest is presented as a four-way race with Johnson and Stein included.

The Monmouth University Poll was conducted by telephone from May 23 to 27, 2016 with 806 New Jersey adults.   This release is based on a sample of 703 registered voters and has a margin of error of + 3.7 percent.  The poll was conducted by the Monmouth University Polling Institute in West Long Branch.