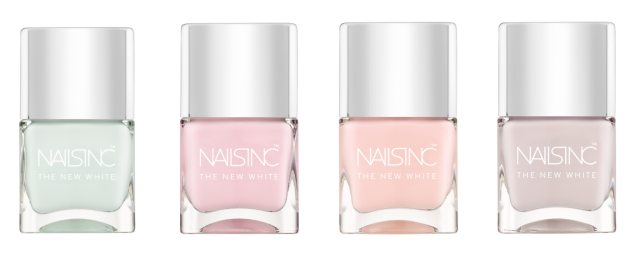 Now that spring has finally decided to grace New York with it's glorious presence, the onset of sandal and perfect pedicure season has truly arrived. While white is an easy go-to color, sometimes it feels a bit boring, especially in the months before your summer glow has truly reached it's peak.
As a remedy for such a predicament, Nails Inc has created a range of hues, which they are calling The New White. The four colors, which include two pinks, a green and a taupe, all have a white base, but with a twist. "We wanted a collection of polishes that paints on white but dries with a hint of color," explained the brand's founder, Thea Green.
However, there's more to the formula. Ms. Green explained: "Thanks to the Porcelain Flower Extract, which is a rare white flower from Thailand, I was thrilled that it delivered the color result and improves nail strength and health, all in a nail varnish." Beat that, boring white polish!
My personal favorite hue was Whitehorse Street, as it brushed onto the nails in a dusty pink hue that was neutral, but still bright. The green-tinted White Swan was a close second, but is a bit streaky, even with two coats. Still, all the colors in this range were a vast improvement on basic white.