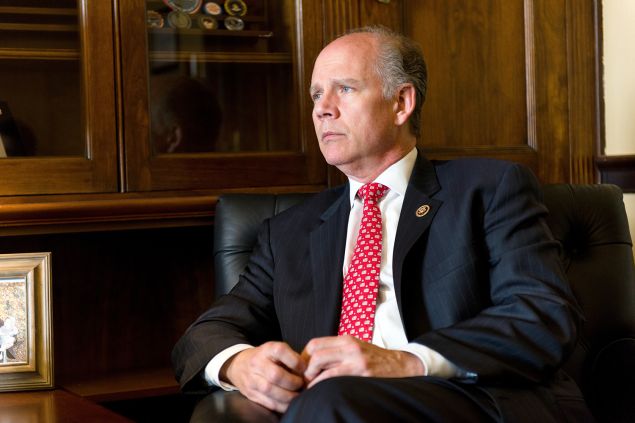 Congressman Daniel Donovan, the only Republican representing New York City in Washington, told the Observer today he is prepared to campaign for Donald Trump in the five boroughs.
The Staten Island pol pledged to help elect the Queens-born billionaire and presumptive GOP presidential nominee in the city they both call home. Mr. Donovan once described Mr. Trump as a "personal friend," but later criticized the candidate's decision to describe the size of his genitals at a Republican presidential forum, and gave his personal endorsement to Ohio Gov. John Kasich.
"I think a Republican's goal here is to make sure that Hillary Rodham Clinton doesn't become the next president of the United States," the congressman said at an unrelated event in his home borough, even as he reiterated that Mr. Trump was not "everybody's first choice."
Mr. Trump performed better in Mr. Donovan's district than any other in the state, winning better than 80 percent of the vote there in his party's April 19 primary. The moderate congressman disavowed the candidate's call for a temporary moratorium on Muslim immigration and his proposal to deport more than 11 million undocumented immigrants and construct a massive barrier on the Mexican border, as well as the mogul's long history of demeaning remarks about women.
"I don't agree with him with his position on Muslims, I don't agree with him on his position on women, I don't agree with him on his position on immigration, but there's other things I do agree with him on," Mr. Donovan continued, adding. "I think that he loves this country, and he would be a better president than Hillary Clinton."
Mr. Donovan did not elaborate on the issues which he concurred with the belligerent businessman on, though both men are outspoken opponents of the Trans Pacific Partnership trade agreement. The pol even told the Observer he believes Mr. Trump could win overwhelmingly Democratic New York in November.
"I do. I think he has a shot to win the entire thing," he said.
A Siena College poll in March found Mr. Trump to have a 29 percent approval rating in his home state—and a 67 percent disapproval rating. The same survey gave Ms. Clinton a 48-48 favorable to unfavorable rating in New York, which she represented in the U.S. Senate between 2001 and 2008 and where she still resides.
A Quinnipiac poll later that month projected Ms. Clinton would carry the Empire State 53 percent to 33 percent. But Mr. Trump's long-dreary numbers have improved nationally since the last of his Republican rivals abandoned their bids earlier this month.
Disclosure: Donald Trump is the father-in-law of Jared Kushner, the publisher of Observer Media.