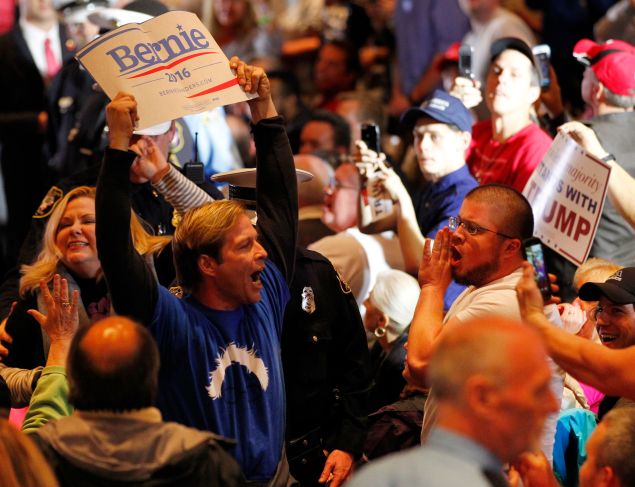 What happens when a Republican nominee faces off with a Democratic long shot?
Vermont Sen. Bernie Sanders set the Internet afire last night when his campaign shot off a tweet welcoming mogul Donald Trump's offer to fill in for Democratic front-runner Hillary Clinton, who dropped out of a planned candidate forum in California.
"Game on. I look forward to debating Donald Trump in California before the June 7 primary," the struggling Democratic contender posted.
Mr. Trump officially clinched the GOP ballot line for November just hours afterward. Mr. Sanders, however, has virtually no chance of closing Ms. Clinton's the 271 pledged delegate lead—let alone the former first lady's 495-strong superdelegate advantage.
It seems unlikely Americans will ever get to see the belligerent billionaire and the self-described democratic socialist go head-to-head, since Mr. Trump's campaign has signaled the comment on the Jimmy Kimmel Live show was just a joke.
But to New Yorkers, the idea of a Sanders-Trump match-up should seem familiar. When Gov. Andrew Cuomo sought his second-term in 2014, he was a prohibitive favorite to take both the Democratic Party nomination and the general election. But he faced discontent on both his left and his right—the former embodied in primary challenger Zephyr Teachout, a professor at Fordham Law School, the latter in Westchester County Executive Rob Astorino, his Republican opponent.
Mr. Cuomo avoided taking on either rival in a public forum. So in August of that year, Ms. Teachout and Mr. Astorino agreed to debate each other on WNYC.
The pair struck contrary stances on issues like campaign finance reform, charter schools and natural gas extraction. But they both portrayed the famously calculating Mr. Cuomo as a cagey character overseeing questionable economic development programs, a figure deeply compromised by special interests and wealthy campaign donors.
It's the kind of tag-team attack Mr. Astorino, who ran under the slogan "Let's Make New York Great Again," said he would expect to see at a Sanders-Trump showdown.
"Just like Andrew Cuomo, most people think Hillary Clinton doesn't stand for anything but for herself, and power, and how to get elected, and there's no core convictions there," the Republican said, pointing to the unfolding federal probes into Mr. Cuomo's Buffalo Billion initiative and Ms. Clinton's use of a private email server as secretary of state. "Even though we disagreed, it was vital to the process, and it gave us both the opportunity to express our views and to go after Andrew Cuomo, who was a common opponent."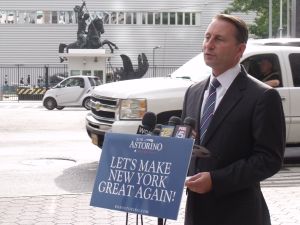 From the standpoint of the county executive, who is revving up to take another run at the governor's mansion in 2018, both the leftist senator and Manhattan real estate developer would stand to benefit from a one-on-one confrontation. And he predicted the two men might stake out a common ground on policy concerns.
"To Bernie Sanders, it's no lose, because he'll becoming out of the limelight soon, as Hillary Clinton becomes the nominee of his party," Mr. Astorino predicted. "For Donald Trump, it's showing that he's fearless, which I think he is, and another opportunity to make Hillary Clinton look bad."
"I think they might agree, not in principle, not in how to effectuate that agreement, but to agree in principle about things that are going wrong. They both have populism in them," he continued. "It was the same way that Zephyr Teachout and I agreed wholeheartedly about the corruption in this state, but we had different ways of getting there."
But Hank Sheinkopf, a Democratic strategist and former Cuomo campaign adviser, asserted that engaging the Democratic candidates represented a tactical error for both Republicans—and a resplendent success for Mr. Sanders and Ms. Teachout.
"It allows the Democratic challenger to position themselves as the best suited to take on the Republican nominee. It diminishes Secretary Clinton, and makes Bernie Sanders look more presidential," he said. "Zephyr Teachout benefited, because it make her appear to be at the same level, the same import as the Republican nominee. It gave her a significance that she did not have."
On the other hand, he asserted Mr. Astorino came out of his debate with Ms. Teachout looking shaky on the issues and offering only the thinnest policy proposals. Mr. Sheinkopf noted that both Mr. Trump and Mr. Sanders have staked their candidacy on a critique of Ms. Clinton's economic views, and that the often evasive GOP nominee risked getting pinned down in a confrontation with the more seasoned Mr. Sanders—and alienating some wayward Democrats and independents who might have voted for him in November.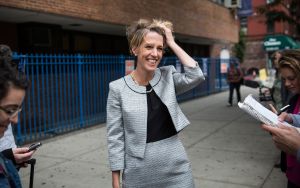 "Astorino needed to do it, because he needed to try to whack Cuomo, and he figured Zephyr Teachout would give him the opportunity to do so. The problem was, he was no match for her," Mr. Sheinkopf recalled. "Unless Trump is prepared to lay out a detailed economic program that would, quote, 'make America great again,' he's positioning himself to lose."
"It's a big gamble. Why get in the ring with someone who's two foot taller than you and has better reach?" he continued.
Both Ms. Teachout and Mr. Astorino went on to fall to Mr. Cuomo by smaller than expected margins.
No matter what, there would doubtless be one major difference between the gubernatorial and presidential face-offs.
The Astorino-Teachout debate was a polite, quiet affair broadcast on public radio, reflecting the low-key style of both candidates, one a suburban pol and the other an academic born in Vermont. The Trump-Sanders battle would be a old-fashioned clash between two of the bluntest, brashest presidential contenders in modern memory, both from the outer boroughs of New York, blasted across America's TV screens via a major cable network.
If only it would happen.
Disclosure: Donald Trump is the father-in-law of Jared Kushner, the publisher of Observer Media.