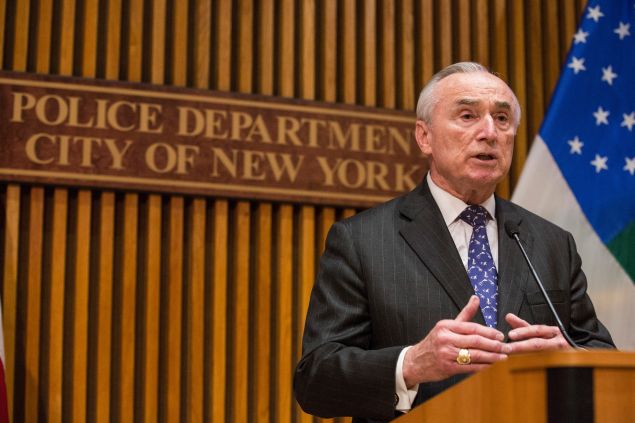 A day after a Baltimore judge cleared a cop of all charges related to the killing of Freddie Gray, a black man, NYPD Commissioner Bill Bratton took aim at prosecutor Marilyn Mosby.
Speaking to Brian Lehrer on WNYC, the city's top cop knocked Ms. Mosby's decision to forego grand jury investigations and to immediately indict the six officers who took Gray into custody last April. Gray emerged from the police van with a broken neck and died a week later, and riots wracked Baltimore in the days that followed.
"The district attorney down there was playing to the crowd. She was inexperienced, she overcharged," Mr. Bratton said of Ms. Mosby, the state's attorney for Baltimore, the Maryland equivalent of a D.A. "In her rush to judgment, I think she had a totally inadequate investigation."
Judge Barry Williams, an African-American, acquitted Officer Edward Nero yesterday of the charges of assault, reckless endangerment and misconduct in office Ms. Mosby had leveled against him. In December, Judge Williams declared a mistrial in the case of Officer William Porter.
"There was an extraordinary stretching of the law in that case, in my opinion," the New York police commissioner said today. "The loss of some of these cases might be the fact that it was not investigated thoroughly."
At the heart of the allegations is that the six officers deliberately failed to secure the handcuffed Gray in the back of the van in order to give him a "rough ride": making abrupt swerves and turns to batter his body against the vehicle's walls.
Mr. Bratton declined to say whether he believe such wrongdoing occurred, but he noted that four more officers still have trials ahead of them—including, in one case, on accusations of second-degree murder.
Ms. Mosby's husband, Baltimore Councilman Nick Mosby, launched an abortive bid to become mayor of the Maryland city this year. Some critics have claimed that Ms. Mosby's charges against the officers were a product of her spouse's political ambitions, or pressure from the Black Lives Matter movement.
Her office did not immediately respond to requests for comment.