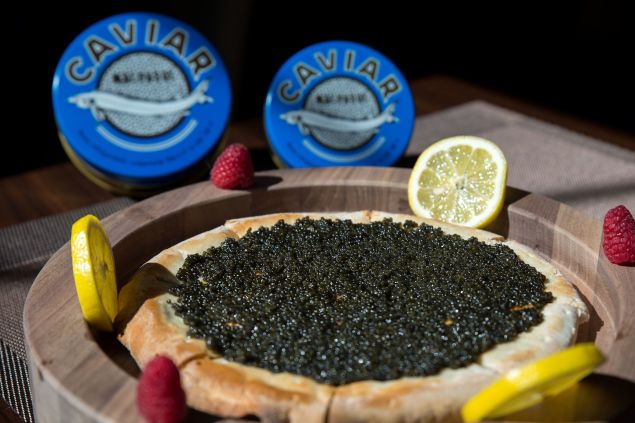 Caviar enthusiasts, get ready. Olma Caviar Boutique & Lounge has opened, and it's offering a whole new experience that's sure to appeal to both caviar connoisseurs and novices.
You might recognize the name from the Olma Caviar Boutique & Bar, located within the Plaza Food Hall, but the new spot at 420 Amsterdam Avenue takes it to another level. It's the creation of Edward Eliachov, whose partner, Igor Eliachov, is the president of Olma Food, the supplier of the restaurant's caviar. This relationship is what allows the restaurant to offer an affordable price tag on this luxury item.
The experience begins upon entering the Upper West Side restaurant, where patrons can opt to sit in plush blue banquettes, at high top tables, or perched on a stool at the bar (with a view of the top-shelf liquor served), all while glittering glass light fixtures dangle from the ceiling.
Unlike many restaurants frequented by caviar lovers, Olma Caviar allows the clientele to sample their selection, without ordering a full ounce. Instead, customers can get just a single serving of the eight varieties of caviar that Olma has on offer that day, either on a blini or on a hard boiled egg.
Depending on customer's tastes, they can opt for salmon red ($5), bowfin ($5), paddlefish black ($9), hackleback ($10), white sturgeon ($15), Russian Siberian aurora ($16), Russian Osetra karat ($22), or, of course, the most luxe of all—beluga ($32).
If one wants a more extensive selection to test out, they can go for the $55 caviar tasting platter, which might just be the most popular item on the menu—it includes a sample of every kind of caviar the restaurant offers, each atop a warm blini with crème fraîche.
Olma's menu also has some more creative uses of the delicacy, like caviar pizza. "I don't think they have this anywhere else," our waitress told us as she explained that there were seven different kinds of caviar pizza at Olma, including a Beluga black caviar pizza for $199. There are also open face sandwiches covered in caviar, though if you've decided on your favorite type of caviar, one of the caviar platters might be the best route. It comes with 2 ounces of the caviar of your choice, along with toasted blinis, crackers, and crème fraîche.
But don't worry if you're not a huge caviar enthusiast—the lounge offers plenty of other equally decadent, but less caviar-ladden, options, like the foie gras royal truffle platter, duck leg confit, and even cheese platters, which are "perfect if you just want to come in and just enjoy some champagne or wine," our waitress said enthusiastically.
And let's not forget about the drinks to go along with this luxurious feasting. In addition to classic caviar accompaniments, like champagnes such as Dom Perignon, Veuve Cliquot, and Cristal, and red and white lists, there's also an extensive selection of cocktails, where one can select a Moscow Mule, Basil Martini, or a Rye Manhattan, among others.
If you happen to have late night cravings for caviar, this could be the answer to all your prayers—they're open from 11 a.m. until 2 a.m. on Saturdays, though your weekday fix might have to be at a more reasonable hour. At the moment, Monday through Friday hours are 4 p.m. to midnight, and 11 a.m. to midnight on Sunday.
But before one leaves, there's the grand finale, if you will. Situated just by the window, perhaps in case passersby want to take a look, is a large royal blue and gold Fabergé egg display, which contains a number of caviar products. If you've found a particular type you simply can't get enough of, or if you happen to know someone who is especially caviar crazy, you can purchase larger caviar tins with the selection of your choice. You can go for one of the smaller 0.5 ounce glass jars, or, if you're so inclined, get the signature 17.6 ounce blue caviar metal tin.
Of course, it might be for the best to save the more extensive Fabergé egg caviar shopping for a time other than 2 a.m. on a Saturday…