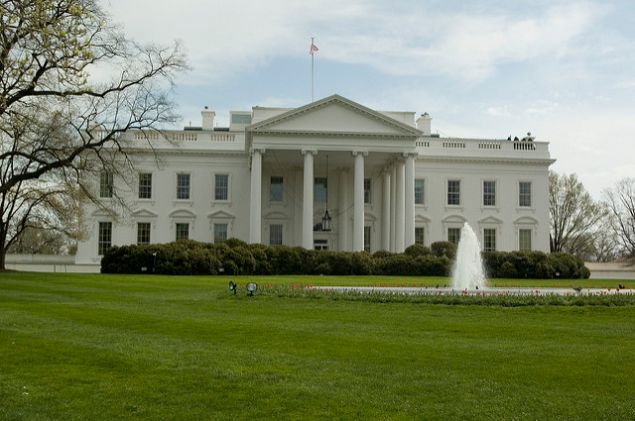 It must be hard to leave the White House, but the Obamas' new digs look pretty sweet: The New York Times reports that the president and his family are renting a 8,200-square-foot mansion in the upscale Kalorama neighborhood of Washington, where they plan to live after he leaves office until Sasha completes high school. Their landlord will be Joe Lockhart, a former press secretary and senior adviser to Bill Clinton; Zillow estimates the monthly rent to be about $22,000 (the home is valued around $6 million).
The Obamas will no doubt welcome some relief from the hustle and bustle of the White House. New Yorkers, meanwhile, have a new place to escape the stresses of city life: the Brooklyn Navy Yard Cemetery park, on the Southeast edge of the Navy Yard, is planted with high grasses and wildflowers, according to Gothamist.
It doesn't exactly sound homey—"Visitors to a recent open house at a co-op on East 14th Street might have thought they were experiencing a computer rendering come to life"—but flatpack faux furniture is a new alternative for sellers looking to stage their homes on the cheap, The New York Times reports.
Whole Foods is looking to open a new grocery store in Hudson Yards, according to Crain's. "The grocery chain is considering a deal to take about 50,000 square feet at the base of Brookfield Office Properties' 5 Manhattan West, a 16-story office building that occupies the entire block between West 31st and West 33rd streets along 10th Avenue."
A child was seriously injured after falling 50 feet down the elevator shaft of a Park Slope parking garage, according to DNAinfo. Parking is in such demand in the area by the food co-op, they note, that spaces in the garage at 841 Union Street sold for as much as $80,000 in 2013. It's unclear how the child fell down the shaft.
The city's refusal to approve the use of the Skypicker crane, which promises to do the work of the tower crane more efficiently, cheaply and safely for projects up to 35 stories, is a loss for the entire city, not just the crane's inventor, opines Crain's.
Finally, Nashville's Grand Ole Opry has leased 27,000 square feet of space at 1604 Broadway, where it plans to open a themed restaurant, bar and music venue, The Real Deal reports.