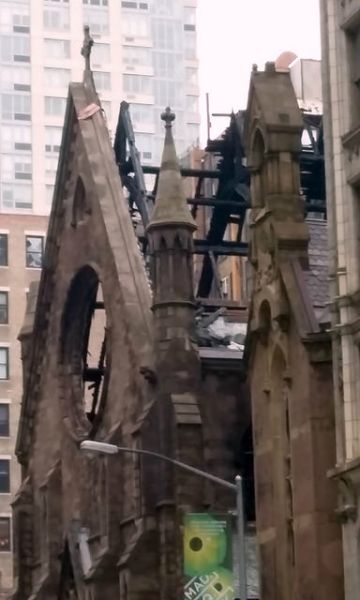 The Rent Guidelines Board could freeze rents on stabilized units for a second year in a row after a sharp drop in energy costs for landlords, The Wall Street Journal reports.
Fairway says that its customers shouldn't see any changes after the financially troubled grocer filed for bankruptcy Monday, Crain's reports. "Fairway can survive, but they need to do things differently, starting with making the stores easier to shop in," a consultant who predicted the grocer would fail four years ago told the paper. "They sell Cheerios in one part of the store and organic Cheerios in another, and the customer rejects that."
None of the chain's 15 stores are expected to close and the grocer is hoping that bankruptcy will allow it to "free up money to spend on technology and other upgrades," according to The Wall Street Journal.
The Row, however, seems to be doing very well: Ashley Olsen, who runs the fashion line along with sister Mary-Kate, is in contract to buy a two-bedroom condo at 37 E. 12th Street—the Minskoff development in Greenwich Village—valued at approximately $7.3 million, The Wall Street Journal reports.
Bon vivant real estate developer Aby Rosen has agreed to pay $7 million in a settlement stemming with the state from his failure to pay taxes on $80 million of art that he's bought or commissioned since 2002, which he evaded tax payments on through a loophole available soley to art dealers, according to The New York Times.  "From 2002 to 2015, the attorney general said, Mr. Rosen used a company he formed in 2002, 22nd Century Acquisitions, to buy artwork, and a second company, Lever House Artwork, to commission new art. The companies, in turn, claimed an exclusion from sales taxes because the art was for resale."
Candles that had not been fully extinguished following the Easter Service may have caused the fire at the historic Serbian Orthodox Church in the Flatiron, according to The New York Times. A fire department spokesman said that "it was likely that a caretaker thought he had extinguished several hundred candles after a luncheon that followed a celebration attended by some 700 congregants."
A bill to curb ticket sellers through mandatory licensing may cause more problems than it solves by increasing the number of vendors and legitimizing them, Crain's opines.
Finally, the city is abandoning plans for a Highbridge Ice Rink after no potential operators stepped forward during two RFPs, the second of which allowed considerably more flexibility to make it more attractive, including selling alcoholic beverages on occasion, according to DNAinfo.