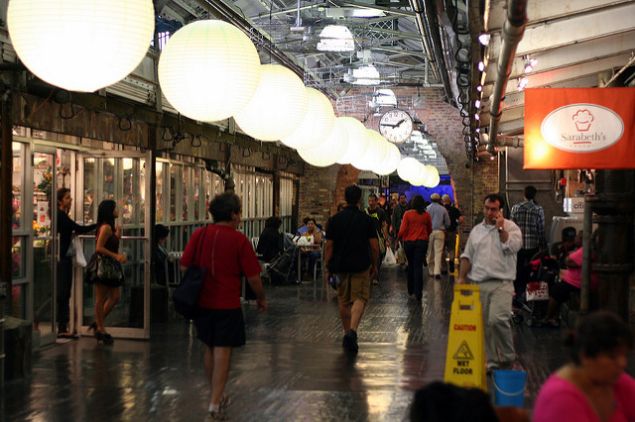 Chelsea mega mall? Jamestown properties wants to double the size of Chelsea Market's retail space, opening up the basement to stores and restaurants after an overhaul between $35 million and $50 million, Crain's reports. The demand, they reason, will come from the new office space they intend to build above (which is on hold pending an anchor tenant).
Unlike their huffy neighbors to the north, Canarsie residents are comparatively stoic when it comes to the L train shutdown. "In Canarsie we're already used to being inconvenienced—let's just get it over with," one resident told Gothamist at the MTA public hearing for neighborhood residents.
In the midst of Town's president of sales Wendy Maitland's lawsuit against co-owner Joe Sitt, accusing him of bleeding the firm dry, Douglas Elliman sent out a recruiting pitch to several of the firm's top agents, according to The Real Deal.  "I know you are in the middle of having an exceptional career," the email read. "But, based on recent happenings, I was wondering if you would be interested in meeting me for a cup of coffee or drinks after work to discuss the opportunities available for you at Douglas Elliman?"
Citi bike broke its daily ridership record on Wednesday—which also happened to be the warmest day since fall—when 53,215 people took bikes out, according to NY1.
While we're on the topic of tallies, New York City fell in the national park ranking compiled by the Trust for Public Land from fifth to seventh. In 2014, it ranked second, Politico New York reports. However, the Trust did stipulate that this year's decline "was due mostly to the debut of higher ranking cities, not changes to the local park system."
Poor 740 Park: two months after a fire ripped through former Bernie Madoff associate Ezra Merkin's sixth-floor apartment (divine justice), displacing not only Merkin but a handful of his neighbors, the ultra-exclusive co-op has filed permits to do extensive exterior work to replace the limestone facade's rusting metal anchors, The Real Deal reports.
Financial alchemy at Trump Soho? Crain's probes the complicated financial maneuvering behind the condo hotel and why it could be of interest to the IRS. The issue being that an Icelandic investor's $50 million equity in the project was converted to a loan, a move that would allow the investor to dodge taxes, but may not be illegal.
Meanwhile, Mayor Bill de Blasio claims that there's nothing amiss with his using outside, unpaid advisors with clients who have business before the city, Crain's reports. The mayor has refused to release records of his conversations with the advisors, among them Jonathan Rosen of Berlin Rosen, which could help tamp down the pay-to-play accusations dogging his administration.
Finally, homeless advocates are accusing the de Blasio administration of profiling homeless people in regards to their treatment of the encampment at 125th Street in Harlem, The New York Times reports.