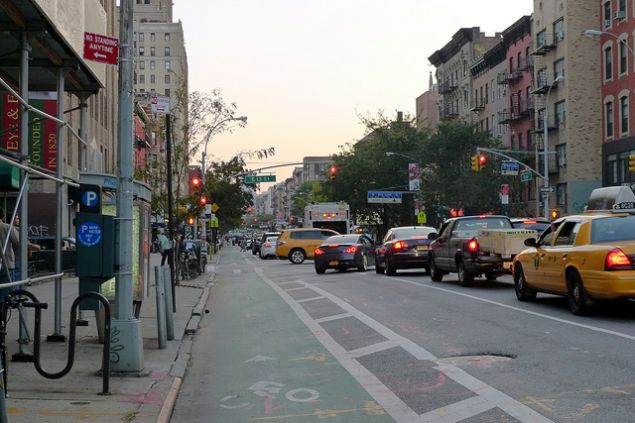 Citi Bike is expanding further into Brooklyn and Upper Manhattan, with plans to open docks this August in lower Harlem (under 110th Street),Boerum Hill, Cobble Hill, Carroll Gardens, Gowanus, Park Slope and Red Hook, according to Crain's. Annual memberships now cost $155, $45 more than a monthly metro card.
Too bad the Upper East Side remains staunchly opposed to bike lanes: Gothamist reports that the Community Board 8 has rejected a DOT proposal that would have installed six new painted bike lanes on crosstown streets. The CB's own transportation committee had approved the lanes and a local woman whose husband was killed by a cyclist in Central Park spoke out strongly in favor of the lanes, but the board was unmovable. Woody Allan will be so pleased.
Likewise, the DOT has withdrawn a proposal to add a two-way bike lane to Clinton Hill's Clinton Avenue after pushback from some longtime residents, according to DNAinfo. Maybe it's time the DOT stopped privileging NIMBYs over the city's infrastructural and safety needs?
A Jackson Heights co-op has finally relented to allow residents to walk on the grass, a privilege that has historically been reserved, the lawns reserved for quiet contemplation only, according to The New York Times. "Over the last decade, a new wave of buyers moved into Jackson Heights, often paying significantly more than those who came before them, and bringing different ideas about how the gardens should be used. In one camp were the longtime residents who wished to preserve the tranquil nature of the gardens. In the other were the newcomers, primarily families with young children, who wanted to roll out picnic blankets and let their children run on the grass," they note.
Meanwhile, dog-owning residents of the Durst Organization's Hell's Kitchen rental the Helena are peeved that a building which bills itself as "pet-friendly" would make residents with walk through a trash-strewn side door, DNAinfo reports. The recent policy change has a number of long-time residents vowing to leave the luxury building, some even before their leases are up.
Madison Equities has filed a permit for a 1,115-foot-tall condo in the Financial District, catering to "mid and entry-level" buyers (well, sort of) with comparatively conservative prices below $2,000 per square foot on average, according to 6 Sqft.
A penny saved: Gothamist has a round-up of some of their favorite thrift stores in the city.
And if you save a lot of pennies maybe you can buy the Cannes estate where To Catch a Thief was filmed, which is on the market looking for bids between $57 million to $113 million, according to The Wall Street Journal.