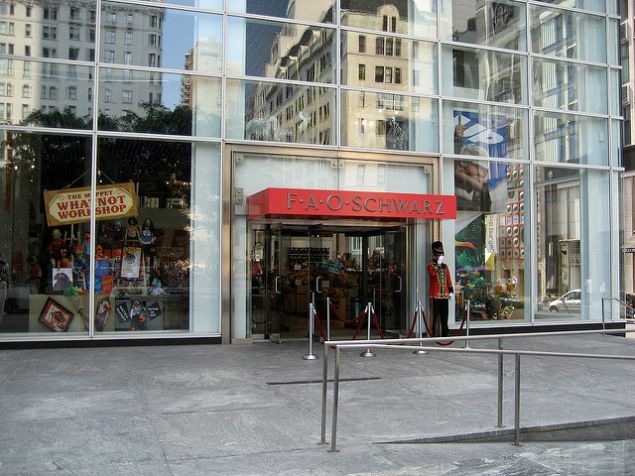 We're not sure we care either way, but Under Armor may best Nike for the spot that iconic toy store F.A.O. Schwarz vacated in the GM Building, Crain's reports. It would apparently make for a great "brand house" for both global chains, they add, or even maybe Apple, which has also been interested in expanding from its underground lair.
What may be worth caring about, though, is a pilot program that colonizes city bench space for charging stations, Gothamist claims. Created by MIT media lab Soofa, the stations will hog public bench space in parks, provide a little wayfinding information and allegedly help with maintenance schedules of parks workers. It's unclear as to why said stations need to literally sit on public benches.
The Parks Department has selected eight parks to be part of its pilot removing fences—a vestige of 1970s New York—and other impediments to entering parks, according to The New York Times.
Mayor Bill de Blasio's decision to select a Brooklyn Bridge Park developer who had just donated $20,000 to his Campaign for One New York may have been "business as usual" and perfectly legal, despite Gov. Andrew Cuomo's objections, "but that doesn't make it okay," Crain's opines.
L train riders overwhelming prefer a total, 18-month shutdown as opposed to a partial, three-year one, according to Gothamist, who notes that the more intense measure found favor with 77 percent of riders. Those riders, also, however, want real bus options—like dedicated lanes over the Williamsburg Bridge, as opposed to the meager shuttle service that usually accompanies shutdowns.
Anne Hathaway has long since vacated the Olympic Tower five-bedroom she and her ex Raffaello Follieri rented for $37,000 a month in the mid-aughts, but the seller of the antiseptic-looking unit, now on the market for $33 million, according to The Wall Street Journal, is clearly hoping to milk the connection.
Finally, office tenants are increasingly seeking space with better broadband, the top level of which is, somewhat weirdly, available at both the Empire State and parts of Industry City, according to Crain's.