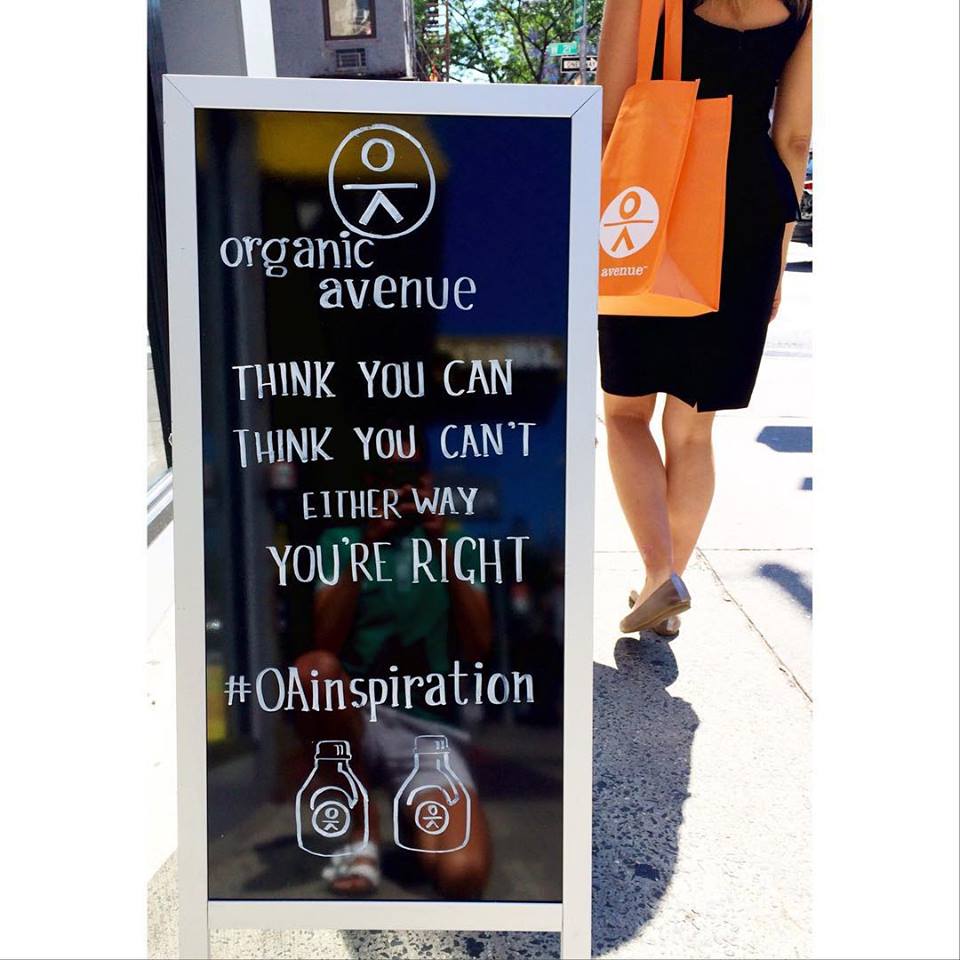 To the relief of Manhattan health nuts and all who aspire to eat a little greener, our beloved Organic Avenue has returned. On Tuesday, the chain re-opened their store at 62 Bleecker Street and Crosby, which will operate seven days a week. Additional locations are coming soon to the West Village, Chelsea, Bryant Park and Midtown.
Organic Avenue was founded in 2002 by Denise Mari and her partner, Doug Evans, providing one of the few grab-and-go spots for organic, vegan food. Last fall, the company went bankrupt under the PE fund that had acquired Organic Avenue—and forced Ms. Mari and Mr. Evans out of the business three years earlier. This spring, Steve Fisher of Fisher Capital Investments (FCI) provided the necessary funding to bring Organic Avenue's passion and purpose back to the people of New York… but only under one condition: If Ms. Mari would return. Luckily, they convinced her.
So, what will be done differently? Most of the old locations have been salvaged and refreshed, with some additional spots in store.
An array of specially-curated products will flood the Organic Avenue Marketplace—their section of snacks, which are a must for those looking to thrive on a plant-based diet and lifestyle. New cold-pressed juices will be offered on a made-to-order basis, as well as kombucha in flavors like strawberry sage, hibiscus ginger lime, elderberry and blood orange.
"For the freshest possible experience and most nutrient retention, we have moved the cold-press juice process into the store," Tony Carbonetti, CEO of FCI told the Observer. For consumers looking for beverages with a longer shelf-life, Organic Avenue will offer double-pressed juices through third party partnerships.
New locations will also include the chain's version of a "Vegan Caffe"—complete with gluten-free pastries, an organic espresso bar and house-made nut-mylks. An expanding variety of food items with new ready-to-heat quick meals, salads and a rare selection of cultured nut-based cheese will also be available. Renewed offerings from the revamped Blend Bar include smoothies, acai bowls and pitaya/dragon fruit bowls along with all new (vanilla, chocolate and strawberry) MylkShakes made with coconut based ice-cream.
If you don't see old favorites on the shelf, fret not. The Organic Avenue menu will continue to evolve. Customers will see wraps this week and pressed sandwiches in the weeks to come. For fans of the brand's delicious, organic soup, the lentil and split pea versions will be making a comeback this summer, with additional flavors to arrive in the fall. In the meantime, here's a tip for those who can't fathom hot broth in steamy months: Bottled, cold, raw soups will also be offered… or opt for a refreshingly light watermelon juice.
"I am humbled, honored, and truly excited to be re-living my dream of sharing this life-enhancing, planet-preserving, animal-friendly way to live," Ms. Mari told the Observer. "I love creating products for Organic Avenue and now have the opportunity because of the incredible connection with Steve Fisher… To be able to provide products that help people make positive changes for themselves and their families, and to help be a part of the solution once again via Organic Avenue, is nothing short of a miracle."
Welcome back, Organic Avenue. We have missed you. And, for those of you who haven't been, here's your second chance.
Kristy Rao is a Certified Health and Nutrition Coach and native New Yorker. She works with clients nationwide to create holistic, personalized plans to achieve weight loss and natural beauty. Follow her on Twitter @KristyRao and on Instagram @KRHealth