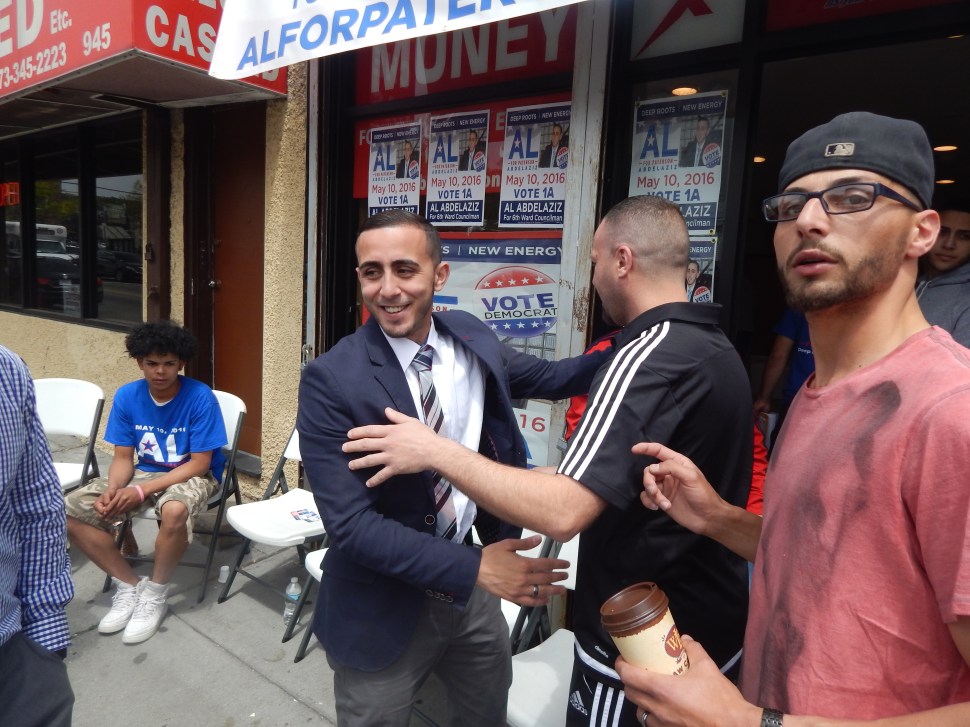 PATERSON – The eyes of the state turned to Silk City today, where a little known, usually under-the-radar operative has morphed into a jacket and tie in-front-of-the-microphone presence in his challenge of long-serving political spitfire Councilman Andre Sayegh.
Al Abdel-azziz aggressively worked the area around the southern branch of the Paterson library in the heart of Sayegh country.
He felt confident in the middle of a brace of allies here in this heavily Arab part of the 6th Ward. Five weeks ago, Sayegh looked like he was cruising to victory in today's municipal election. But Abdel-aziz and company this afternoon said they have forced a dogfight.
Variables?
Abdel-aziz is the Muslim candidate in the contest, and the challenger said an anti-Muslim environment in the GOP Primary for President, including Donald Trump's declaration that he would ban Muslims from entering the United States, has galvanized his
base voters.
A longtime Democratic Party activist, the 28-year-old Abdel-aziz also has strong ties to City Hall and a firm alliance with Mayor Jose "Joey" Torres.
The mayor is juggling day-to-day maintenance of his office with a scandal around his alleged misuse of Department of Public Works employees for personal use, but Torres's warpaint-wearing chief allies could be seen in the area of the challenger's headquarters.
PolitickerNJ glimpsed several veteran operatives disappearing into the backroom of the candidate's headquarters amid significant hoopla among Abdel-aziz T-shirt-wearing habibis in this very energized core of their man's base.