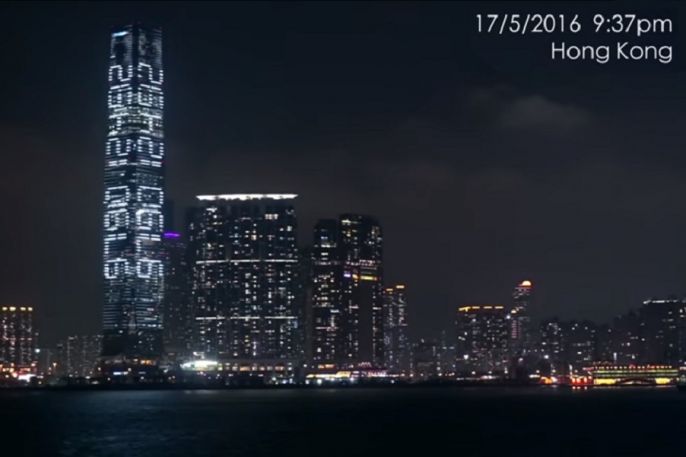 A politically charged art installation in Hong Kong has been cancelled amid allegations the artists misled the curator and a public arts council.
The work counted down the time until the "basic law," which makes the city a "special administrative region," with some independence from mainland China, expires, in 2047.
The massive public light show, which was projected over the side of one of Hong Kong's tallest skyscrapers, was shut down six days after its premiere, according to multiple reports.
Sampson Wong and Jason Lam had designed the light installation at the top of the International Commerce Center in the city's West Kowloon district—directly across the harbor from the center of the city, and in direct line of sight of the offices of the financial conglomerates that make Hong Kong tick—that counted down the seconds until the SAR is dissolved, on July 1, 2047.
The number of seconds was projected sideways on the soaring tower and changed in real time for nine minutes once each evening, per CNN.
In 2047 the agreement that allows SARs Hong Kong and Macao to practice capitalism (which they do, heavily!) will lapse.
But the curator and the Hong Kong Arts Development Council claim that Messrs. Wong and Lam pulled a switcheroo, changing the name of their piece from Our 60-second friendship begins now, to Countdown Machine, and revising their explanation of the work. Previously, they said the work referenced Hong Kong filmmaker Wong Kar-Wai's movie Days of Being Wild; the artists now admit their piece refers to the political future of the city.
The curator and the council put out a joint statement saying that the "disrespect" shown by the artists "put at risk any future possibility to work further in the public space," according to the Washington Post. The artists did not comment to the paper.
However, Mainland China has not yet hacked the artists' site, like Selina Meyer's twitter, so feel free to bookmark the countdown to independence.