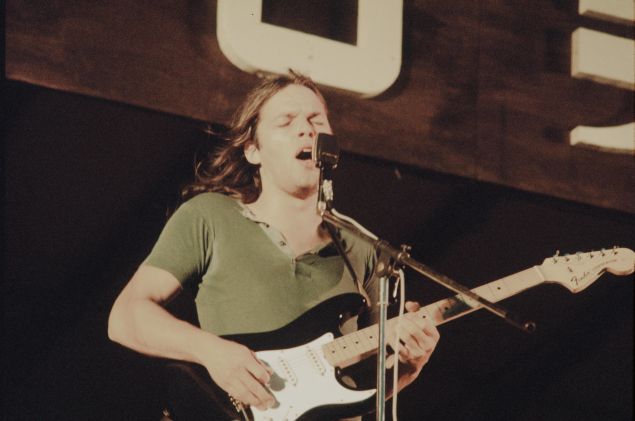 Pink Floyd guitarist and Elton John to rock Pompeii. In 1971, Pink Floyd played a legendary concert at the historic ruins of Italy's Pompeii. Now, the county's culture minister Dario Franceschini has announced via Twitter that guitarist David Gilmour will return for an encore on July 7 and 8. Then, on July 12, Elton John will rock the ancient amphitheater.
SFMOMA serves up knock-off art-themed deserts by its former chef. Caitlin Williams Freeman created a series of art-inspired pastries for the museum's Blue Bottle cafe between 2009 and 2013. While the museum has just reopened following a major expansion and no longer serves Blue Bottle, its 5th floor cafe still offers arty cakes that look a whole lot like those made by Ms. Freeman.
Layoffs plague online auctioneer Paddle8. In May, the chic online art sellers at Paddle8 merged with German rival Auctionata, and now word has trickled out that the company is following with dozens of layoffs. Recently departed employees include Sarah Hanson, editorial director; Dave Harper, director of special projects; and Thomas Galbraith, managing director. There will be more to come, according to Artnews.
New cookbook touts oddball recipes from your favorite artists. While the recipes were first compiled 30 years ago by an assistant registrar at the George Eastman Museum, The Photographer's Cookbook has just been published for the first time and features 50 recipes from Ansel Adams, Richard Avedon, Arnold Newman, Betty Hahn, and Stephen Shore. For starters, here's Mr. Shore's delectable sounding key lime pie recipe.
Here are all the museums that will let you have an adult sleepover. If you were a fan of E.L. Koningsburg's classic book From the Mixed-up Files of Mrs. Basil E. Frankweiler, wherein two kids runaway and camp out inside The Met, these 12 museums will make your childhood fantasies come true. Some places that actually host sleepovers (for a nominal fee) are New York's American Museum of Natural History, the world's oldest sailing ship the Star of India (in San Diego) and Chicago's Field Museum.
Get ready, the city of Medellín, Colombia is your next art capital. Paper magazine makes a solid case for why the hometown of notorious drug lord Pablo Escobar and world famous artist Fernando Botero is poised to be a major destination for art.
Yuri Pattison wins the Frieze Artist Award. The London-based artist will be given the chance to create a site-specific work for the Frieze London art fair this October. The artist's winning project will explore themes of control and consumption through a "networked artwork" he plans to install throughout the fair.