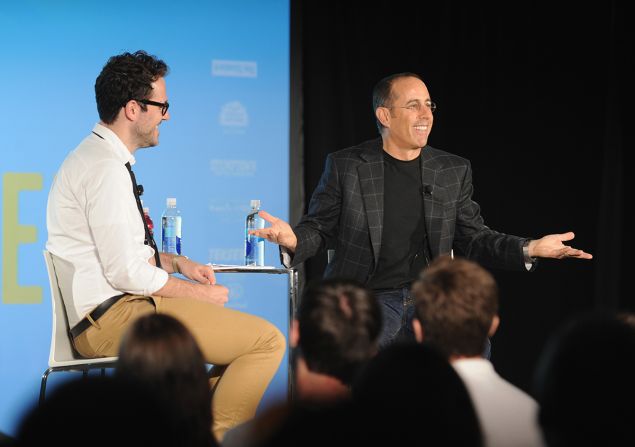 Where can you see a musical revue, a live 'animated' panel, a chat with uber-producer Shonda Rhimes, a comedy show featuring Sarah Silverman and have a chance to mingle with the Muppets?
All of this, and more, are happening at this year's Vulture Festival, a pop culture consortium happening in New York May 21st and 22nd.
"This event is meant to be an extension of what we do on our site. It's all about bringing creative people to their fans," says Vulture Senior Editor and festival organizer Jesse David Fox.
Fox wants to be clear that this festival isn't just about TV, that it's a pop-culture extravaganza featuring the best of today's television, music, film, and more, with witty, in-depth, critical coverage found on the web brought to life during two jam-packed days of events.
"We work really hard to have a wide variety of things that range from high brow – like a conversation with David Chase, who you just don't see out talking to everyone – to some less serious stuff like a trivia game show in which the casts of You're the Worst and Younger compete against each other," explains Fox.
Also featured at the fest are a live table read of the show Difficult People, a reunion of the cast of Happy Endings, screenings of feature films You, Me, Her and Alice Through the Looking Glass, as well as discussions with Ethan Hawke, Trevor Noah and David Schwimmer. There's also a concert headlined by Gary Clark Jr. and Albert Hammond Jr.
"The goal of the fest is to have a wide variety in the tone of these events so that you can spend a weekend going to four or five different things and have a completed different experience at each one," says Fox.
Picking the topics to feature during the fest begins months in advance with the writer and editors at Vulture contemplating what readers would most like to see, reveals Fox.
Then those writers and editors work extensively to prep for the events, especially the one-on-one discussions, often taking months to thoroughly research their subject to ensure a thoroughly in-depth, interesting discussion.
"This is very serious for us because that's who we are as a site," says Fox. "We feel that if we're going to be given access to these talented, sought-after people, then we want to treat them very well and be ultra-prepared to ask good, insightful questions about things that we feel our readers would want to know. We want to create intimate moments between these creatives and the audience that neither will get anywhere else."
Bringing this immersive, fun weekend to an audience serves as a way for Vulture to connect with readers of the site in a unique way, says Fox. "In an era where we're a fully formed Internet-specific publication and not a print entity, we wanted to give our readers a physical representation of what Vulture is and we felt that this fest ultimately is a Vulture that you can touch with your hands or see with your eyes. So when we planned this we wanted to represent that full picture of what Vulture is so that our readers can interact with us directly."
While this year's Fest is still yet to happen, the future of it seems intact, as it's continued to grow. Fox explains, saying, "The first two years we had about 14 to 18 events. This year it looks like we might top out around 35 events." He laughs a little as he says, "But we might even exceed that as we keep adding things all the time."
The awareness of Vulture Fest is growing as well, says Fox. "Every year we seem to get more and more on people's radar. We have events that sell out in minutes and people are coming to this from all over the world. I think it's because word is getting out about the quality of the events."
Fox hints that expansion of the Fest might include events at other times of the year in cities around the country. "We want to continue to bring pop culture interactive events to our readers on a continual basis. We're not sure what exactly that looks like right now, but if what's currently happening with Vulture Fest is any indication, we know that people love things like this so we're definitely anxious to keep growing."
For a full list of events taking place at Vulture Festival, and to get tickets, please visit the website here.