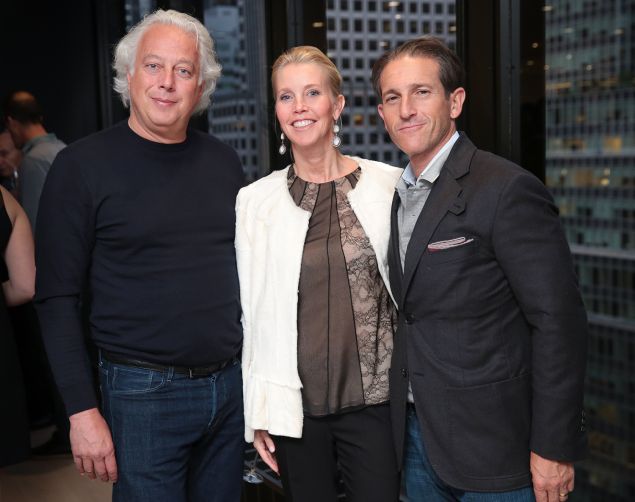 A slew of art luminaries celebrated the arrival of the Frieze Art Fair last week at Artsy's party on the 15th floor of the Seagram Building. The founder and CEO of the online art auction platform, Carter Cleveland, spent the evening attached at the hip to Wendi Deng Murdoch, a member of Artsy's board and its liaison to Chinese art consumers. Textile tycoon Silas Chou was in attendance too, along with Christian Dior's Terry Darland.
But no one dominated the room more so than the Seagram Building's owner, Aby Rosen. As host, Mr. Rosen took the liberty of also debuting a model of 100 East 53rd Street, his art-filled, luxury residential tower designed by Foster + Partners, which is scheduled for completion in 2017.
"I want to buy something pretty and something that I can do something with," Mr. Rosen told the Observer of his acquisition philosophy. The Frankfurt-born developer spoke in a baritone and wore a black cashmere sweater and jeans. He fielded a barrage of greetings as he roamed the room. "I'm not a pioneer," he continued. "I take good buildings and make them better. That's all I do."
He added that he aims to revive ailing neighborhoods, like the office space in the Watchtower building formerly owned by the Jehovah's Witnesses (Mr. Rosen is a partner in that venture with the Observer's publisher Jared Kushner) or seeks to find the last remaining nook of an anointed hotspot, such as the 11 Howard Hotel in Soho.
But he also owns several iconic buildings, such as Lever House and fills many of them with work by blue-chip artists, such as Jean-Michel Basquiat, Jeff Koons and Roy Lichtenstein. "It's tough buying the young artists right now because you only have so much space on the walls," Mr. Rosen noted. "I don't want to store too much. I want to hang it." This is seen best in Casa Lever, another restaurant owned by Mr. Rosen at 390 Park Avenue, which displays a continuous rotation of Andy Warhol portraits.
On the rare occasions that he's not making deals or buying art, Mr. Rosen said he spends his days "reading and chilling." While he admits to leafing through magazines, he prefers poetry and German philosophy. This is perhaps what makes him such a concise man who usually avoids speaking to the press. Asked why he operates with such caution and rigidity, his answer was typically economical: "DNA."