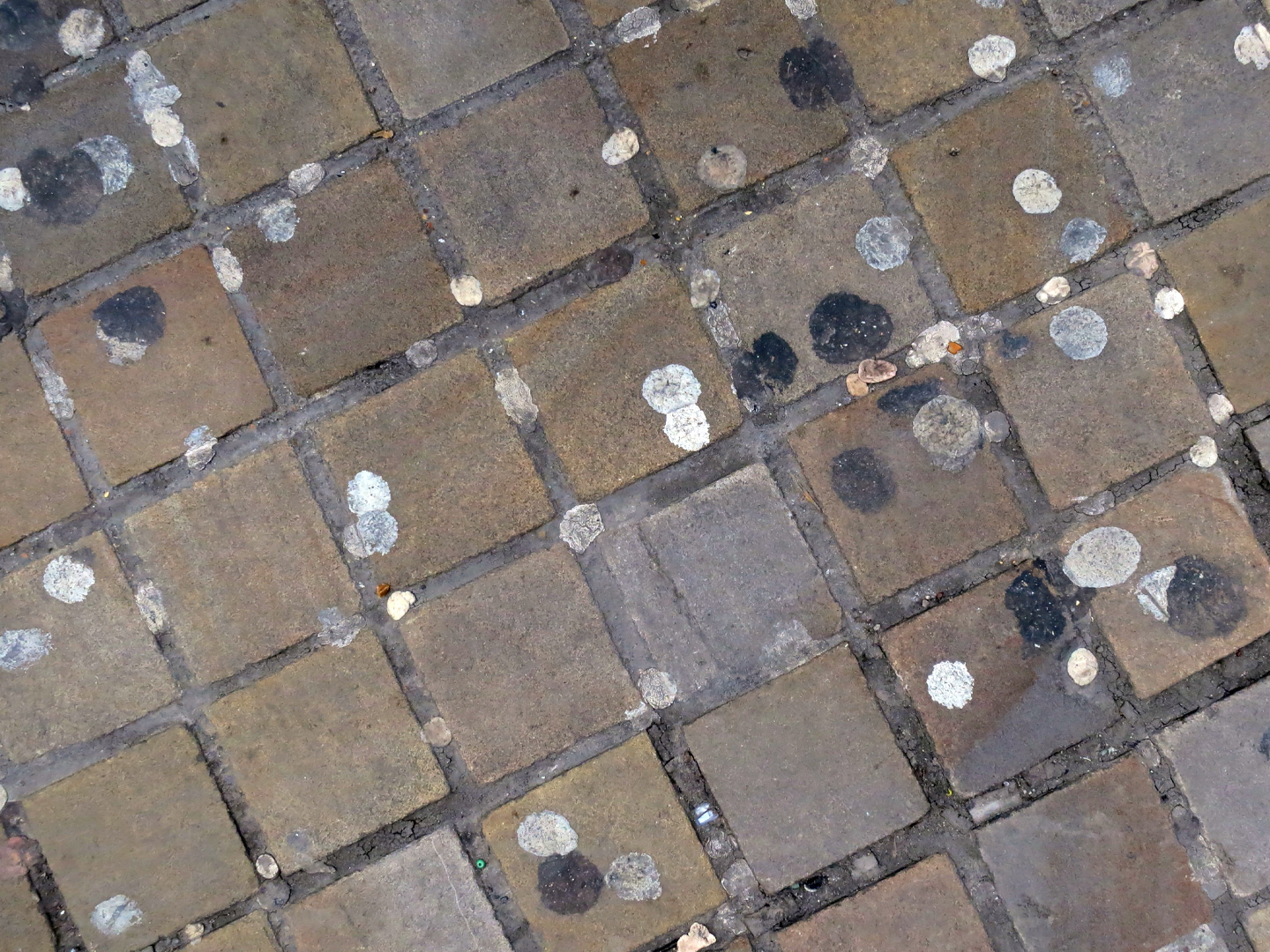 John Constable and J. M. W. Turner turned to the British skies for their inspiration. Lucian Freud found it in human flesh. Christian Marclay looked down to the sidewalks of London, and found themes and endless variations for his photographs in chewing gum, straws, cue-tips, cigarettes and bottle-caps. But we're not talking about collages that rearrange any of those elements.
In Six New Animations, which premiered three weeks ago at Fraenkel Gallery in San Francisco, Mr. Marclay takes those color photographs, usually shot from above against the backgrounds of pavement or brick where he found them, and presents them in projections in which each still image appears on a screen for an instant, like a flipbook. The images operate on the viewer like film, although the pictures themselves don't actually move. Less technology, in this case, is more.
In Lids and Straws, Mr. Marclay edits a sequence of discarded straws to advance in a circle like the second hand of a clock, measuring a minute—an homage to his grand work, The Clock (2010), a 24-hour compendium of film clips following time through the day.
One of those straw images, in a puddle, reflects Mr. Marclay pointing his camera—"my Hitchcock moment," Mr. Marclay calls it.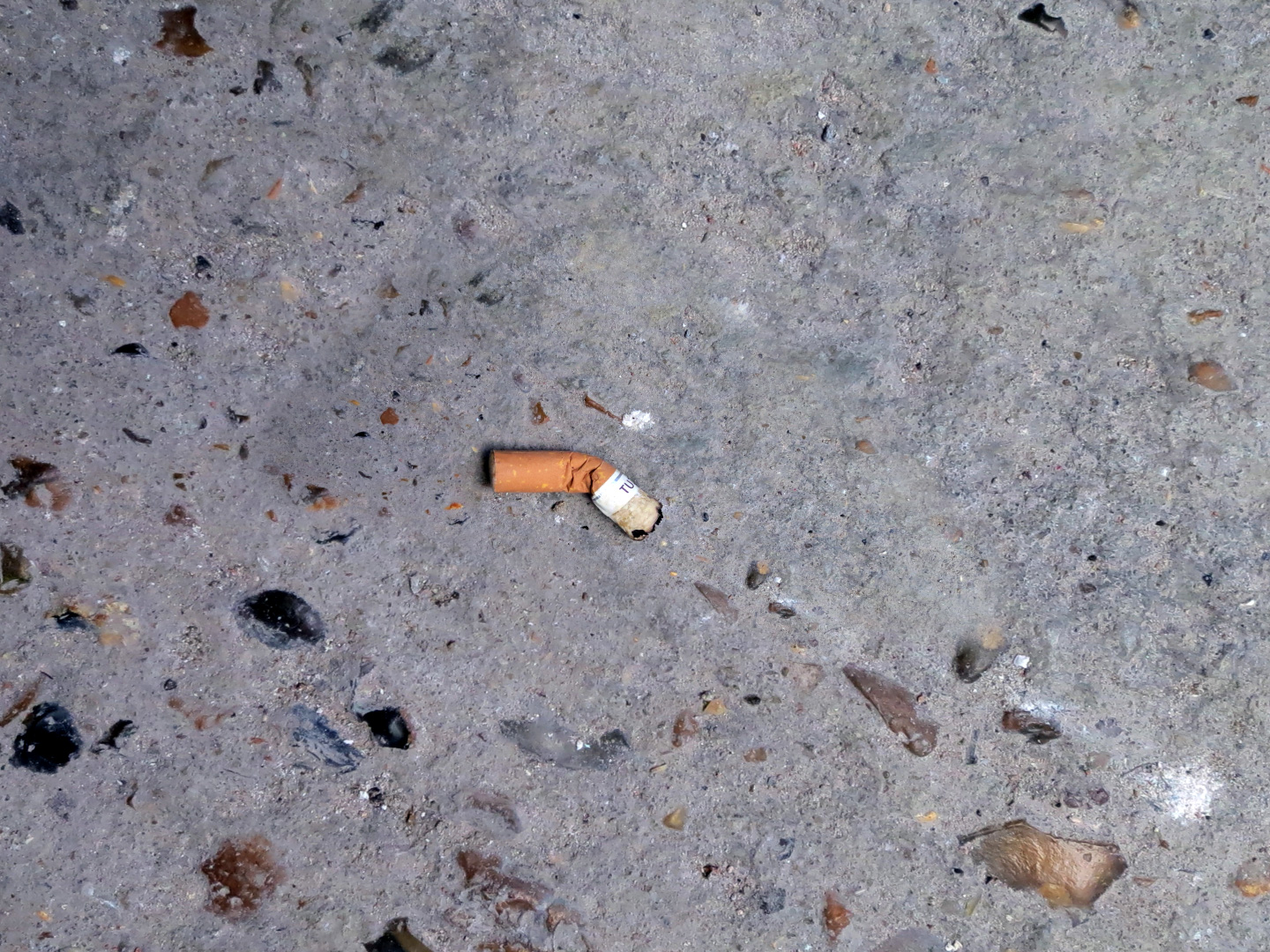 In Cigarettes—each set of projections is named for its subject—cigarettes in sequence wiggle like worms and shrink to nothing. It's a charming burnout narrative and the closest thing to a cartoon in the six animations.
In Chewing Gum, old pieces of gum on the street, flattened into blob forms, look like Rorschach blots, merging and multiplying, or spinning in circles, or resembling heads painted by Jean Dubuffet. Sometimes the white gum seems sprinkled over black pavement, like tiny constellations.
"This one for me is all about cinema, about science films, even sex education," he said, "and you can't help but think of Disney—primitive, simple animation," said the tall thin Mr. Marclay, 61.
The project has its precedents. Besides the Disney antecedent, there was the photographer Irving Penn, who made pictures of pavement, cigarette butts and chewing gum in a series that has been exhibited as Underfoot. Penn never edited those images into projected animation.
The pieces of gum in the photographs are white. "Because it rains a lot in London, that's my theory," Mr. Marclay said, "if you look at the gum on the street here in San Francisco, it's black, because you're in a drought."
The artist is often described as a collagist, but here collage might not be the exact term for what he's doing. The images are shown in sequence, not imposed upon each other. Still, every glimpse of a straw and cup, or of a cue-tip swab, is a mini-collage of its found circumstances—a ready-made ensemble of plastic or paper, on pavement or another street surface, and sometimes including the odd blade of grass. Mr. Marclay tempts you with the promise of a journey into an infinitely expanding micro-cosmos. In fact, each animation is a repeating loop. And you keep looking. Rarely can such lowly ingredients generate such focused concentration.
And his means are lowly, too. At Fraenkel, Mr. Marclay pulled out a Canon camera that must have cost less than $200. "It's high definition," he stressed.
Asked how he found his subjects, he said, "I walk a lot from my home to my studio, which takes about an hour. Sometimes I go on excursions."
And people in his neighborhood gravitated to the wandering photographer. "Suddenly I'm a bit of a freak, and it's a magnet for other freaks. In London, people think I work for the council [local government] and that I'm documenting the kind of trash that people throw away."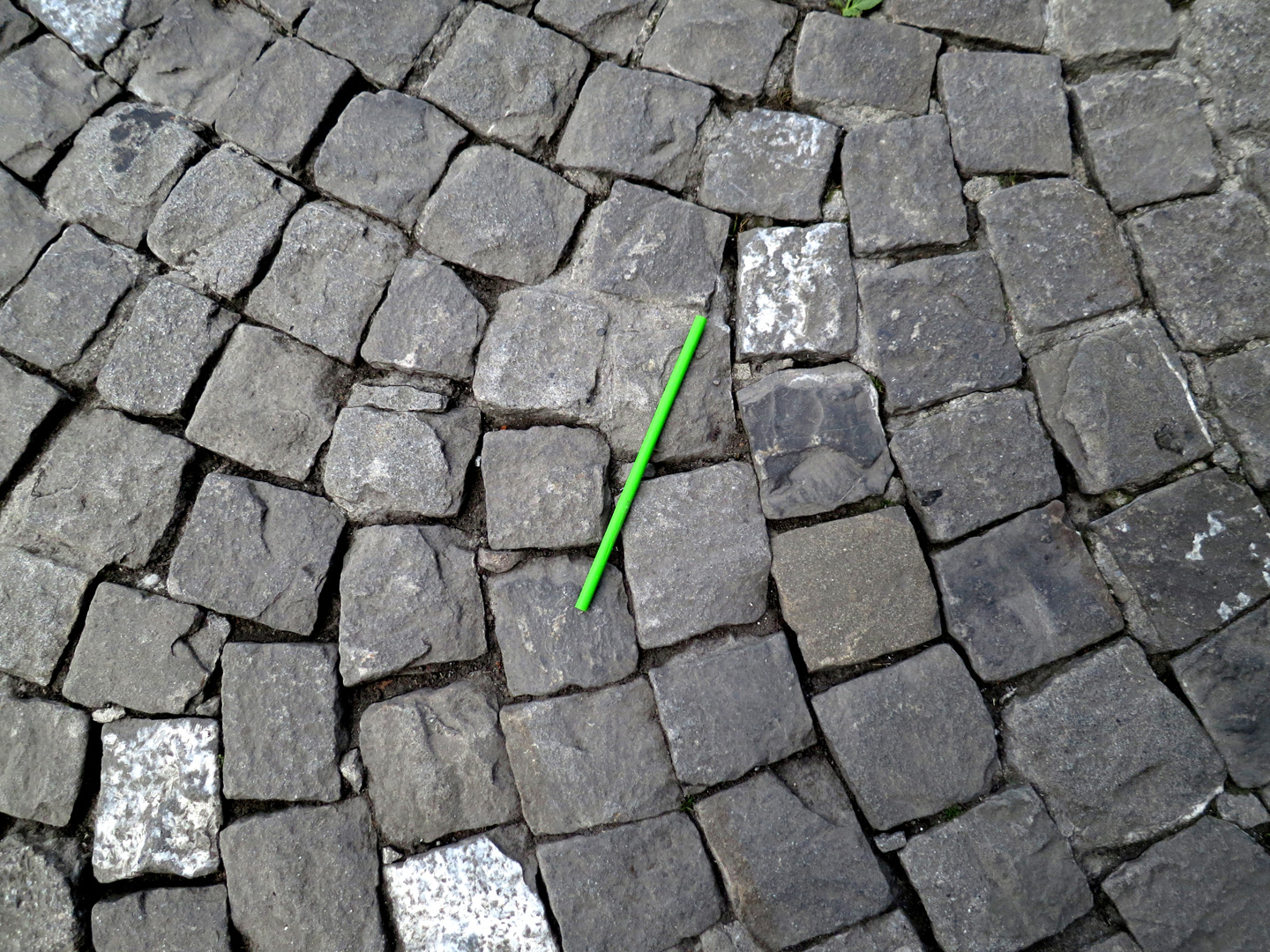 He is, and the pictures have a remarkable tactility, yet even the intrepid Mr. Marclay reminds you that tactility is as imprecise a term here as collage. He doesn't touch the chewing gum, or the cigarette butts and certainly not the swabs. "They're all about addiction—sugar, alcohol, tobacco, caffeine." Pointing at the succession of cue-tip images, he says, "this is potentially the darkest. Drug addicts use these to clean their pipes for crystal meth." As he spoke, the swab in the middle of the frame rocked back and forth like a see-saw, as one image followed another. "It's very hypnotic," he said.
When The Clock premiered in New York in 2010, people lined up in the street to see it at Paula Cooper Gallery. But even though Mr. Marclay, born in San Rafael in Marin County to the North, was local to the Bay Area, San Franciscans weren't rushing to Fraenkel Gallery, at least not yet. The lucky few were off at the new SFMoMA expansion, and crowds were piling into an exhibition of gowns and other clothing designs by Oscar de la Renta at the De Young Museum in Golden Gate Park.
Mr. Marclay had other plans. Once the show was installed, he took a short excursion on foot from the Fraenkel Gallery to the Tenderloin, a district near downtown San Francisco where addicts and the homeless congregate. Naturally, his gaze went toward the ground. "There were syringes, condoms, and a lot of these," pointing to cue-tips flickering on the screen across the room. Another animation series, with black gum this time?