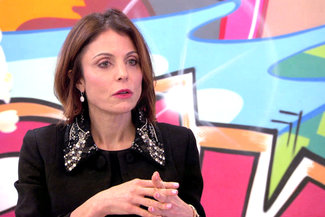 After an epic night out on the town downing bottles of Sonja's bargain-basement Tipsy Girl Prosecco, you need to wake up to the inevitable hangover; so too after any epic fight, comes the inevitable hashing out of what-the-hell-just-happened-last-night. It's where producers thrive, taking the players involved and setting up a scenario where they sit and explain what happened to some other cast member who was not there, flashing back and forth between the players as the story slowly unfolds from both sides.
A major part of this morning-after endless discussion, is the way the chips fall in this increasingly complicated drama, with the players of who is fighting with whom constantly adjusting and changing, with people taking sides. Dorinda and Luann are livid with Ramona over the blow-up at the dry cleaners party. But Ramona somehow managed to weasel out of any consequences. And so Sonja gets punished, banished from Dorinda's holiday sleepover up in the Berkshires for "her own good." It's pretty condescending. And the way Dorinda talked down to Sonja while informing her of her fate left a bad taste in my mouth. Dorinda wanted to avoid drama, thinking if she removed the subject of Bethenny's wrath, all would go well.
But whenever someone in Real Housewife Land says, "I just don't want there to be drama," at an event they decide to host, there will be drama. As sure as Ramona will run her mouth, as sure as Bethenny will say a witty line, as sure as Floozy Boozy Sonja will say something unintentionally funny – the drama isn't just a possibility, it's an inevitable outcome, and you don't need some psychic to tell you that. And the drama is almost always caused by the person trying to avoid the drama in the first place. In this case, Dorinda decided not to invite Floozy Boozy Sonja not because she's mad at her, but because she's afraid of drama between her and Bethenny. Of course, the act of disinviting Sonja indirectly caused the end-of-episode drama, but more on that later.
We need to start from the beginning, so let's back up a bit. This episode began with Bethenny hosting a Secret Santa party, with a winter-themed Elsa from Frozen caviar girl to serve her guests. Lots of fun things happened. We were treated to a reenactment of Ramona's fight with Slimy Johnny the night before. Jules licked the caviar off a blini, offering up the saliva-ridden pancake for Ramona to consume because god forbid carbs (Unfortunately for "My name is Jules and I am kosher," I'm pretty sure the caviar was Beluga and Beluga caviar is just as unkosher as the shrimp you needed to purify yourself of a few episodes back, but anyway). And Dorinda and Ramona made up. Like a weasel, Ramona managed to slither her way back into her good graces; for now.
Ramona always manages to get away with crap like this. And you know, I kinda get it. Ramona is a terrible person. No doubt about it. But she's like a mischievous puppy who makes a mess in your house, and all you want to do is scream. And then you turn around to see her adorable guilty face and you can't help but forgive her.
I don't know why, but I have a soft-spot for Ramona. While Sonja is an easy, breezy floozy who you enjoy watching as long as her issues don't devolve into dark, scary stuff like alcoholism, Ramona's histrionics are full of drama, like a pseudo-telenovela. And I kind of love her for it. She's ridiculous, but she's just so upfront about it. Unlike people like Luann, who do shady things and pretend like they didn't try to stab you in the back, Ramona will tell you what she did and apologize fully. It's a drive-by-shooting where the perpetrator is apoplectically apologetic in the aftermath. But snakes like Luann? They will deny their actions till their last breath. People like that are the worst.
Speaking of Luann, at a dinner with Dorinda and Jules and their significant others, we were finally introduced to Luann's man. A mild-mannered bald guy with middling looks, Tom is far from the guy Luann usually goes for. Luann likes young, brooding foreigners who she can whisper sweet nothings to in French. But this guy is so…placid. He just seems so boring. And he dated, of all people, Ramona. What is with these women dating the same people? First it was Harry Dubin sharing spit with Ramona, Sonja, and Aviva. Then it was the creepy guy who went into business first with Ramona and then with Sonja. It's a web of weirdness, but also kind of funny.
It's also funny that despite all her efforts, Luann can't keep him a secret, because apparently the entire Upper East Side has been buzzing over this development in Luann's romantic life. Considering she's also sleeping with 3 other men, it's weird that the prim and proper women of the UES seem to find the news about this Tom-guy more buzz worthy.
We end off the episode in the Berkshires, in Dorinda's mafia-style, over-decorated home. I mean, it's a gorgeous home, but the interior looks like someone went to an antique store and threw up gilt-edged couches and granny carpets. And those carpets, didn't survive the RamonaCoaster. Or, more accurately, her dog Coco, who made the ancient carpet her bathroom, with Bravo gratuitously spending a good 5 minutes showing the dog traverse the carpet in the poop-position, while Ramona and Dorinda talked in the other room. Since this was filmed, obviously the crew knew what Coco was doing and specifically didn't tell the women. Instead, they gleefully filmed them tracking the excrement throughout the house, Ramona washing off the bottom of her shoe, and Dorinda scooping up the poop. Ew. So gross.
But in a way, the dog pooping in the house was apropos. It was a metaphor for Ramona's relationship with Dorinda, since Ramona does treat people like she's an untrained dog, shitting all over them and then hopping onto the couch in shame with the most adorable expression. An expression so cute that you involuntarily forgive them for their disgusting deeds.
After Dorinda and Ramona cleaned up, the other women arrived: Jules, Carole, Bethenny, and Luann. They gathered around the table, and the topic inevitably turned to the elephant in the room; or, rather, the one Housewife not in the room: Sonja Morgan. Bethenny defended the way she spoke to Sonja, but acknowledged she was perhaps a little harsh. Luann defended Sonja, explaining that she's lonely, that Sonja needs Luann's mentorship to get her back on track.
Luann…mentoring Sonja? Ha. Ha ha. That's funny. I joined Bethenny in her laughter as she mocked the notion of Luann mentoring Sonja. Such an idea is ludicrous, like "The blind leading the deaf," to quote Bethenny. Because it's true. Luann's juggling of multiple partners and constant partying is hardly a good example to set for Sonja. Which isn't to say the Thelma-and-Louise shtick they've got going on isn't fun to watch. Luann traipsing down the stairs in a lacy, strappy lingerie dress to join Sonja getting ready in the morning, talking about barely-there La Perla thongs and blue Viagra pills, rejoicing over mentions in Page Six, Luann complaining over a Miserly Sonja's lack of heat: all of that is definitely entertaining, like watching a Golden Girls episode.
But Luann leads a life similar to Sonja – too much partying, too many one-night stands. And the last thing Luann is doing is being a mentor. She's more like a partner-in-crime, her and Sonja each other's wing-woman as they hunt down Manhattan's dwindling eligible men.
When Bethenny called out Luann on her delusion that she is somehow helping Sonja, Luann was not amused. The Countess Luann came out in full-force, interrogating Bethenny why she would dare make fun of her. As the Countess continued her aggression, something it Bethenny snapped. It was the spark that ignited a side of Bethenny that still holds a grudge about Luann trying to claim ownership of Bethenny's brand.
Years ago, Luann, not believing that the poor, hapless Bethenny managed to claw her way to the top, decided that the one time Bethenny told her about SkinnyGirl is the same thing as her naming it, perhaps even having the idea for it. If you recall, before it became a branded cocktail, SkinnyGirl Margarita was Bethenny's signature drink, that she custom ordered whenever she was at a bar. I vaguely remember Luann and Bethenny laying out on a rooftop bar, discussing how delicious Bethenny's concoction tasted. But I don't believe Luann was the one who actually suggested naming her drink as such. I'm pretty sure Bethenny always called her drink that. But, if any of you recall otherwise, please correct me in the comments!
Anyway, to sum up, nothing really happened. The fight starting to brew between Luann and Bethenny is just getting started (because, after all, a "to be continued" is the best way to hook your audience). The episode mostly featured the women sitting around, gossiping. No dramatic histrionics in sight, not even when poor Sonja was told that she was purposely not invited to the sleepover in the Berkshires. But I'm really looking forward to next week. It looks like shit goes down. For real. We will get to hear all the dirty, disgusting things the supposedly classy Countess has done, and Dorinda has a breakdown as her sleepover spirals out of control.
Episode Highlights
– "The girls love me at parties. I'm the one making out with everyone! Why are you worried about me?" Poor Sonja, all she wants to do is down a few bottles of Prosecco, dance on some tables and whoop it up. Is that too much to ask?
– Slimy Johnny continues to be slimy as ever. His little rat-face scrunching up into his little smug-smile as he asked Tom if the phone was moist was just…ugh.
– The shots of the dog pooping. Bravo, no one needs to see that. I definitely didn't want to see that. It was almost as bad as an episode of Botched, and I pretty much spend half of that show nauseous.