At TechCrunch Disrupt New York in Red Hook, Brooklyn, BitPagos made it to the finals in the startup battlefield after a Tuesday night presentation where they showed how they could bring unsecured personal loans to the developing world with Bitcoin. BitPagos's Sebastian Serrano took to the stage to introduce his company's new service, Ripio. The Bitcoin wallet can be used to pay for goods or services at any of the hundreds of online merchants that accept cryptocurrency. If the consumer doesn't have the money for what they want, Ripio will front it and the consumer will pay them back in installments.
"This is huge for all the unbanked people across the world," Mr. Serrano said. Most payments online are made with credit cards, but many people in the developing world don't have them, the Argentina-based co-founder explained.
In its report on BitPagos's battlefield presentation, TechCrunch wrote:
BitPagos makes money by offering slight premiums on these payment plans, but since the transaction is handled within its system and not the usual clearing and credit houses, which adds cost to a transaction, it can offer far cheaper interest rates to customers.
During the demo, BitPagos (originally founded in 2013 to help e-commerce sites use blockchain technology, according to CrunchBase) showed a user pre-ordering the new version of Doom on Steam, using Ripio. The system showed several different installment plan options for paying the company back. It also showed the annual percentage rate [APR] that the consumer would pay with these installment plans: 45 percent.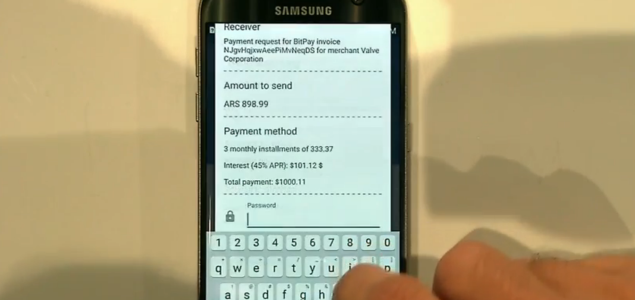 The pre-order costs $59.99, 898.99 Argentina pesos or 0.132212 bitcoins, at the time of the purchase. In the demo, the consumer picks three payments, for 1000.11 pesos total.
"That would be the starting interest rate," Mr. Serrano told the Observer in an email, "and while it looks high in the US, it is actually very competitive for a country with very high inflation. That example was for an account in Argentina and currently most credit card companies in the region charge between 60 percent to 70 percent APR." Mr. Serrano added that his own credit card charges him about 54 percent, even though he has good credit and has been a longtime customer.
Inflation has really gone to pieces in Argentina. Trading Economics shows that it has spiked sharply since the end of last year, with recent months clocking in at a 35 percent annual rate.
It's tempting to link the company's starting APR with Google's announcement yesterday that it will ban ads for certain kinds of lenders on its AdWords service, via the Google Public Policy Blog. One kind of lender it banned: US lenders that charge annual percentage rates of more than 36 percent.
Ripio isn't lending in the US, however, and lending there is different because its whole economy is different. Here, inflation hovers around 1 percent.
Remember that debts get repaid in non-inflation adjusted terms. In other words, if a consumer has taken a loan where he has to pay $1000 in six months, he's still kept up his end of the bargain when he pays it, even if that amount of money is worth half as much when he does so.
After startups presented, a panel of judges from the tech industry asked questions.
One of the panelists, New York City Chief Technology Officer Minerva Tantoco, asked what Ripio's default rate was. The service is, however, still very new. "Right now we are doing baby steps," Mr. Serrano explained. "We are only accepting a few people per day."
Ms. Tantoco followed up by asking if the company would be able to lower interest rates over time. Mr. Serrano said, "The more you use the product and the more you prove that you are trustworthy, the lower the rates we will be able to give to you."
According to TechCrunch, Ripio is only live in Argentina now, but its team plans to expand it to Brazil next.
Google banned advertising for rates that high in America because everyone sees such rates as predatory, but it could make sense in Argentina. Weirdly, in inflation adjusted terms, the rates might not even be that bad.
It will be worth watching to see if lending with cryptocurrency lowers the price of doing business enough to make unsecured lending profitable at low rates in the developing world. On the other hand, we could also be missing something. Stay tuned.