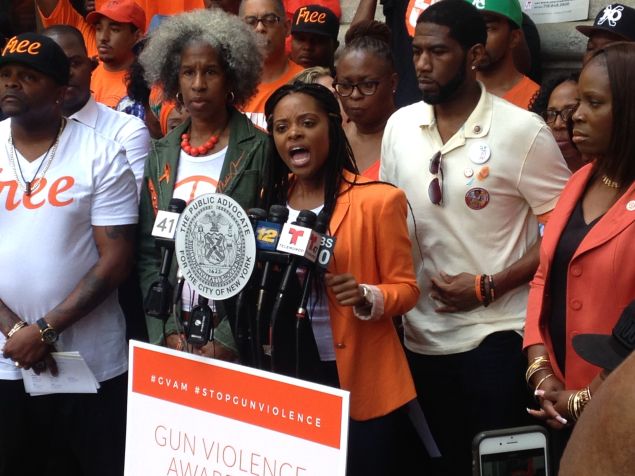 A rally against gun violence today abruptly turned its fire on Police Commissioner Bill Bratton, as one advocate led several top-caliber elected officials in a salvo of attacks on the top cop's recent comments about hip-hop.
The gathering, organized by Brooklyn Councilman Jumaane Williams, came less than a week after gunshots killed one person and injured three others at a concert featuring rapper T.I. near Union Square—and after Mr. Bratton responded by labeling hip-hop performers "basically thugs" in a radio interview. This afternoon's event was supposed to focus on gun crimes in low-income communities, and to push for more city funding for summer jobs intiatives, but activist Tamika Mallory took it as an opportunity to blast the commissioner for his "disparaging" remarks.
"None of us have ever said that police officers who get killed in the line of duty are just thugs who are just part of a thug system. We are very careful in what we say," said Ms. Mallory, who formerly served as the executive director of Rev. Al Sharpton's National Action Network, and who now works at Gathering for Justice, a civil rights initiative affiliated with singer and liberal leader Harry Belafonte. "Unless you come to the streets, unless you support those who are standing here, unless you are working with our young people, you should shut up. And you should be ashamed of yourself to collect a check as a public official."
Ms. Mallory also sat on the transition team of Mayor Bill de Blasio, who disavowed Mr. Bratton's characterization of rap artists last week.
Several of the politicians present echoed Ms. Mallory's attacks, though not her words.
"When our commissioner calls our hip-hop generation, which is a whole generation, thugs, it makes our young men that much more vulnerable. It makes our young women that much more vulnerable," said Brooklyn Councilwoman Laurie Cumbo. "And it creates an environment in our communities where we are afraid to love."
City Comptroller Scott Stringer agreed, and demanded the mayor and Council finance both summer jobs programs and several of the anti-gun groups that appeared at the rally. "You know, it's not about the music we listen to. It's about the children we want to protect. You can listen to any music you want on your way to a summer job. But right now that funding isn't available," he said. "Can you imagine that an organization here today can't get the hundred dollars they need from City Hall they need to do their work? It is simply wrong."
As the rally wrapped up, Ms. Mallory also plugged Gathering for Justice and a protest scheduled for June 2 to honor Ramarley Graham, an unarmed black youth police killed in his Bronx home in 2012.
"We are fighting this thing from many, many angles," she said. "We are also dealing with the loss of life at the hands of our police department. And gun violence is wrong no matter how it happens, no matter who has the gun in their hand."
The police department did not immediately respond to requests for comment.