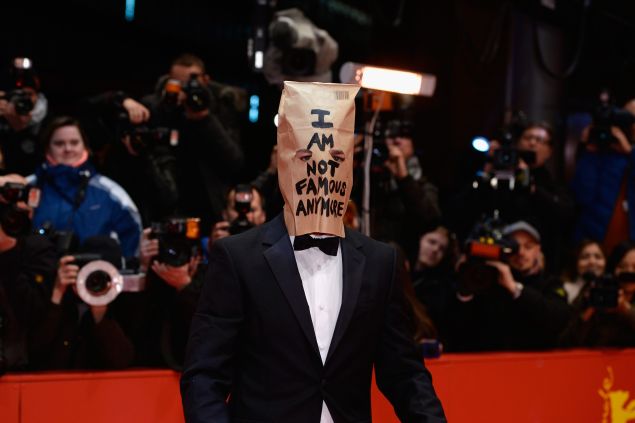 Shia LaBeouf, artist, is at it again. Over the next 30 days, Mr. LaBeouf and his frequent collaborators, Nastja Rönkkö and Luke Turner, will be tweeting out GPS coordinates from random locations near Boulder, Colo. and asking members of the public to pick them up and take them wherever they feel like taking them, according to Boulder News. Seems safe, right?
The project, #TAKEMEANYWHERE, is the latest by the trio, who have become known for their unique brand of social media driven performance art, which has involved the participation of strangers on numerous occasions in the past. This project, however, is by far the most intimate. While the group can be tracked via an interactive website, driving around with strangers, a.k.a. hitchhiking, while legal, has been known in some cases to be dangerous. Mr. LaBeouf and crew won't be accompanied by an outside crew, and volunteering drivers have carte blanche to take the artists any where they like.
"Hitchhiking is really the ultimate collab," Mr. LaBeouf told Vice. The project, he says, is about "making friends."
This isn't the first time the actor turned artist has put his safety in the hands of the public. In 2014, Mr. LaBeouf held up inside Stephen Cohen Gallery and invited fans to come sit with him while he cried and wore a paper bag over his face that read "I AM NOT FAMOUS ANYMORE." Several months later, the actor alleged he was raped during the performance.
Nevertheless, Mr. LaBeouf has continued to pursue his artistic projects, and no further acts of violence have been reported. He has live streamed his heartbeat online, conducted interviews with fans over webcam and run laps around Amsterdam's Rijksmuseum. Last year, when the group held a marathon screening of his entire film oeuvre at the Angelika Film Center in New York, and invited people to come watch them with the actor, he and his cohorts became a sensation. The performance, #ALLMYMOVIES, was live streamed, and the world got to see Mr. LaBeouf's pained, tickled and nauseated reactions to his own work, while a rotating cast of visitors filtered through the theater after standing in lines outside that lasted for hours and wrapped around the block. (We can attest to this, we were there.)
Mr. LaBeouf and co. plan to document their travels with Colorado's finest for a film to be shown at the Finnish Institute of London and the Boulder Museum of Contemporary Art. "With these projects, we try to retain a naïveté—or that's the goal," said Mr. LaBeouf. "The goal is to sorta stay naïve, stay impressionable, stay malleable." But considering a Manhattan man was punched in the face recently just for resembling the actor, let's just hope the gang has 911 on speed dial.