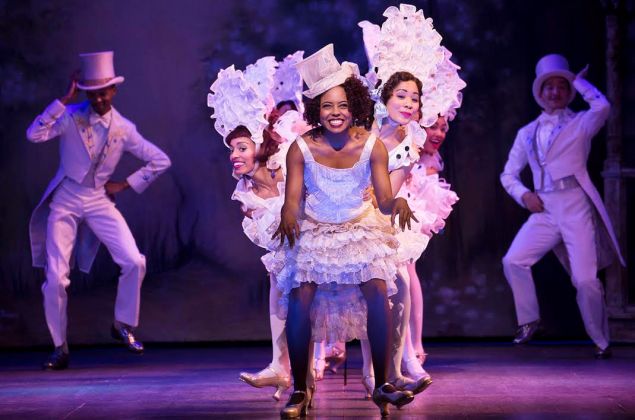 Sopranos can't swing. They've proved it for years. Leontyne Price and Kiri Te Kanawa both made jazz albums with Andre Previn that went down in history as unmitigated disasters. In the movies, Jeanette MacDonald, Deanna Durbin, Julie Andrews, Jane Powell and Kathryn Grayson tried but never came anywhere near the proper syncopation, tempo or sense of rhythm that brought a song to life. The only soprano I can think of who could do both was Eileen Farrell, who was equally at home, note for note, with Giuseppi Verdi and Harold Arlen, and made history singing both. But mostly they knew their limitations and stuck to lieder. It's a stroke of advice I wish Audra McDonald had followed before she slugged her way through a hunk of junk called Shuffle Along.
Directed with three left fists by George C. Wolfe, this is the deadly attempt to trace the triumphs of black musical theater history back to a revue in 1921 that bubbled like brown sugar and blasted audiences off their seats with toe-tapping tunes by the team of Noble Sissle and Eubie Blake with songs like "I'm Just Wild About Harry", which is massacred by the usually reliable and undoubtedly talented Ms. McDonald in a far cry from the way she lowered her keys and channeled the show-stopping, heart-stopping Billie Holiday in the prize-winning Lady Day at the Emerson Bar and Grill. If only she had made some compromise here between her powerful soprano and the vaudeville ragtime of the Jazz-Era songs in Shuffle Along. Overbearing, cussing like a Jersey stevedore and walking like a javelin thrower, every footstep exudes terror in the spectator. As Lottie Gee, the lead performer of Shuffle Along, her vocals, delivered in lumpy costumes and ugly marcelled wigs, are both loud and lacerating, but they don't contribute much more than star-turn distractions in a big mess that is dead on arrival.
Tracing the rise and fall of the four principal creators of the show in 1921, Shuffle Along insists it made such an impact on theater history that songs were even stolen from the score by none other than George Gershwin, a tale I refuse to believe as anything other than apocryphal. The principals were the songwriters Sissle and Blake (Joshua Henry and Brandon Victor Dixon), and two producers named Aubrey Lyles (Billy Porter, fresh from Kinky Boots and doing his specialty shtick of screeching his head off in a cacophony of guttural, escalating screams) and F. E. Miller (a baffled looking and criminally wasted Brian Stokes Mitchell). Everyone has a song, and everyone sings so loud that I urge you to plan ahead and bring earphones. There is no story and George C. Wolfe has cut so much extraneous material that it looks and sounds like it was edited with pinking shears.
The saving grace is the dancing. The choreographer is Savion Glover, the tapping dervish from Jelly's Last Jam, The Tap Dance Kid and Bring in Da Noise, Bring in Da Funk, among others. The cast is huge, which is rare and expensive by today's Broadway standards, so when they tap up the names of the towns they've played on their way to New York, it's funny and clever. But the story is tired: at a time when Broadway was dominated by white producers like George White and Flo Ziegfeld and shows headlined Marilyn Miller, Fanny Brice and Al Jolson in blackface, even Bert Williams had to smear burnt cork on his already brown face to find a place in front of a white audience that considered his dark face black enough. So even after black performers in 1921 got the right to vote, theater doors were closed. Their only choice was to put on their own shows—by them, about them and starring themselves. When they aren't dropping black names (Alberta Hunter, Josephine Baker, Ethel Waters, Bricktop) they're trading insults, slurs and enduring second-rate costumes perfected for Aunt Jemima. They ran out of money, a storm hit their opening night in Trenton and they had to close. They could sing about watermelons and Dixie, but never kiss onstage. All they wanted was to live their lives, sing their songs and display their talents the way they wanted, but when Shuffle Along finally reached New York they were forced into an obscure theatre 20 blocks from Times Square. This is a show about how they got there and survived. It is chock full of facts that drag the show down every time they stop talking and start tapping.
The show made history in 1921 but had bad consequences for everyone except Eubie Blake, who lived to be 96. It introduced Florence Mills. George Gershwin would never have thought of "Fascinatin' Rhythm" without it. Ziegfeld took one look and hired the chorus girls to teach his own Ziegfeld Girls how to shimmy, shake and shuffle in the Follies. So why is Shuffle Along such a drag? Because it has no originality, no thrust, no book and no definition of its own. Just as they imply Gershwin stole from it, Shuffle Along steals from everything else. What it doesn't beg, borrow and steal from Gower Champion's 42nd Street, it cribs from the finale in Jersey Boys. The tap dances look thrown about and inserted in all the wrong places, like shuffling cards in a game of bridge. (Hence an inspiration for the title Shuffle Along, perhaps?) The "book" is so flat that each time the cast stops tapping and shuffling, the show drops dead of its own accord. It's derivative, repetitive and a colossal bore. In the end, when the four leads sing something called "They Won't Remember You" to each other, my exhausted companion whispered in my ear, "That's the truest song in the show. They oughta put those words on top of the theatre in lights."