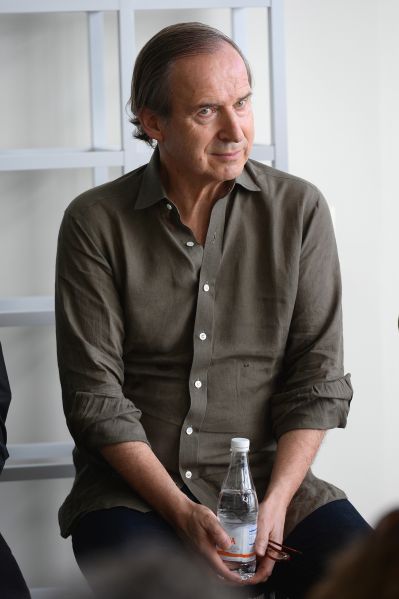 Simon de Pury's hand shoots up like he's spotted a bidder for a $2 million Basquiat when he sees me, but this isn't an auction room, and thankfully I'm not here to spend that much on breakfast. Rather, I'm at Jean-Georges' restaurant at the Mark Hotel to talk with Mr. de Pury about his new memoir, The Auctioneer: Adventures in the Art Trade.
One might say that Mr. de Pury has lived the art world version of a rock star's life. In 226 pages, the revered aesthete chronicles his time heading up two of the world's leading auction houses, Sotheby's and Phillips; his years overseeing the storied private collection of a Swiss baron; and his high-profile love affairs with artist Anh Duong and publishing mogul Louise Blouin. Dressed in his signature Caraceni suit (the Italian bespoke tailor best known for dressing royalty), gray hair slicked back, Mr. de Pury speaks rapidly, barely pausing to catch a breath between bites, every other word an animated exclamation that rolls out with hints of a once-thick French accent.
"When I started in the art world my driving motivation was my passion for art," he says, in between hurried chewing. "Naively at the time I thought a great work of art speaks for itself: You just put it up there and it will sell itself."
The Swiss-born Mr. de Pury, 65, admits he caught the art bug early, briefly studying traditional Japanese painting in Tokyo before working his way up to chairman of Europe at Sotheby's. He left the business for seven years in the '80s to curate the famed holdings of Baron Hans Heinrich Thyssen-Bornemisza, then in 1997 started his own house, Phillips de Pury, with dealer Daniella Luxembourg.
Many of the anecdotes in The Auctioneer make the art world sound less than alluring, especially in contrast to its eye-popping profits. During Mr. Pury's first year at Sotheby's, for instance, he drove door to door around the British Isles looking for furniture consignments.
But it's also full of wild stories, from his days heading the Sotheby's office in Monaco to his being tapped to be a judge on Bravo's reality series Work of Art.
And some adventures you won't get to read in Mr. De Pury's memoir. There's the time he nearly died in a boat fire on the crocodile-infested Niger River in Mali during a trip to visit photographer Malick Sidibé and musician Ali Farka Touré. And the Cindy Sherman photograph he "fell madly in love with" at an art fair and, but for want of an incorrect phone number, lost to another buyer.
Along with art, Mr. de Pury's other great love is music. He is as "obsessed with hip hop" as he is contemporary art. He listens to nearly every new release, and compiles "endless playlists" for his gigs as a DJ, most recently at Jimmy'z in Monte Carlo. Currently, he's hooked on Drake's new album. "It will be something totally different next week," he says. "In a way, it's always the next thing that will be the most interesting."
Three years ago, Mr. de Pury sold his stake at Phillips and left to run a private art advisory and curatorial service with his wife Michaela. "There is not a day that passes that I don't see firsthand great art," he says. "That is the engine, the stimulation, what makes it all worthwhile."