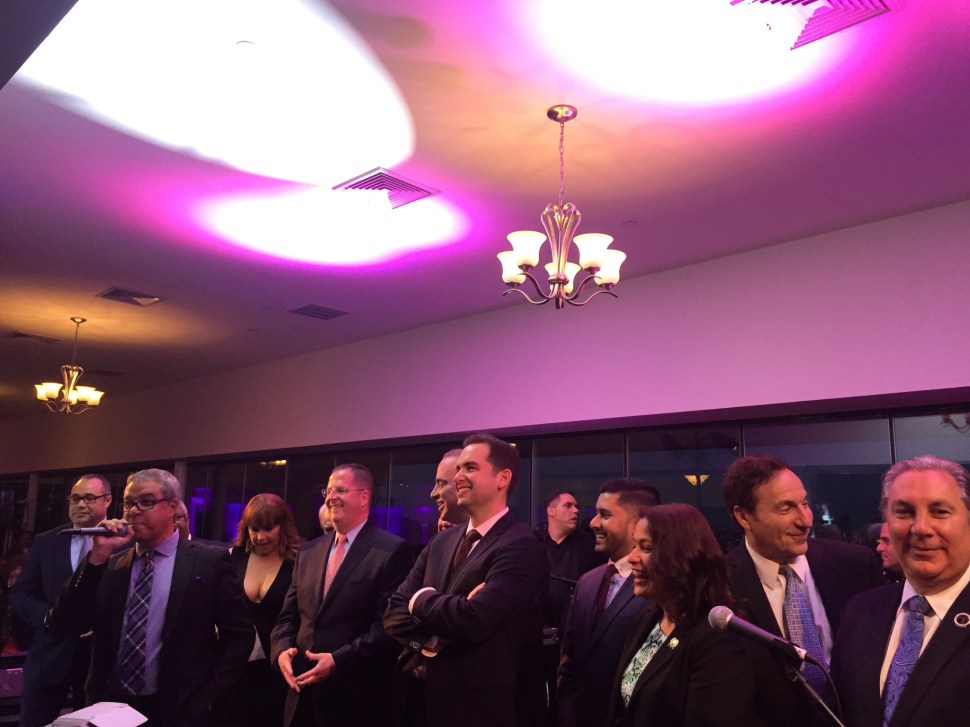 It looked like the flight deck of an aircraft carrier on the ultimate mission of death in Cliffside Park tonight, vivid scene of the latest display of hundreds of human bodies propped at attention in the service of state Senator (and Union City Mayor) Brian P. Stack (D-33).
It was Stack's annual fundraiser, a ring kissing extravaganza for those less powerful people intent on reminding Stack of his own power, even though technically he didn't need anyone in the room. That's the essence of power.
Every time Essex County has an event, Stack has an event that appears timed to make Essex go back to the flight plans to figure out how to project more of that elusive essence.
In any event, Jersey City Mayor Steven Fulop appeared to enjoy his own proximity to the North Hudson boss, as did Assemblyman Raj Mukherji (D-33).
Everyone else was also in the room (well, anyway, 1.500 people, including U.S. Senator Bob Menendez).
Once the dreaded presence invoked as the object of all Stack followers' derision and rage, state Senator Nick Sacco (D-32) circulated as a delightful avuncular fixture, in danger only of exhausting the storyline of these two longtime North Hudson rivals now appearing overly lovable in each other's company.