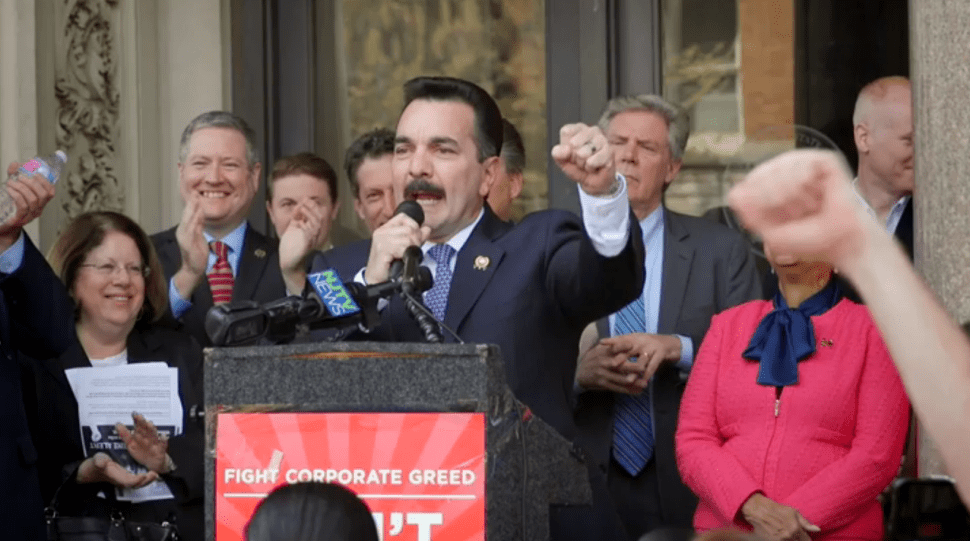 If the New Jersey Democratic Party could summon Edgar Allan Poe from the grave he would likely welcome with relish the chance to write about a party that walks around with a meat cleaver through its forehead, split sideways right up the middle between north and south.
Instead, you get the compounded horror of PolitickerNJ – not Poe – documenting the nightmare.
So just three days before a scheduled momentous vote on the assembly floor, cars raced through swamplands to the Galloping Hills Golf Course tonight to the annual Jefferson-Jackson Dinner in Kenilworth. Andrew Jackson was a president dropped a notch in history just last week with the announcement that his likeness on the $20 bill can't withstand a challenge from Harriet Tubman.
The only question on people's minds as they chucked car keys at slump-shouldered valets tonight was whose likeness would drop a notch heading into Thursday: that of Senate President Steve Sweeney (D-3) or Speaker Vincent Prieto (D-32).
Each has competing bills for a state takeover of Atlantic City, and Prieto wants to trip up Sweeney by posting and passing his version of the bill this Thursday. Sweeney wants to clothesline Prieto.
So who wins?
Multiple sources said pressures applied over the weekend by the dual combine of South Jersey Democratic Leader George Norcross III and Gov. Chris Christie will likely prevent Prieto from being able to pass the bill on Thursday.
Now it's still volatile. The phones that slammed a moment ago could be picked up again and reengaged; passions reignited from the opposing side.
But endzone dances were already underway Monday evening in Norcross land.
A South Jersey source told PolitickerNJ that four Republicans fell off Prieto's bill today, while Democrats peeled – at the very least – Assemblywoman Eliana Pintor Marin and Assemblyman Joe Egan, which leaves Prieto just short.
Wounded by poll numbers that show him crawling in the mid 20s, Christie could chest thump with renewed abandon if the numbers hold. He and Norcross together went for a fixed bayonet charge on legislative terrain that lieutenants like Assembly Majority Leader Lou Greenwald (D-6) could not formerly breach on behalf of South Jersey.
Maybe there would be some push back in the backrooms of that golf course tonight in Kenilworth. Maybe someone out there would pull a Ruben Ramos, and reverse himself come vote time after a chastisement from the wife.
Prieto was supposed to be there tonight, so were the Democrats running for governor in 2017.
Things would get hashed. And rehashed.
But if the bloodiest portion of the backroom war was over and Prieto defeated, there was some chafing among even his rivals over how the tag team of Christie and Sweeney treated him, with repeated claims in both caucuses that the front office and the senate did not respect the speaker and give him a seat at the bargaining table at the outset. Those who stood by Prieto had different reasons for doing so, starting with the threat of public sector wrath if they didn't back his bill, the threat of Prieto stripping them of leadership, regional loyalty, and loyalty to Prieto, whose mild mannered "I'm still just Vinny" demeanor has stood him well.
One North Jersey source begged for documentation of the stylistic contrast between the Dean Martin lounge act-like Prieto and the double barrel effect of Norcross-Christie.
Sweeney was reportedly furious with Assemblyman Wayne DeAngelo (D-14), a Sweeney for governor backer who nonetheless decided to back Prieto's bill. There were more than a few bitterly exchanged words.
Whatever happens this coming Thursday, the divide just got deeper, the lines of horror a little harder, as Democrats took their seats at round tables adorned with Cask of Amontillado finery, and the state careens toward the next gubernatorial contest.