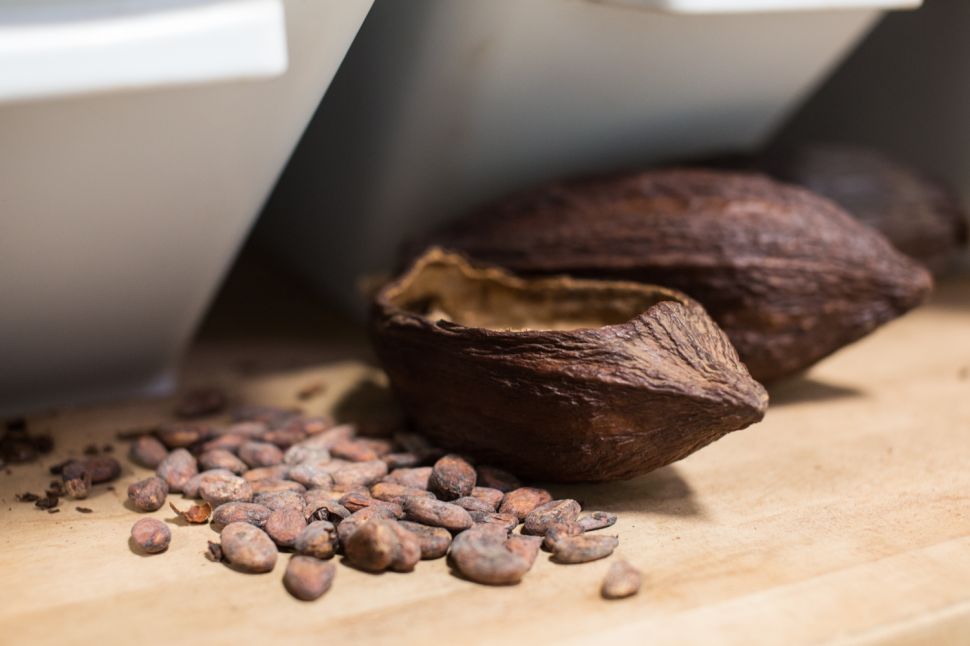 Upstairs at Cacao Prieto, a bean-to-bar chocolatier in Red Hook, it smelled as though vats of spiced chai were brewing and Toll House cookies were baking. A visitor then detected a vinegary undertone, where the boutique firm turns the cacao beans into a slurry called "cocoa liquor." Down the stairs into the basement, where brown stew becomes high-end dark chocolate, the pleasing odor shifted: a full-on sweet cocoa with hints of strawberries and raspberries.
So visitors who pay no attention on one of Cacao Prieto's weekend tours can still learn about its manufacturing process through their noses. It's an olfactory sensation that head chocolatier Roger Rodriguez hopes more will experience soon, when visitors will follow the forthcoming Southwest Brooklyn Sweets Trail map. The map, which promises to show day-trippers the best local spots for developing cavities, from ice cream to Key lime pies to bonbons, marks the first public manifestation of a campaign to make the gentrifying neighborhood a hub for sugary innovation.
Cacao Prieto opened about six years ago. "We grow it. We harvest it. We do the fermentation," chief chocolatier Roger Rodriguez explained. Smiling each time he spoke, he paired an old-school bakery smock with hipster glasses. "We handle every single part of it."
The company even invents patented gear, such as its Double Vortex Winnower, which extracts the cocoa shells from the flavor-bearing nibs by swirling both aloft inside a glass tube tornado.
Eleven blocks away, Raaka Chocolate, another future stop on the tour, doesn't roast its beans. That's why its name means "untamed" in Finnish.
The two companies have united to create a chocolate culture like the one craft breweries built. "They use very different equipment than what we use. It tastes different. It looks different," Nate Hodge, a co-founder of Raaka, said of his friendly competition, but "it speaks to the same thing: building community around chocolate consumption."
Peter Gray, Raaka's first hire, noted that chocolate is as much food as candy, since less sugary, more flavorful versions can be added to rubs, sauces or stews. To that end, Mr. Gray gave the Observer a sample of Raaka's ghost pepper chocolate from a warming pot in its factory, a former metal fabrication shop. That sample tasted first like classic dark chocolate, but then the Indian chili pepper sneaks up, a hot kick at the back of your mouth.
Perhaps a visit with some of these real-life Willy Wonkas will have a similar delayed effect: a gradual realization that sweets can be a shared pleasure, rather than a guilty one.