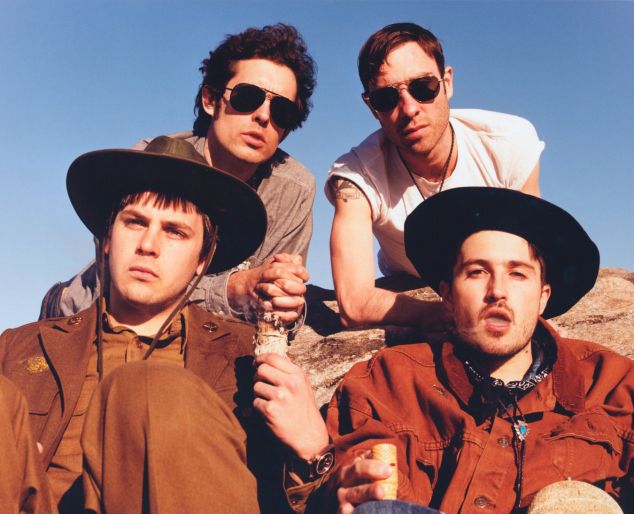 Listening to the Black Lips can make you want to kiss someone and break something at the same time, just like great rock and roll should.
They aim to please. The Atlanta-based band's shows are wall-to-wall energy and old-school showmanship.
In the olden days, that included public nudity, some guy-on-guy makeouts and a reflux condition resulting in onstage vomiting. They've said that that had more to do with distracting from the fact that they couldn't play their instruments, but somehow they managed to be more than the sum of those parts and now have produced seven studio albums, three live albums and, in true punk-rock fashion, many, many singles and splits.
They're only in their early 30s, but they've already been together as a band for almost 17 years.
In spite of themselves they've gotten better and tighter. They still work hard to play cheap instruments inexpertly to get to the kernel of the sound they want, but they've added some layers to the early two-chord hiss and noise of the first albums, great in their own right.
The Black Lips wear the mantle of great American rock and roll in all its incarnations. They are devotees of the early scratchy gospel of The Reverend Charlie Jackson, the proto-punk rock ramble of Link Wray, Rockabilly, '60s Garage, psychedelia, the soul and eccentricity of James Brown and The Mighty Hannibal, Southern Rock, The Stooges, MC5, the Cramps, Ramones, et cetera are all influences. But their sound is their own. Sexy, weird, infectious rock and roll.
Beneath the screwball pranksters are smart, subversive artists.
In the grand tradition of iconoclasts like John Waters, The Black Lips are double-reverse, anti-intellectual intellectuals. Like the Beastie Boys' "Fight for Your Right to Party," Black Lips' reach extends past the inner sanctum of in-the-know indie and punk rock kids to the frat boys with an anthem to mayhem, "Bad Kids," a catchy rollicking anthem to misspent youth and single moms.
[youtube https://www.youtube.com/watch?v=lrNSjItTfes&w=420&h=315]
The rest of their catalog, however, is complex—alternately more fucked up and more nuanced. Unlike other garage, punk or psychedelic outfits, they're not bound over and over again to one sound. They integrate it all, throwing in gospel, blues, country roots and make it work.
The avowed devotion to not playing their instruments too well—they identify as entertainers, and point out that musicians are the salesmen at the Guitar Center—hasn't stopped them from creating several perfect songs. "Modern Art," the second track on 2011's Mark Ronson-produced Arabia Mountain, is the tightest, most brilliant pop song to appear in a long, long time. "Dog Years," from the 2014 Pat Carney-produced Underneath The Rainbow, captures the sweet-sick dichotomy of falling in unhinged love/lust, with just the right amount of Exile on Main Street woo.
They're inveterate fans and keepers of the punk flame. Not your Green Day and co. punk—punk as honesty, rock and roll stripped of artifice, making sure to mine the weird and wooly roots of music and come up with something their own. If you haven't heard them before, I envy the streaming music rabbit hole you're about to enter.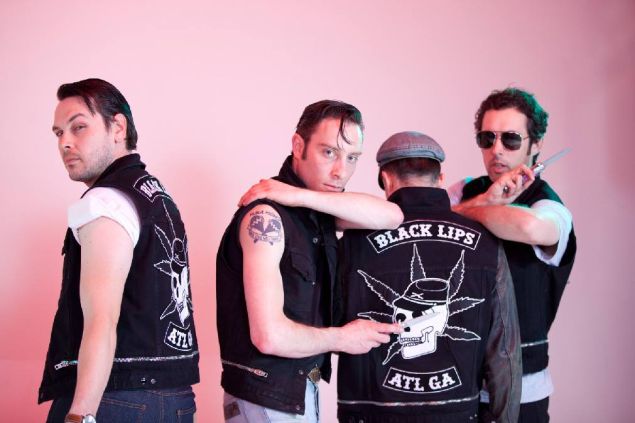 Jared Swilley, the bassist and sometime singer (and descendant of three generations of Pentecostal preachers), says they'll play the Super Bowl someday. They should. It could be the reset America needs. The dirtiness of rock and roll would be a welcome relief from over-produced slick automatons with real-life air-brushed thighs, cinched-in waists, silicon faces and plastic hair.
Sometimes a thumb of the nose and a poke in the eye is just what you need alongside some seriously good music.
Word is they're in the studio again, working with Sean Ono Lennon, who is emerging as a smart and interesting producer—and who also plays the Theremin—so that only bodes well.
The Black Lips perform at the Bowery Ballroom in Manhattan on Sunday, May 8 with Hank Wood & The Hammerheads and OCDPP (featuring Kristin Kontrol of the Dum Dum Girls) and at the Music Hall of Williamsburg on Monday May 9 with Hank Wood and Dion Lunadon from A Place to Bury Strangers.