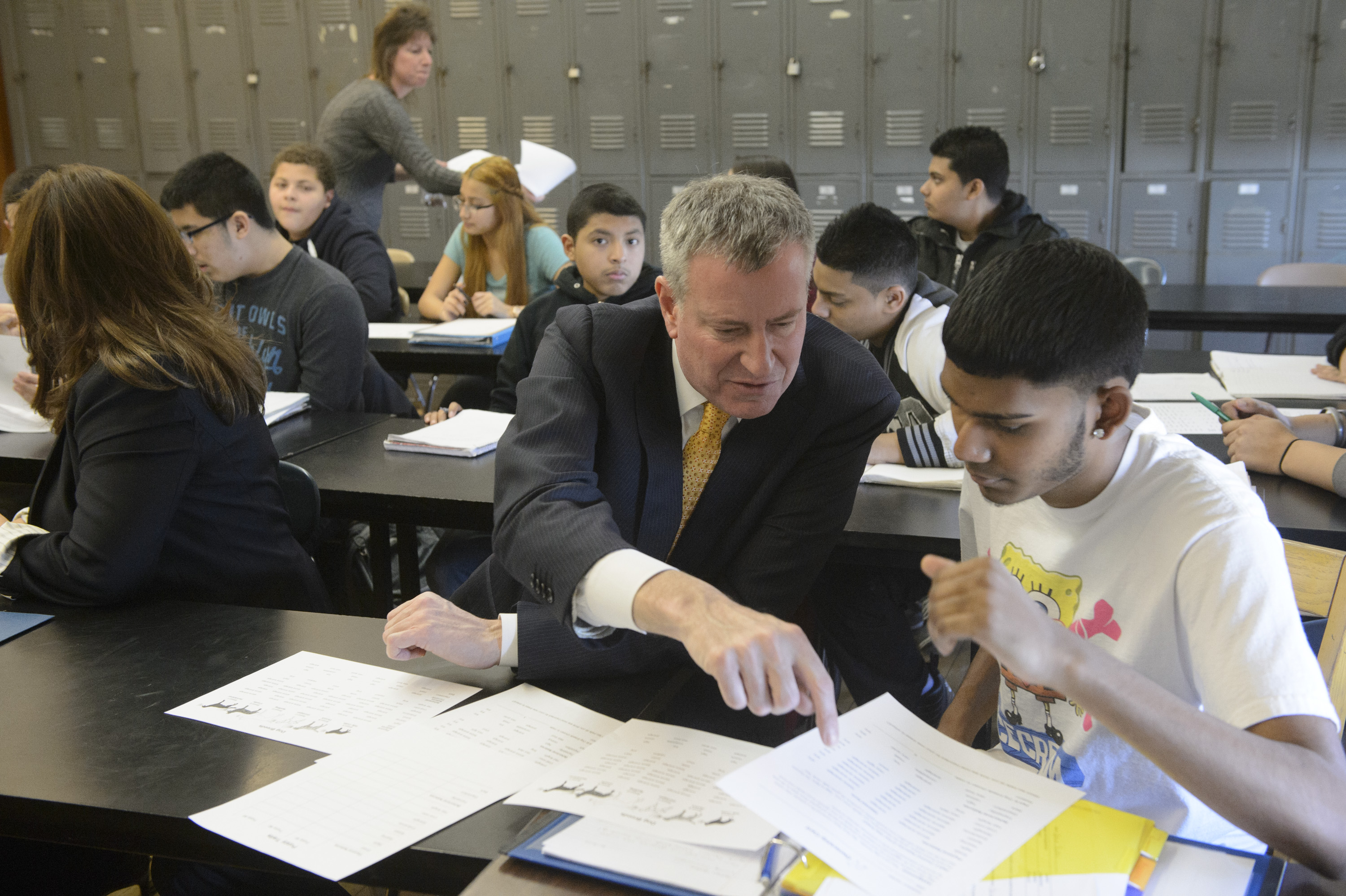 Mayor Bill de Blasio went up to Albany to plead his case for continued control of the city's school system yesterday—but his performance apparently didn't resonate with Republican Senate Leader John Flanagan.
"While I appreciate Mayor de Blasio and Chancellor [Carmen] Fariña making time to have a conversation on this important issue, I am no closer to signing off on an extension of mayoral control now than I was 24 hours ago," Mr. Flanagan said in a statement he blasted out to the press this afternoon.
Mr. Flanagan, a Long Island Republican, is the former chair of the Senate Education Committee and no friend of Mr. de Blasio's. In 2014, the mayor sought to wrest control of the Senate away from Republicans—then led by Dean Skelos, who has since been convicted of corruption charges—in hopes of furthering his agenda. The mayor has had little luck with the chamber on a number of issues including education, and last year lawmakers in Albany rebuffed his hopes of permanent mayoral control and granted him a mere year—well under the six- and seven-year extensions of mayoral control given to his predecessor, Mayor Michael Bloomberg. (Gov. Andrew Cuomo, a fellow Democrat but rival of Mr. de Blasio's, hasn't exactly gone to bat for the mayor on the issue.)
Given an ongoing investigation by the U.S. Attorney's office into Mr. de Blasio's fundraising for Democratic candidates for State Senate (who did not win) many expected fireworks at yesterday's hearing—and, after a staid start, they eventually got some. But the reception for Mr. de Blasio was not nearly as harsh as some might have anticipated, especially after lawmakers seemed to team up to unexpectedly hit Mr. de Blasio on a proposed property tax cap earlier this year during his budget testimony.
Based on his comments today, the tenor might have been a bit more tense if Mr. Flanagan were still on the committee.
"Too often, the Mayor showed a disturbing lack of personal knowledge about the City schools. In addition, he has left too many unanswered questions and failed to provide specifics on many of the issues raised by my colleagues on both sides of the aisle," Mr. Flanagan said. "Until that occurs, I will not entrust this Mayor with the awesome responsibility of operating the New York City school system."
And so—despite almost no discussion of any viable alternative to mayoral control of city schools, which has been in place since the dissolution of the school board system in 2002,  it seems Mr. de Blasio, or at least his emissaries, will have to go back to Albany with their hands out yet again.
"Our Education Committee will hold a second public hearing in New York City on May 19 to further examine this issue, giving Mayor de Blasio and his administration another chance to make their case in a more thorough and more convincing way," Mr. Flanagan said.
A spokesman for Mr. de Blasio said he'd presented a clear case for mayoral control—but looked forward to continuing the dicussion.
"Mayor de Blasio and Chancellor Fariña articulated a clear and compelling case for the state to grant a multi-year extension of mayoral control. From Pre-K for All, to graduation rates above 70%, the successes of a school system with direct, mayoral accountability cannot be denied," spokesman Austin Finan said. "The Mayor and Chancellor look forward to continuing this discussion on behalf of New York City's children and families."
Updated with comment from Mr. de Blasio's office.