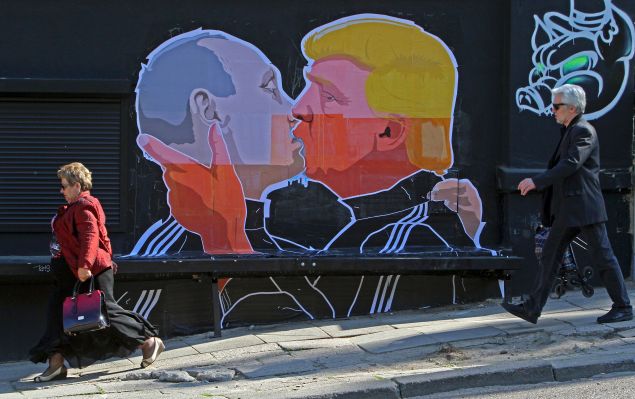 Street art mural imagines Donald Trump and Vladimir Putin making out. Lithuanian artist Mindaugas Bonanu has painted a raunchy picture in the country's capital, Vilnius, depicting Mr. Trump and Mr. Putin locking lips.
Italian government takes back $57.7 million in cultural funding to Sicily. Three of Italy's southern regions—Sicily, Calabria and Campania—failed to spend government allocated funds for culture and tourism in 2015 due to "badly written proposals, inconsistent figures, late submissions and even requests sent to the wrong email address." As a result, the EU has decided they won't get to keep the leftover cash.
The Tate Modern's towering ten-story expansion will only add three floors for art. Instead of masterpieces, the pyramid-shaped addition will primarily feature an observation deck, a restaurant, a bar, a museum shop, and some spaces for education and events.
Swiss architects Herzog and de Meuron—the duo behind the Tate Modern's brilliant 1995 Bankside museum—return for another Tate expansion. Apparently, this time around, they had to "literally to fight to get some space for the needs of Tate."
Meet the man who helped SFMOMA secure the world-class Fisher Collection for 100 years. Thaddeus J. Stauber of Nixon Peabody LLP's Art and Cultural Institutions Practice was integral in negotiating the long term loan of Gap Founders Donald and Doris Fisher's 1,100 artworks to SFMOMA.
Picasso's cubist portrait Femme Assise heads to the auction block. The New York spring auctions have only just wrapped, and already collectors are looking ahead to London. On June 21, Sotheby's will offer what is being called "one of Picasso's most important Cubist works," for sale.