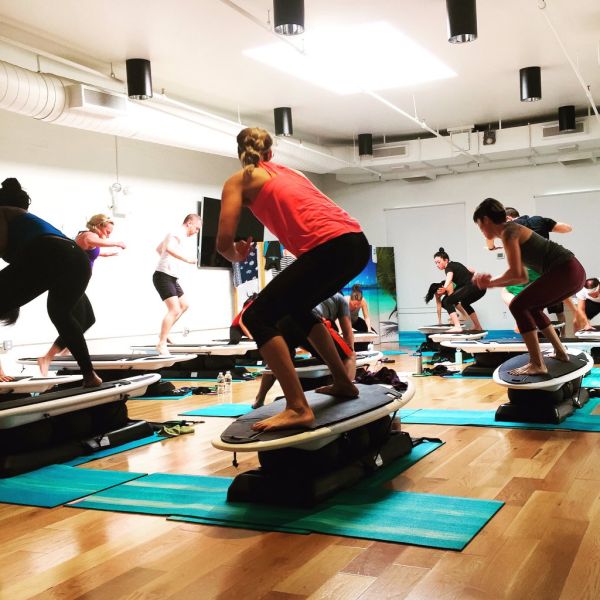 There is perhaps no more quintessential summer experience than packing up and heading to the beach for the week, the weekend or even an ambitious afternoon. It's right up there with downing an ice cream cone on a sticky day and convincing yourself that you too can pull off a high-waisted bikini come June. Except remember how getting to the beach can be a royal pain, especially for New Yorkers, and once you get there you wonder if it's really worth the crowds, the dirt and the being nowhere near a bathroom?
Personally, I am a huge fan of the concept of the beach, but once I get there I usually find myself a little bored and feeling stranded. This is why I was so pleased when I attended a Surfset Fitness class right here in Manhattan, courtesy of Red Bull's new limited edition Kiwi Twist flavor. Surfset is an indoor surfing workout. That's right. I got to ride the waves, hang 10 and do starfish sit-ups all from the safety of East 4th Street. And I walked away with no sand in my crotch.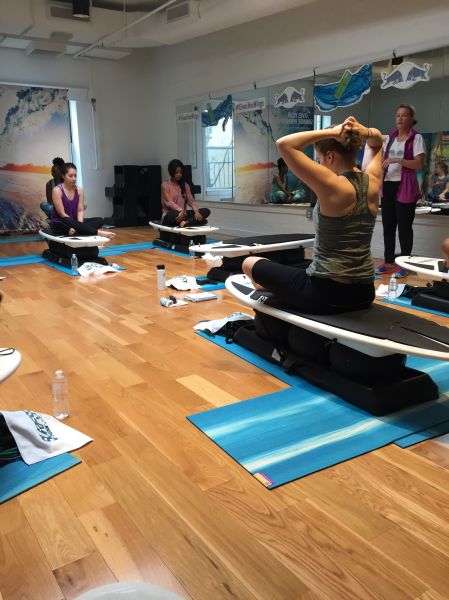 The class was started by Mike and Sarah Hartwick back in 2012, in an attempt to recreate the fun, powerful workout that a summer of surfing provides, albeit one that's possible during those cold fall, winter and spring months. After all, have you ever seen a professional surfer's body? Clearly the Shark Tank-backed class has appeal, as it is now in more than 250 locations in 19 different countries.
Your equipment is simple: a plastic surfboard attached on top of three large balls secured at a base and your imagination. You are asked to pretend to be catching a wave, paddling out, diving onto your board, carving, popping up, etc., I half expected them to tell us to watch out for dolphins and sharks (but maybe that's included in the advanced classes).
Just don't think this is just a spectacle of a class. You can take four different styles of Surfset: The yoga heavy Balance, the high-intensity and fast Burn, the strength-focused Build, and Blend which incorporates all of the above. I found myself sweaty and tired by the end of my mini-Blend class, but I wanted to go back for more. I also knew I was in good hands from the beginning when the instructor, the very warm Diana Garrett, appreciated my "past surfing experience" as really, really liking the movie Blue Crush.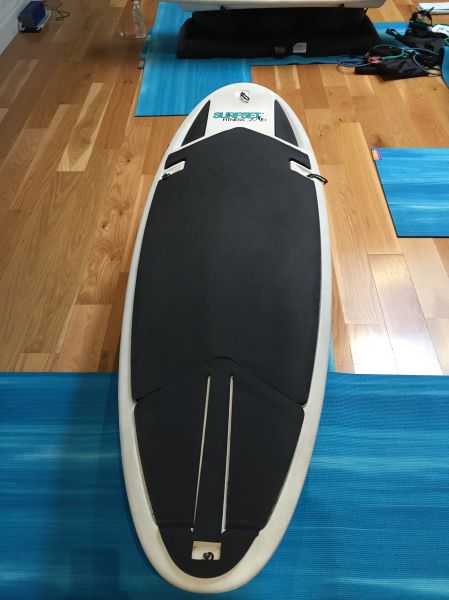 My "abs" were sore for days after the class which is always the sign of a good workout and though I am not confident I could go catch a wave any day, I do think I could at least stand next to a surfboard and look like I knew what I was doing. Other classes may provide as hard of a workout, but how many can transport you to the ocean?