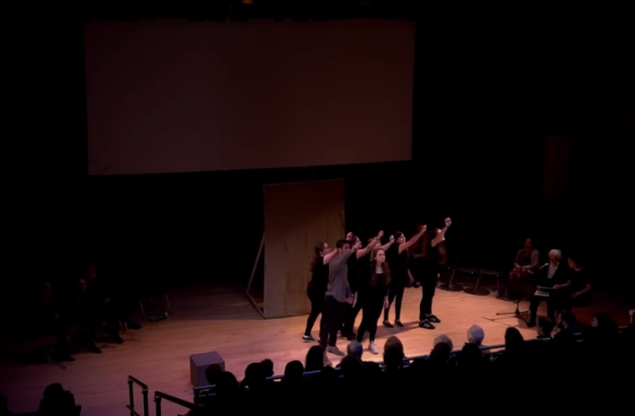 On January 10, 1945, José Urbach turned five years old. That night, his father visited him and his mother inside their barracks at the Hasag Warta concentration camp and presented two small candies to his young son. José had never seen food like it. He was astonished by how good the sweets tasted. Although he was born in Demblin, Poland in 1939, José and his family were transported to the camp when he was just eight months old. On his birthday, his father had somehow acquired the candies from the Polish workers who came to service the camp.
Six days later, January 16, 1945, Soviet forces liberated José and his mother while they were en route to another concentration camp. His father, who was transferred the night before, was not so lucky. José remembers seeing his father for the last time through a small crack in the camp's wooden fence. He was taken to the Buchenwald concentration camp, where he died.
This story was one of several reenacted by a group of students, aged 15-19, to audiences at the JCC Manhattan and several New York high schools last week, in commemoration of Holocaust Memorial Day. The performance is part of "Witness Theater," an initiative that was launched in Israel in 2003 and was brought to New York by an organization called SelfHelp Community Services in 2012, occurring every year since then. Witness Theater pairs Holocaust survivors with high school students to dramatize the survivor's experiences.
This year, Mr. Urbach, now 76, was one of six survivors working on the project. Over the past several months, the group produced what he described as a "collage" of experiences, intended to impart the reality of the Holocaust to a new generation.
The initiative also has cathartic benefits for the survivors themselves. Mr. Urbach described the experience of producing the Witness Theater performance, which features a teenage boy and girl acting as the young José and his mother in the concentration camp and during their liberation, as "like seeing a portrait of yourself done by someone else."
Mr. Urbach, who grew up with his mother in Bogota, Colombia, after the war and later moved to New York City, is an award winning visual artist. His work has been displayed across the globe in prominent American, South American and European museums, including the MoMA and the Library of Congress. Every painting, he says, expresses in some way—often subconsciously—his early history. Mr. Urbach says his experience with Witness Theater was so profound because it brought this history to life in a new way. Seeing someone act out your life, he said, offers new perspective, allowing you "to be a witness to your own story."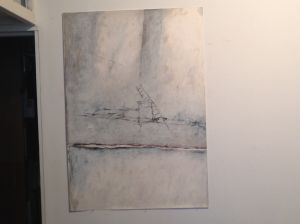 Inside his Chamber's Street apartment, Mr. Urbach took out one of his paintings, a canvas awash with snowy hues of white and blue and a jagged ribbon of deep red runs horizontally along the bottom half of the piece. The piece, like the majority of his work, is intentionally abstract. Mr. Urbach said that he wants a viewer to enjoy his work simply for what it is, but he adds, "behind each one there are stories."
This particular painting, Mr. Urbach said, captures the experience of his and his mother's experience of being liberated. The story was retold as part of the Witness Theater collage, acted out by the teenage boy and girl.
In the bitter Polish winter of January 1945, the train the Nazis had arranged to transport the remaining residents of the Hasag Warta work camp to, presumably, a death camp never arrived. The Soviet Red army had just launched their invasion of Nazi Germany, leaving their German guards to retreat to Berlin. Along with José's cousin and his father, the group was left to make their own way to the nearest city. A winter blizzard raged and the roads were strewn with the bodies.
At one point, worn by the cold and severely malnourished, José's mother, who was carrying her son, dropped him in a pile of snow. She began to scream, desperately searching for her frozen son. In a stroke of luck, a man overhead the screams and helped her find José, who was by then unconscious. He brought them into his home to eat with his family. On the kitchen table, José was revived. He woke up to the smell of fresh bread that the man's family was baking.
Mr. Urbach said the experiences showed him the "extremes" of humanity, from "those who are very bad, to those who are very good."
He said he was "touched" to see the reenactment of the story, particularly the performance of the girl who played the role of his mother. Mr. Urbach says Witness Theater plays a vital role in preserving the continuity of these experiences among a new generation. "A performance captures certain elements that goes beyond words," he said.