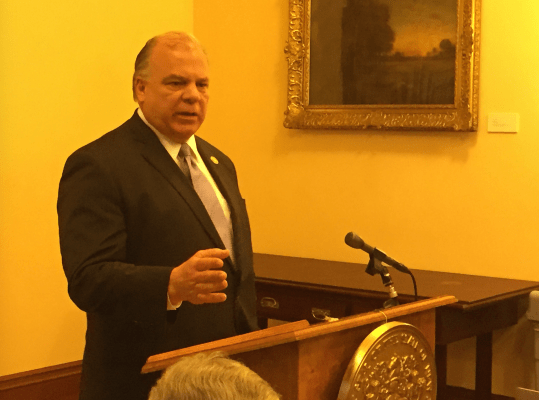 TRENTON — Following a rash of sudden disappearances from Thursday's Assembly session and Speaker Vince Prieto's decision not to post his competing Atlantic City takeover bill, Senate President and takeover sponsor Steve Sweeney was noticeably agitated after five hours of delay and closed-door caucus meetings. Sweeney reiterated his call for the Speaker to post the version of the takeover bill passed in the Senate. With an anticipated 39 votes out of the 41 needed to pass his bill, Prieto decided to fight another day earlier that afternoon.
"The Speaker proved today that he cannot pass his own bill," Sweeney said of Prieto's proposal, which is now slated for a vote next Wednesday. Sweeney has predicted that Atlantic City will default in little more than a week's time, and said Prieto has a responsibility to pass the Senate bill. Asked about the Assembly members missing from today's session, Sweeney brushed off the insinuation that lawmakers had bowed to any external pressure.
"If he had 41 votes they would have been here to be cast," he said.
"Mr. Prieto needs to come up with something that we can get signed into law," he continued. "Everyone keeps forgetting about this. The governor has to participate."
Sweeney invoked the negotiations over Atlantic City's PILOT agreement for its remainging casinos, one of its budget's last hopes. That agreement is part of Sweeney's takeover package, and written into the language of Prieto's bill. The Assembly version would have the state wait two more years before assuming control of city finances, assets and collective bargaining agreements. Prieto objects to allowing the state to tear up those union contracts, a position that Governor Chris Christie has called a cover for damaging Sweeney's gubernatorial bid.
"I would love to work it out, but without the governor's signature it doesn't work. So, what I did? I went and sat with the governor and negotiated the bill down from 15 years to five," he said. "Nothing stopped the Speaker form offering me something.
"If I have to pull you along to deal with an issue that has to be fixed, I'm going to do that," he continued. "I have a lot of friends in labor that are not real happy with me. You think I wanted to have a fight with them? But leadership means you don't take the easy route. Leadership means you lead."
Asked what the consequences of today's continuing stalemate would be for his campaign against Jersey City mayor and Prieto ally Steve Fulop for the Democratic nomination in 2017, Sweeney called Fulop's recent trip to Atlantic City evidence of hypocrisy. Pointing to Fulop's once full-throated support for North Jersey casinos and to his comments questioning whether a new casino would be wise for his city following the Atlantic City trip, Sweeney argued the overlap between pro-gaming expansion legislators and Prieto supporters speaks for itself.
"Mayor Fulop going to Atlantic City I think completely undermined the Speaker's argument. I really do. He went to Atlantic City, he said, because he wanted to visualize it. Here's a guy that challenged me, publicly challenged me, to debate on the merits of casinos in Northern Jersey." But for some reason he flips on a coin and says 'Now that I've seen it…'"