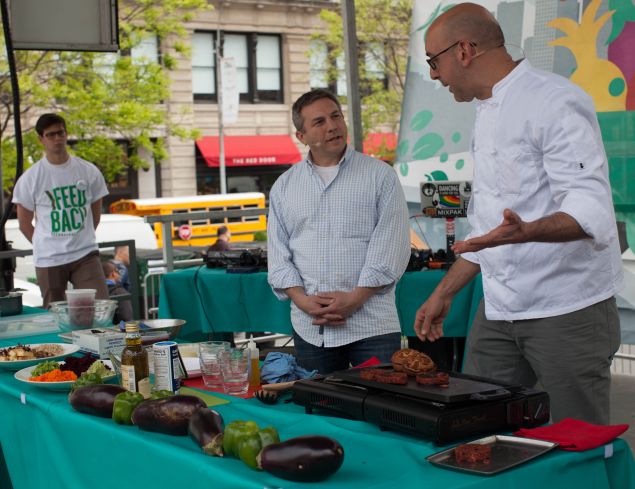 At Feeding the 5000, one man's trash is another man's free lunch. On May 10th, the festival set up shop in Union Square—its first venture in the US—and is just one of the initiatives by the UK-based environmental organization Feedback, a stakeholder in the surge of sustainable innovation since 2009.
For the occasion, the campaign served up thousands of free meals of ratatouille, gluten free tarts, and apple slaw thanks to surplus foods donated from partners City Harvest and suppliers from Hunts Point Produce Market.
Meanwhile, Blue Hill Farm chefs demonstrated how to cook dishes from leftover food on the festival's main stage. The restaurant shares the initiative's philosophy on "slow food," less waste and the virtues of sourcing locally, and its chef Adam Kaye noted that many of the most iconic dishes we still replicate today were based on the need to not waste food products. Chef Dan Barber of Blue Hill Farm also participated in making the food revitalization efforts more palatable.
Among Feedback's other 40+ partners in New York, is the Rockefeller Foundation's YieldWise initiative, which focuses on reducing post-harvest food loss. Tristram Stuart, Feedback's founder, pointed out in his 2012 TED, The Global Food Waste Scandal, that we are expending a staggering amount of resources and land, to grow food that no one eats with an estimated 63 million tons of edible food that reaches American landfills each year.
"Mountains of good food goes to waste just because it doesn't look perfect, or because a retailer has cancelled an order, or a whole different set of reasons, when it's absolutely fit for consumption," Mr. Stuart told the Observer. "We are buying more food than we actually end up eating, so we could start by actually buying a little bit less. Once you've got food in the kitchen, ensure that everything that you've paid money for, ends up being eaten by somebody. Eating leftovers is part of the traditional culinary practice that we've always had and that we've now forgotten."
"The USA over the last 24 months has been gearing up for what we call a food waste revolution."
Feeding the 5000 has identified key opportunities that it hopes to bring attention to the food industry, and food labeling is its main focus. "Ninety percent of Americans throw away food because of the date label, and most of those labels have nothing to do with food safety, the food is still perfectly good to eat," Mr. Stuart said. "There is a very simple solution and that is to choose two date labels … One is a food safety date for high risk food, and one is a manufacturer's guarantee of quality. I have been campaigning for a long time and the date label situation in the United States is the most ridiculous thing I have ever come across."
Feedback's work in the US also aims to revitalize the power of the Good Samaritan Act, which was passed over 20 years ago. "It is supposed to support the donation of surplus quality food to feed the hungry and feed the vulnerable members of society that sometimes don't have enough money to buy food," he said.
Other sources of waste in the industry point at the supply chain, which wastes food by throwing away ugly fruit and vegetables that don't comply with cosmetic standards. Retailers should also be measuring and reporting how much food they waste. After working for years exclusively in Europe, Mr. Stuart is optimistic about progress in the United States.
"Everyone agrees that food waste is wrong," Mr. Stuart said. "It's the first step to seeing all the other food problems in our world: We have to have a system that is going to nourish the human population without destroying the environment. That requires a whole range of changes to our system, food waste is just an easy place to start."