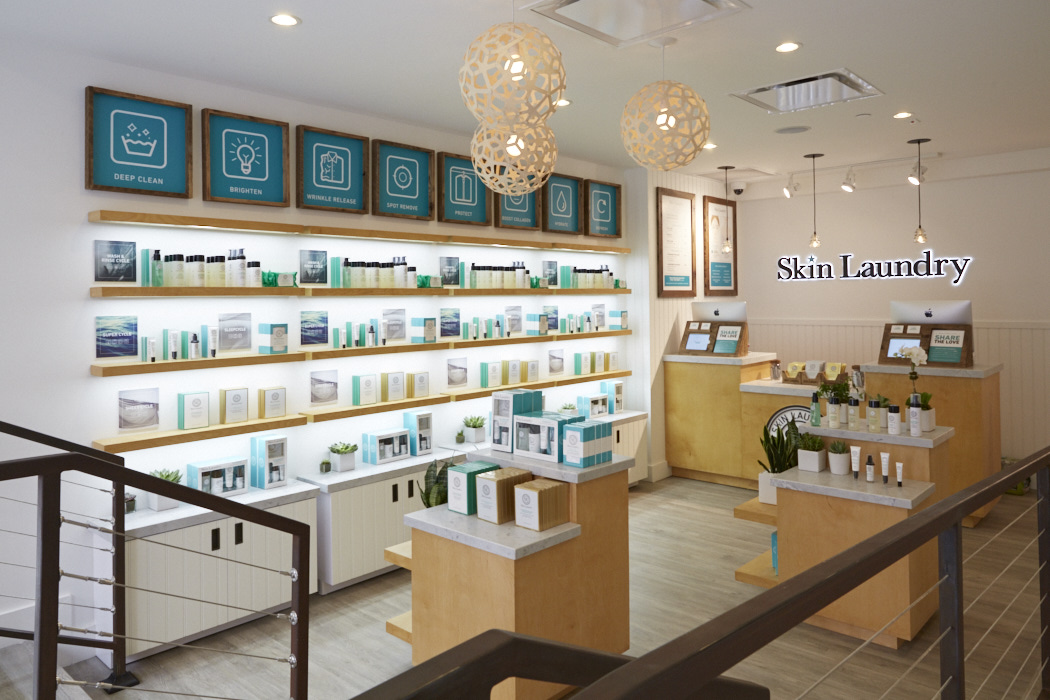 Skin Laundry, the go-to spot for lunchtime laser treatments, has opened in Midtown East–an ideal drop in before, during, or after work if you need a little glow. The Santa Monica founded facial spot offers a single laser and light treatment that zaps your face for only 15 minutes. (The laser isn't exactly comfortable.) Once the zapping is done, skin looks healthy and even glowing.
The brand new Midtown location is large, airy and California-inspired, with their familiar turquoise packaged face masks and cleansers lining the wall. It is a bit off the beaten path for those who work downtown, but another location is set to open in Tribeca this summer. After the procedure, skin isn't spotty, bright red or embarrassing, so you can go about your day without worrying that you'll inevitably bump into someone on your way home who you would rather not see with bare skin.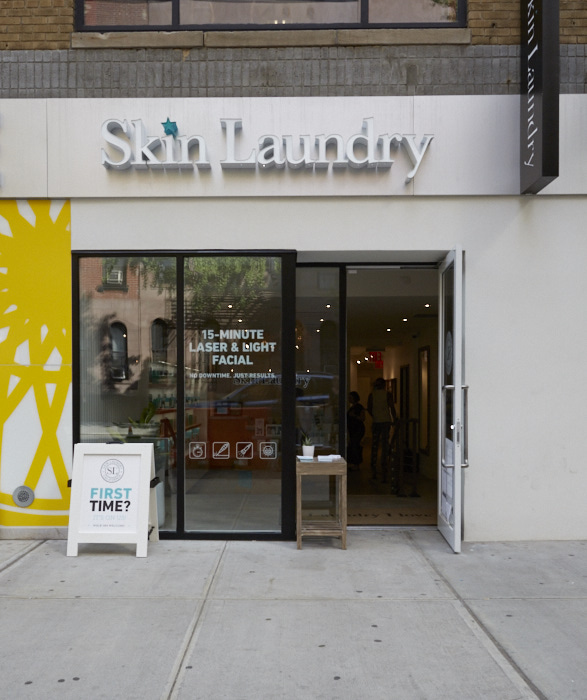 The Skin Laundry facial is a two-part process. After the nurse who does the procedure makes sure you're not using any prescription face medications, they walk you through the process and the laser light portion begins. For those expecting a gentle cleansing, it's much more intense. It feel like tiny pinpricks, a rubber band or a tattoo needle, even. But the entire process goes by in a flash–and then is followed by a literal one, with flashes of light you can only see through goggles. If you're used to deep cleansing facials, you know beauty can sometimes be pain and this is a similar feeling, only it lasts for a shorter period of time and you can see results almost immediately.
Like boutique class memberships, Skin Laundry is less expensive in packages, and after one treatment you might be hooked enough to buy one. But unlike a gym membership you never use, you'll be tempted to return to a nearby Skin Laundry whenever you have a free fifteen minutes. Depending on your skin type, you can go in up to two times a week…and with the Victoria's Secret model glow immediately visible after the facial, you might just be tempted to become a regular. After all, a laser treatment during lunch is far superior to a sad salad.