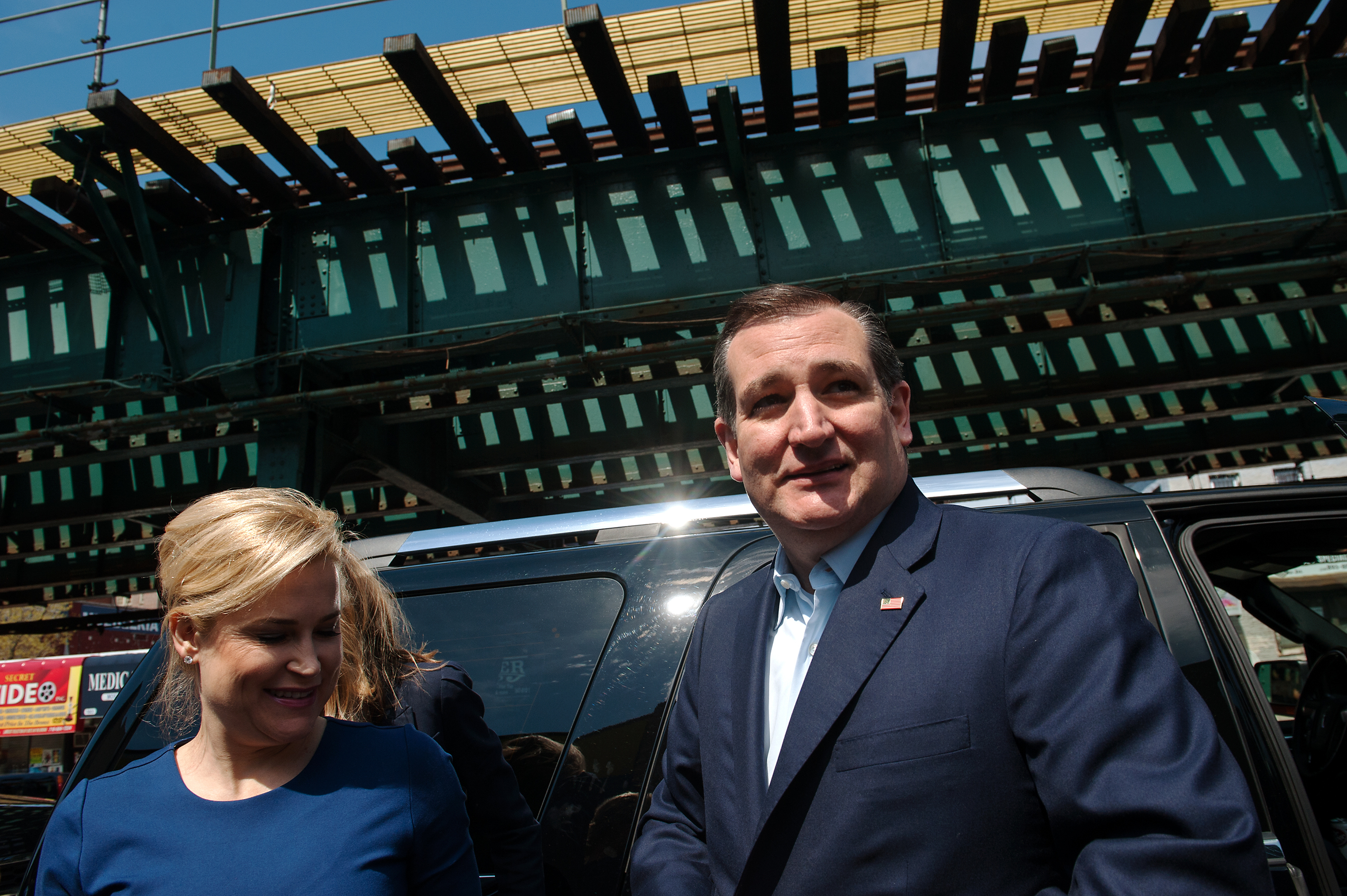 Sen. Ted Cruz is ending his bid for president—making it almost certain that Donald Trump will be the Republican nominee.
"From the beginning, I have said I would continue on as long as there is a viable path to victory," Mr. Cruz said to supporters tonight in Indiana. "Tonight, I'm sorry to say, that path has been foreclosed
Mr. Trump handily won the state Indiana tonight, a state considered a must-win for Mr. Cruz—who conventional wisdom said would appeal to the state's base of white, evangelical Christina voters. But conventional wisdom has meant just about nothing in the Republican presidential field, which Mr. Trump, a real estate mogul who has never held political office, has turned upside down.
"We gave it everything we got. But the voters chose another path," Mr. Cruz said tonight. "With a heavy heart, but with boundless optimism about the future, I am suspending our campaign."
Tonight Mr. Trump called Mr. Cruz "one tough competitor."
"Ted Cruz, I don't know if he likes me or he doesn't like me, but he is one hell of a competitor," Mr. Trump said. "He has got an amazing future. He's got an amazing future. So I want to congratulate Ted."
Mr. Cruz had the second-highest number of delegates in the Republican nomination, and while he could not have exceeded Mr. Trump, he was hoping to stop him from getting to the 1,237 delegates needed to clinch the nomination outright and force a contested convention, where he could theoretically win the nomination on a second ballot.
(Ironically, the man who might have been the savior of the GOP establishment was no friend to them. The party was late to rally behind Mr. Cruz and, to the extent that Republicans rallied at all, they were decidedly lukewarm about it. The senator is regarded with disdain by many of his colleagues—Sen. Lindsey Graham said Mr. Cruz could be murdered on the floor of the Senate and the murdered wouldn't be convicted; Congressman Peter King said he'd take cyanide if Mr. Cruz were the nominee; former GOP House Speaker John Boehner called him "Lucifer in the flesh.")
Tonight Mr. Cruz recalled Ronald Reagan speaking at a contested in 1976, looking more to the party's future than its present.
"Will we secure freedom of expression and religion for future generations?" Mr. Cruz asked. "Or will we succumb to the tyranny of political correctness and the temptation of racial politics and balkanization here at home?"
Mr. Cruz, who offered no indication he'd seek to be in play at a contested convention in the increasingly unlikely event there is one, had sought to boost his flagging campaign by naming a potential vice presidential candidate, Carly Fiorina, the former Hewlett-Packard executive, last week. Ms. Fiorina also spoke tonight, saying the campaign's cause would carry on.
"We came together as fellow warriors—warriors in a cause, the cause to save the soul of our party and of the country we all love," she said. "That cause continues, and you are warriors still."
While Mr. Trump all but has the nomination locked up, he still does not stand alone in the race: Ohio Gov. John Kasich still remains in the race—but he has fewer delegates than Mr. Cruz and even than Florida Sen. Marco Rubio, who dropped out months ago. Still, Mr. Kasich has sought to present himself as a mainstream alternative to Mr. Trump.
Tonight, Mr. Kasich's camp said he would remain in the race unless someone reaches 1,237 delegates—arguing that their strategy has always involved winning the nomination at an open convention, and that they'd "secured a large plurality of Indiana delegates committed to Governor Kasich at a multi-ballot convention."
Disclosure: Donald Trump is the father-in-law of Jared Kushner, the publisher of Observer Media.