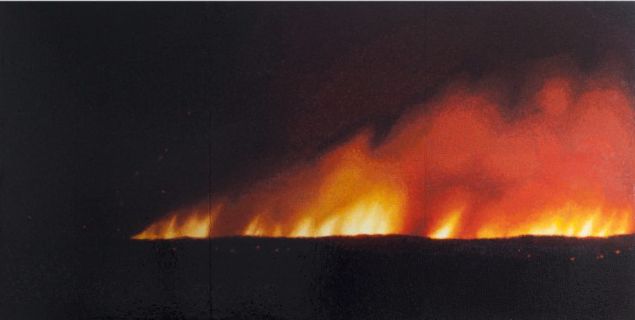 Teresita Fernández knows how to light up a room, and she's done just that inside the front gallery of Anthony Meier Fine Arts in San Francisco. The century-old house inside which Mr. Meier's gallery is located has been set ablaze by Ms. Fernández's fiery handiwork, which features a smoky landscape rendered in charcoal and a glittering inferno made from thousands of glazed ceramic tiles.
Ms. Fernández is widely known for her large-scale experiential installations, the most recent being a 500-foot mirrored canopy for New York's Madison Square Park which was experienced by nearly 50,000 people each day during its nine-month run.
"Small American Fires" is no less a palpable experience for viewers. The show's title riffs on both the 1964 book Various Small Fires, by Ed Ruscha, and a 1968 performance by Bruce Nauman where he burned Mr. Ruscha's book. Fittingly, that duality and appropriation can be seen at every turn in the show, such as with the artist's use of fire to heat and glaze the tiles that comprise her largest piece.
The work originated from ideas Ms. Fernández first explored in her 2005 silk and steel sculpture Fire, created for the Fabric Workshop and Museum. For that piece, she sought to understand the behavior of fire and, as with her ceramic work at Anthony Meier, color and texture changed as viewers walked around it.
But here, Ms. Fernández explores her central subject in greater depth. "Small American Fires" is brimming with social history exploring depictions and perceptions of landscape. Ms. Fernández starts with the history of slash and burn agricultural practices, which was employed by indigenous peoples across the Americas centuries prior to colonization. The artist also draws comparison to the fire that ravaged San Francisco after the 1906 earthquake. While much of the city burned, it nonetheless shaped the landscape of San Francisco as it exists today.
In each piece, fire is the catalyst, whether its presence is violent or a means of rebirth. Fire (America)—a 12-foot-long ceramic panel that is the central focus of the show—is impossible to describe in any definitive way, as the work's transformative surface shifts in the light that pours through the gallery's bay windows. The image of a raging fire delicately crackles to life, and upon closer inspection contains a vast spectrum of color buried in its seemingly black depths.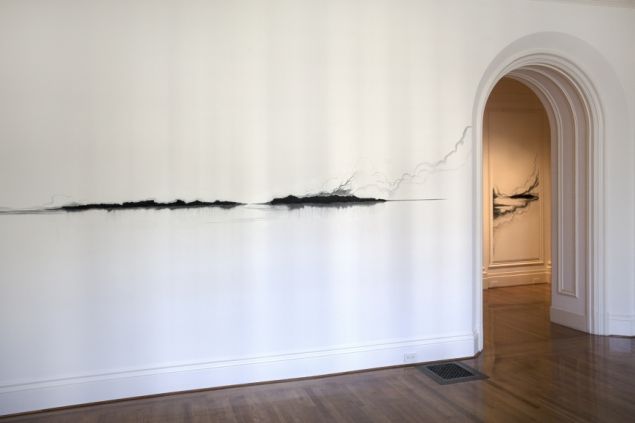 Opposite the work, Ms. Fernández has created a site-specific drawing on the gallery's wall's using charcoal, which drifts and continues into the gallery's foyer. And in the hallway, the artist's twelve small drawings made with colored ink and pencil each present a varied abstract detail of a dancing flame. Moving from her ceramic panels to her drawings, the work becomes more heavily shaped and rooted in its medium. While Fire (America) is allegorical, her drawings contain more literal references to art historical techniques used by Old Masters, such as the rendering of light and shadow known as chiaroscuro, and the thick layers of soot that conservators often remove from paintings that hung too long in smoky parlors.
The work—especially Fire (America)—has a magical, searing quality that's best seen in natural light.
"Small American Fires" is open through May 27 at Anthony Meier Fine Arts.