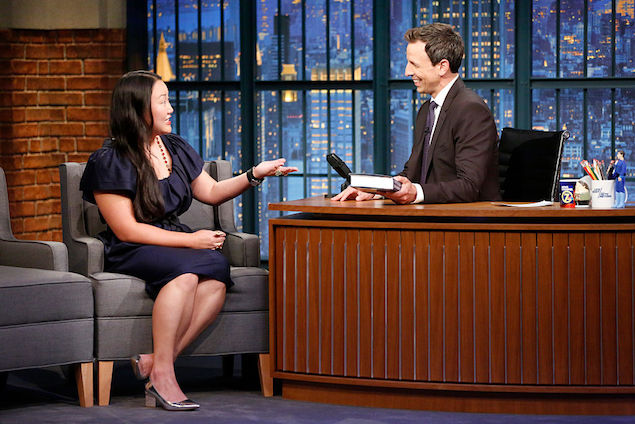 When did Late Night with Seth Meyers become so good? No, really. It happened so insidiously, like the temperature of a bathtub creeping to cool or Jonah Hill being considered a serious actor.
His appointment to the Late Night desk in 2014 was met with a wave of collective internet eye rolls: Oh look, another white man joining the ranks of late night talk show hosts. It also didn't help that Mr. Meyers was coming from the Weekend Update desk at Saturday Night Live and his transition to a seemingly similar gig­–skewering political figures and celebrities monologue-style–made the open hosting position, which had been so rife with possibility, seem foregone already.
But while we haven't been looking, Mr. Meyers has tweaked his show over the past two years, building upon his strengths and those of his diverse writing staff to create the most progressive and interesting show on late night, doing a damn good job filling out the Jon Stewart-sized hole this election desperately needs filled.
I sat down with Mr. Meyers in a Chelsea photo studio where he emerged from a back room in a t-shirt and jeans, a handshake already extended. "I'm Seth." It should be mentioned that his eyes are as blue as the sea. I ask about his son, just eight-weeks old. "You know, he can't talk or walk or anything so it's not like there's a highlight reel of achievements, but I feel like he's on a good path," he laughs.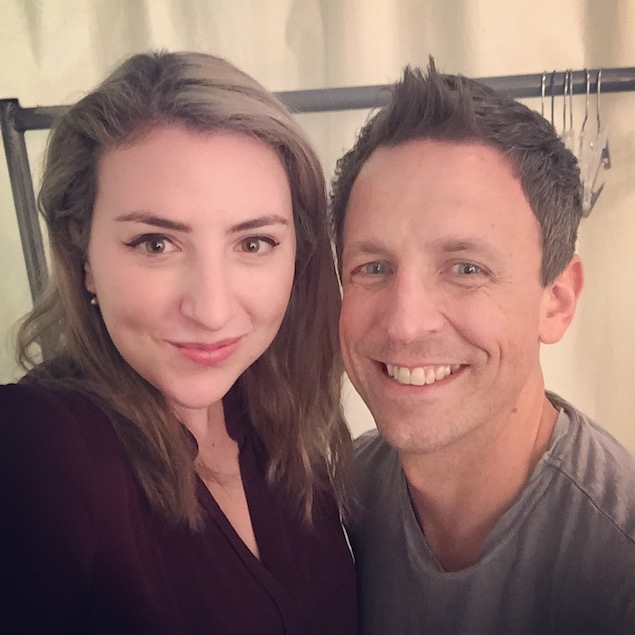 Whereas the Late Show with Stephen Colbert has brought on only white, male fiction writers, Mr. Meyers has been spectacular in his elevation of female literary voices, interviewing half a dozen female novelists–including Helen Oyeyemi, Hanya Yanagihara, and Azar Nafisi–most of them women of color.  Other fiction writers he's interviewed: Sunil Yapa, Alexander Chee, Marlon James, and Junot Díaz.
"Authors are probably my favorite guests," said Mr. Meyers. "Better than I thought they'd be, but I should have realized they're all natural storytellers. Even though a lot them have not been on television before, they're just great. They have a mastery of language…and they're all so different. I'm always going to be fascinated talking to people about writing process."
It's quite understandable, even expected, to interview an author like Stephen King (which both Mr. Colbert and Mr. Meyers have), but it's something else to pull an author who hasn't received a tremendous amount of media attention and talk about the type of literature that might have gone otherwise unacknowledged on network TV.
After Ms. Yanagihara appeared on the program, sales for her 720-page epic novel, A Little Life, rose 54 percent.
"It is nice, the different kind of voices we have. I think it's nice to try to avoid overlap when you hire people."
Mr. Meyers told me he always tries to read every book that's promoted on his show, in its entirety. "Sometimes you read it and you still don't know what to ask because I'm not smart enough to understand it in a way to ask an interesting question, but they don't need much, authors, to tell good stories."
And diversity on Late Night extends beyond the fiction writers they invite. In a segment called "Jokes Seth Can't Tell," Mr. Meyers pokes fun at his own role as a straight, white man by playing the literal straight man to two of his writers, Amber Ruffin and Jenny Hagel (who are Black and gay, respectively). The two women alternate delivering edgier punch lines to Meyer's setups. An example of one of their one-two punches: "A new BBC production of A Midsummer Night's Dream will include a lesbian kiss," "And if you think that's exciting, wait until you see their production of 'As You Dyke It."
[youtube https://www.youtube.com/watch?v=hbgTPnN8_oI]
"We are lucky to have a bunch of excellent writers on our staff. That's the most important thing," Mr. Meyers said. "But it is nice, the different kind of voices we have. I think it's nice to try to avoid overlap when you hire people."
The banner of this article will not read, "Mission Accomplished!" There is still tremendous work to be done in diversifying the world of late night television in terms of gender, race, and sexual orientation, and the same goes for the world of fiction. But with the platform that's been given to him, Mr. Meyers has done an admirable job creating a show that skates seamlessly between political satire and literary salon with enough dexterity to throw a pitch-perfect Game of Thrones parody into the mix without breaking stride.
And it's time we all took notice.