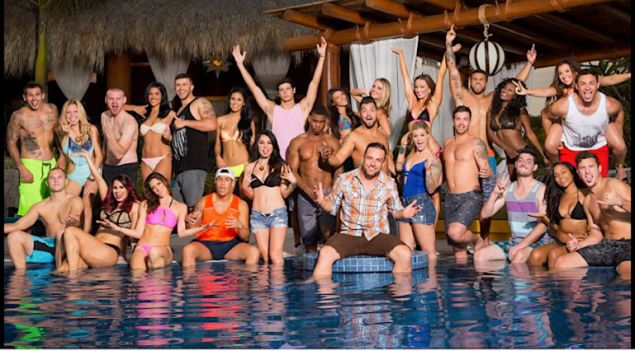 *Extreme P Diddy voice*
MTV CHALLENGE SEASON HAS RETURNED
It hasn't been that long of a time coming. It's actually been less than three full months. But you know there's no turning back now. This is what makes me. This is what I am.
*Hate Me Now beat drops*
"Don't hate me, hate the rivals I see, money I win, compliments from Teej, two to a team, close your eyes, competitions picture me throwin'"
Shout out to Nas. The most important thing that has ever happened on television is happening right now. Forget a Bronco chase, the moon landing, the Punky Brewster episode when her friend got stuck in the fridge, and even that time I was super hungover and there was a Law & Order: SVU marathon that lasted four years. Right now there is a great season of Real World (see all my recaps) Go Big or Go Home happening and now there is a Challenge beginning?!?! Which means we get several weeks of Wednesday / Thursday back-to-back Bunim-Murray masterpieces. This is better than when you're watching Eddie and the Cruisers and then Eddie and the Cruisers II: Eddie Lives starts up immediately. This is better than when the Michael Jackson Dangerous cassette synced up so that when Dirty Diana finished playing you could flip the tape and it would start exactly at the beginning of The Way You Make Me Feel. THIS IS WHAT MAKES ME THIS IS WHAT I AM.
Huatulco, Mexico. Immediately, the show makes everyone jump out of a plane. This isn't even a proper challenge. There is nothing at stake. This has nothing to do with the $350,000 up for grabs. The teams haven't even been split up yet. Basically, the cast has shown up to the house and picked rooms. Then they get a text from TJ and everybody has to go skydiving just because they want a shot of RIVALS III spelled out on the beach. Yo, it's dope mise-en-scene, Kurosawa would be so proud. It sets a perfect tone for the season. Get it going early like here's something crazy and it doesn't even count.
Everyone makes the jump except for one guy from Are You the One?. Okay, so there's thirteen teams to start which means there are 26 people here day one. Eight are from this other show Are You the One?. I'm not mad at The Challenge for trying this move. They tried it. They snuck a couple in on Battle of the Exes II. A couple more on Bloodlines. The Challenge used to do Fresh Meat seasons that brought in complete outsiders and those were responsible for a lot of great talent over the years. So I'm not mad. But the Are You the One? group will always be on the outside until they can provide a great champion. That's just the way it goes. Up until Dario and his brother last season, I don't think anyone from that show has made it past the first two eliminations. Eight is enough to start a tight little Dick van Patten-style alliance so we'll see if they can do work this season.
The teams are broken down into rivals. One guy and one girl. The beefs range from "didn't get along on their season" like Johnny and Jessica from RW: Portland and Cory and Ashley from RW: Ex-Plosion to heartbreak like Nate and Christina from Are You the One? season 2. Jenna hates Vince because he's gross. Leroy hates Averey because he thinks she cheated on Johnny. Wes and Nany don't like each other because they both feel like the other is impossible to be around on a challenge. The rest of the Are You the One? people don't like each other because none of them was the one I think. But there are two really interesting beefs to look out for on this season.
First, is John Bananas and Sarah. They're basically a shoo-in to win the whole thing. John hates Sarah because he feels like she backstabbed him on Battle of the Exes II. Sarah won and John is the biggest self-proclaimed scumbag on these shows. He's pulled these moves himself, it's what he's famous for so it's pretty funny to hear him complain about him getting got. But he must be really mad because I've never seen John throw a comp and he does that so he can drop Sarah during the challenge. Usually, he's win at all costs so that's a good narrative. This is John's 13th time doing this and he's won 5 and he's always the odds on favorite. Side note: having everyone's stats during the intros was super helpful, now I know there are five previous winners this season: John: 5, Wes: 2, Sarah, Camila, Jamie: 1. Jenna is 2/2 making it to the finals in all her seasons but she's the Buffalo Bills because she's also 2/2 in coming in third.
Next up is the main attraction for me. Camila and Tony got into a fight because Tony can't help but get into a fight the first night of any and every show. Seriously, Tony is the greatest reality show star of all time. Tony was on Real World Skeletons.  The night before his "skeleton" showed up, he hooked up with his roommate, Madison. Tony's skeleton was two ex-girlfriends who he cheated on with the other one and then cheated on the other with the first one. His skeleton was two people—let that sink in. Then, he hooks up with both skeletons in the house and still somehow stays with Madison. Then, after the show ends, Madison gets pregnant with his baby but before he knows about it, he goes on The Challenge Bloodlines and hooks up with Christina day one and then gets into a fight with Camila and her sister, and tries to choke his own brother (who is also his Challenge partner). Then, on Bloodlines Tony gets injured, refuses medical attention, tries to compete and passes out because his spleen explodes and he needs to have it removed in Turkey. Then, after he and Madison split up, Tony gets back together with one of his two skeleton exes and gets her pregnant. Now Tony is back and again on day one he is getting screamed at by Simone for saying that she would sleep with him. Simone screams "don't you lie on me" about forty times which is what I'm going to say anytime someone @'s me on Twitter for the rest of my life. Tony cannot help himself. Tony, please be safe and be happy for the rest of your life. I need you on every season my man.
In the midst of Tony getting screamed out, Jamie and Ashley sneak off to go hook up in a bathroom or a closet or some structure that looks like it's from First Blood: Part II that is made up of more windows than walls. Everyone catches them but that's theChallenge. Plus, Jamie is returning champ so that's a very solid ally building strategy.
The challenge itself this week has ropes and stuff. Jenna dominates because Jenna has won her last 14 straight challenges. She's the Golden State Warriors at home during the playoffs of this show now. Johnny and Jessica come in last. The show ends before the elimination round starts up. My predications for the season are this: I will watch Nicole do literally anything, Jenna is going to crush everyone, Johnny and Sarah will win but and it's going to be miserable, Tony will continue to Tone, Leroy can do absolutely whatever he wants because he is a bartender for Britney Spear's Vegas show now, and this will not be the season that Are You the One? brings a great champion. ALL THIS AND THERE IS A NEW REAL WORLD EP TOMORROW I CAN'T TYPE ANYMORE BECAUSE I'M HAPPY CRYING HARDER THAN KELLY CLARKSON WHEN SHE WON IDOL.