It's rare when an exceptional artist connects with a burning zeitgeist. It happened a decade ago when Ai Weiwei emerged as a political tour de force in China by undermining his totalitarian regime with scathing rebukes via social media. Njideka Akunyili Crosby is also such an artist. But instead of raging against the machine like Mr. Weiwei, Ms. Crosby tells subtle, complicated stories about her homeland, herself and colonialism in a way that's far less bombastic, yet just as powerful.
The 32-year-old Nigerian, who moved to Swarthmore, Pa., at age 16 after winning a green card lottery in her hometown of Enugu, is, like many around the world, part of the African diaspora. But the particulars of her story, a complex one that contradicts what we think we know about modern Africans, is what has truly moved her fans both in and outside of the art world.
She's part of a growing Afropolitan contingency (a name sometimes used for Africans living around the globe) that is proving it has a much more nuanced view of African culture to offer us through their writing, music, and in Ms. Crosby's case, painting.
Ms. Crosby's artworks—luminous interiors teeming with eye-catching collage elements that offset delicately painted figures—while political, are very much about her day-to-day life. Her subjects include herself, family and friends caught in quiet moments like having afternoon tea, a prolonged hug or a slow dance. But imagery from Nigeria's revolutionary history, portraits of brutal dictators and other remembrances from her homeland also stew within these constructed dramas, which evoke the lush quietude of the Post-Impressionist painter Pierre Bonnard's century-old domesticities.
Speaking with Ms. Crosby on the phone from her Los Angeles, Calif., studio (she moved there a few years ago from the East Coast), I immediately sense the presence of a formidable person steeled with a palpable thirst for knowledge and experience.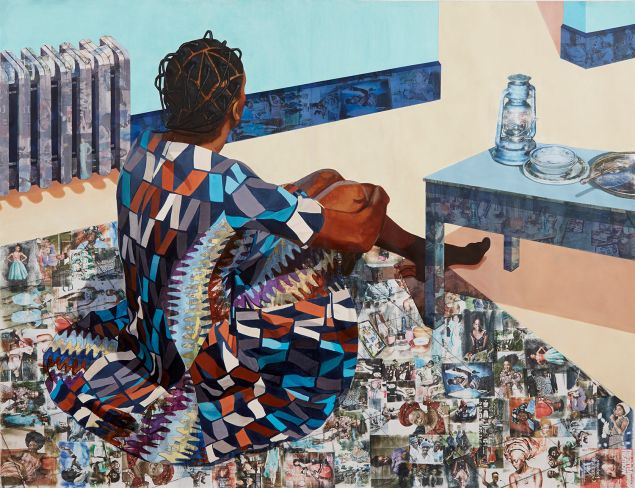 After moving to the U.S., the artist spent a gap year studying for SATs and taking classes on American history and literature before returning to Nigeria to serve a year of National Service—a policy instituted after the Nigerian civil war to promote unity—far from her home in the southwestern part of Nigeria. After her tenure, she came back to earn a bachelor's degree from Swarthmore College, followed by four years of academic post-bachelor training at the highly-regarded Pennsylvania Academy of Fine Arts.
For the average person, attaining this level of achievement while adjusting to life in a very different, far away country would be rightly seen as a tremendous accomplishment. But Ms. Crosby is not average.
In 2009, she was one of a handful of artists selected to attend the top-ranked fine arts graduate program in the nation: the Yale University School of Art's Master's program. The real work was now beginning.
"It was two years full of anxiety and self-doubt," she said of her time at Yale, a common response to being under the microscope of the school's distinguished faculty, visiting artists and fellow students. "But during the summer between my first and second year, something clicked for me."
In her first year, Ms. Crosby's studio practice saw a lot of experimentation, mostly grounded in drawing and painting the figure, along with a heavy dose of information about the sprawling world of Contemporary art, courtesy of her renowned teachers Catherine Murphy and Peter Halley. She also took full advantage of the course offerings, enrolling in classes in postcolonial history and diasporic studies in addition to art. It was a lot to take in, but during a summer off, it all "crystallized," as she put it. And her maturation was immediately noticed.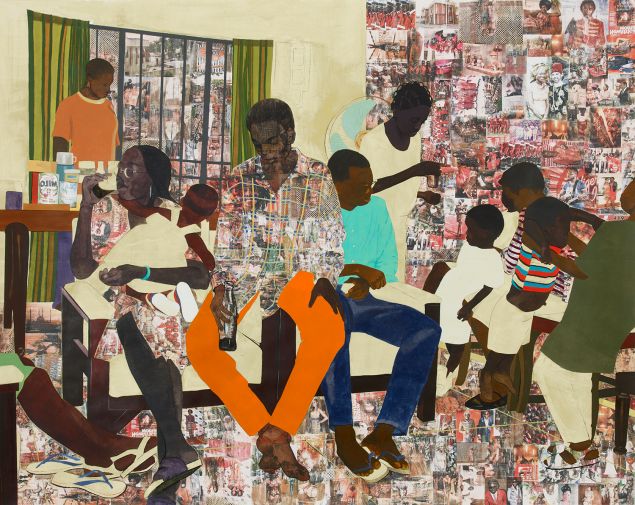 "Njideka Akunyili's work tells a complicated story, both formally and with her use of narrative," said Ms. Murphy, a highly decorated artist herself who spoke on the occasion of Ms. Crosby's Rosenthal Family Foundation Award presentation at the Academy of Arts and Letters in 2013. "The layering of information draws the viewer into worlds within worlds within worlds using a unifying contemporary language…[Her] paintings are a unique response to a situation that is both personal and global."
But Ms. Crosby's impact would soon be felt outside the academy as well. After graduating from Yale, she won a sought-after residency at the venerated Studio Museum in Harlem, which, guided by director Thelma Golden, has become a hotspot for emerging artists of African descent. It was an important time for Ms. Crosby to be able to paint without the worries of paying studio rent, but it also afforded her immeasurable art world access from an institution that offered her a trusting, "family-like" atmosphere, as she described it.
From there, things started to snowball rapidly. Powerhouse London gallery Victoria Miro took interest in her work, and one of the former Studio Museum curators, Jamillah James, brought a solo show of Ms. Crosby's work to the Hammer Museum in Los Angeles (in her new role there as assistant curator) while also helping to organize a concurrent exhibition at international art star Mark Bradford's new L.A. exhibition space Art + Practice.
In the meantime, word was getting out about Ms. Crosby's charismatic pictures. Jeffrey Deitch and Larry Gagosian featured a work of hers in their "Unrealism" show during last year's Art Basel Miami Beach, and she was also included in the latest edition of the New Museum's lauded Triennial. Another solo exhibition at the Norton Museum of Art in West Palm Beach, Fla., was to follow, and Victoria Miro made her representation official—an unusual move for such a major gallery with an artist that hadn't even had a solo show there yet (she'll have her first solo show at the gallery in October of this year).
Collectors also confirmed Ms. Crosby's talent by rabidly snapping up her work. Craig Robins, a Miami-based real estate developer and art collector who tends to buy art that "contributes to the global creative dialog," as he puts it, first bought a Crosby in 2011 and has been big fan ever since.
"Njideka's work is completely who she is and at the same time transcends her sense of self," he said via email. "She is a leader among a group of artists that are inspiring other artists and collectors to once again focus on figurative work in a new way. Of course, the way she is expressing herself goes way beyond just painting figures."
Ms. Crosby's rise has indeed dovetailed nicely with the reemergence of figurative painting in the New York art world, and the Whitney Museum, a bastion of figurative art from the Ashcan School to today, recently endorsed the artist by offering her their third Billboard Project, an enormous reproduction of the Crosby painting Before Now After (Mama, Mummy, Mamma) that currently towers over Horatio Street in the West Village. On top of that, a new work of hers (a detail of which graces the cover of our "Frieze New York" issue) titled Portals, 2016, is seeing wall time in the current Whitney exhibition, "Human Interest: Portraits From The Whitney's Collection."
It's been a dizzying ride, for sure, but as we talk, Ms. Crosby's focus rarely seems to divert from paintings: both her own and those by the artists she admires.
We talk for more than an hour about her favorite artists, from Mr. Marshall's beautiful and powerful disregard for flesh tones to the recently deceased Malian photographer Malik Sibide's celebration of freedom through pattern and decoration. As we pore over the details of their works, I can tell how connected she was to her idols—before ever meeting them—which is perhaps why she's been so lovingly embraced by some of the world's top artists in such a short time. And said mentors have helped her immeasurably along the way.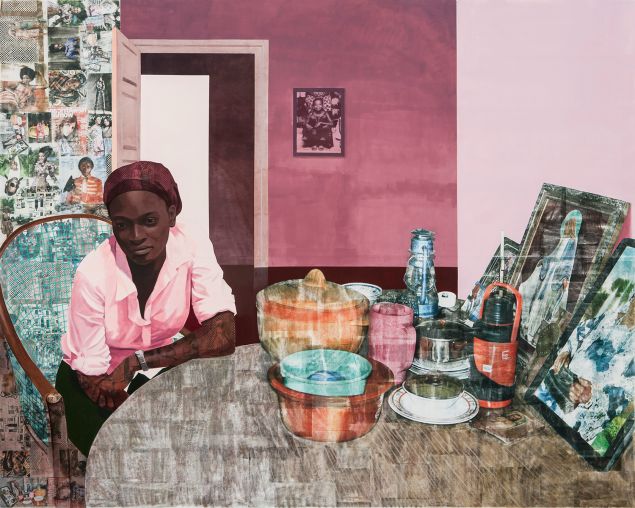 "I've been amazed at how these artists have been so giving of their time," she said reverently. "Mark [Bradford] has really touched me as an artist, the way he makes himself available to younger artists. Wangechi [Mutu], an artist I've looked up to, is a friend now. We met on the street and exchanged studio visits. It's really been one of the best parts of all this, getting to know these incredible artists."
But the fact that viewers are connecting with the complex message of finding home in transience within her work is equally rewarding. "I'm never sure if what I'm doing will come across while I'm making the paintings," she said. "That's why when people reach out to me about having similar experiences, it's heartening to hear that they relate to the work, and not just Nigerian people."
Ms. Crosby's ability to relate is clearly a gift, but it's also a mindset that's perhaps a calling card of her community, as described by the Nigerian and Ghanaian writer Taiye Selasi in her 2005 article "Bye-Bye Babar (Or: What Is Afropolitan?)." In it she states: "What distinguishes this lot and its like (in the West and at home) is a willingness to complicate Africa—namely, to engage with, critique, and celebrate the parts of Africa that mean most to them."
No one wants to be generalized—either personally or culturally—and Ms. Crosby's desire to "complicate" the story of such a vast, multifaceted continent in her paintings should come as no surprise. And what beautiful complications they are.