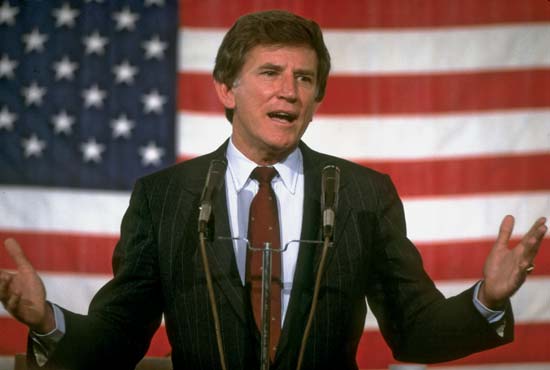 Hillary Clinton's mathematical super delegate padding puts the Democratic nomination out of rival Bernie Sanders's reach as the two Democratic presidential candidates slog through campaign garbage time in New Jersey ahead of the June 7th primary.
But New Jersey wasn't always all but meaningless in the process.
In fact, there was an election when New Jersey decided the Democratic nominee.
It was 1984, when a young future mayor of Jersey City named Bret Schundler served as state coordinator and later as director of field operations for Gary Hart's presidential campaign. That year found Hart, a senator from Colorado, running as an insurgent against Vice President Walter Mondale for the chance to square up in a general election against incumbent President Ronald Reagan.
In a conversation earlier today with PolitickerNJ, Schundler recalled how most insiders foresaw Ohio Senator (and hero astronaut) John Glenn as the Democrats' likeliest challenger to the inevitability of establishment favorite Mondale. But Hart, not Glenn, came in second in Iowa, and went with considerable momentum into New Hampshire, where he shockingly defeated Mondale.
That win by Hart set up what would become a seesaw battle between Mondale and Hart for the nomination. Schunder remembered sitting in Hart's Georgia headquarters prior to New Hampshire. The atmosphere was dead. When the Colorado senator – attired at one point in suspenders and flinging a lumberjack's ax 40 feet into a bullseye for the TV news cameras – beat the former vice president in the Granite State, the phones in Georgia started ringing off the hook.
After New Hampshire, Hart surged everywhere, including New Jersey.
He would lose Georgia, Schundler remembered, but win a majority of Super Tuesday states.
Mondale's famous "Where's the beef?" line helped the VP slow his rival's momentum, but after a string of state by state slugfests, if Hart won both California and New Jersey, he would become the Democrats' nominee for president.
Well, he won California.
As for New Jersey, veteran operative Bob Schrum writes in his autobiography that Hart destroyed himself in the Garden State when he made a dumb comment on the West Coast about his wife getting to coddle koala bears in California on the campaign trail, while he got stuck in New Jersey at a toxic waste dump.
Hart's numbers in New Jersey plummeted, Schrum wrote.
But Schundler recalls the contest here differently, and cites another critical reason for Hart's demise.
"One of the things Gary Hart was asked was whether he consider Jesse Jackson for vice president. Jackson had made comments that disturbed the Jewish community. Now Hart's answer was something along the lines of not ruling it out. Essentially he was trying to evade the question. But The Star-Ledger headline said Hart was considering Jesse Jackson for vice president. I would argue that had more impact.
"I would say the way The Star-Ledger played Hart's comments about Jesse Jackson had an immediate and dramatic impact. The fact is that The Star-Ledger wanted Mondale wanted to win and so they spun the story effectively."
On June 5th, 1984, New Jersey went for Mondale, putting the nomination out of Hart's reach.
It was a 15-point burial of Hart here, in fact.
Total, Mondale won 6.8 million votes to Hart's 6.5 million, while Jackson placed third with 3.3 million votes.
"It's not only the last time New Jersey decided the nomination, it might be the only time," said Schundler, who reluctantly backed Mondale in the 1984 general election.
Mondale, of course, got crushed by Reagan, losing New Jersey in the process.
In 1988, Hart started the race as a strong frontrunner, but an alleged extramarital episode sank his candidacy, and Massachusetts Governor Mike Dukakis would go on to lose to Vice President George Bush.
Disillusioned with the Democratic Party and what he saw as a party imprisoned by special interests, including big labor, Schundler became a Republican in 1991. He served as Jersey City mayor from 1992-2001 and lost gubernatorial bids in 2001 and 2005 before briefly serving as Gov. Chris Christie's commissioner of the state Department of Education.