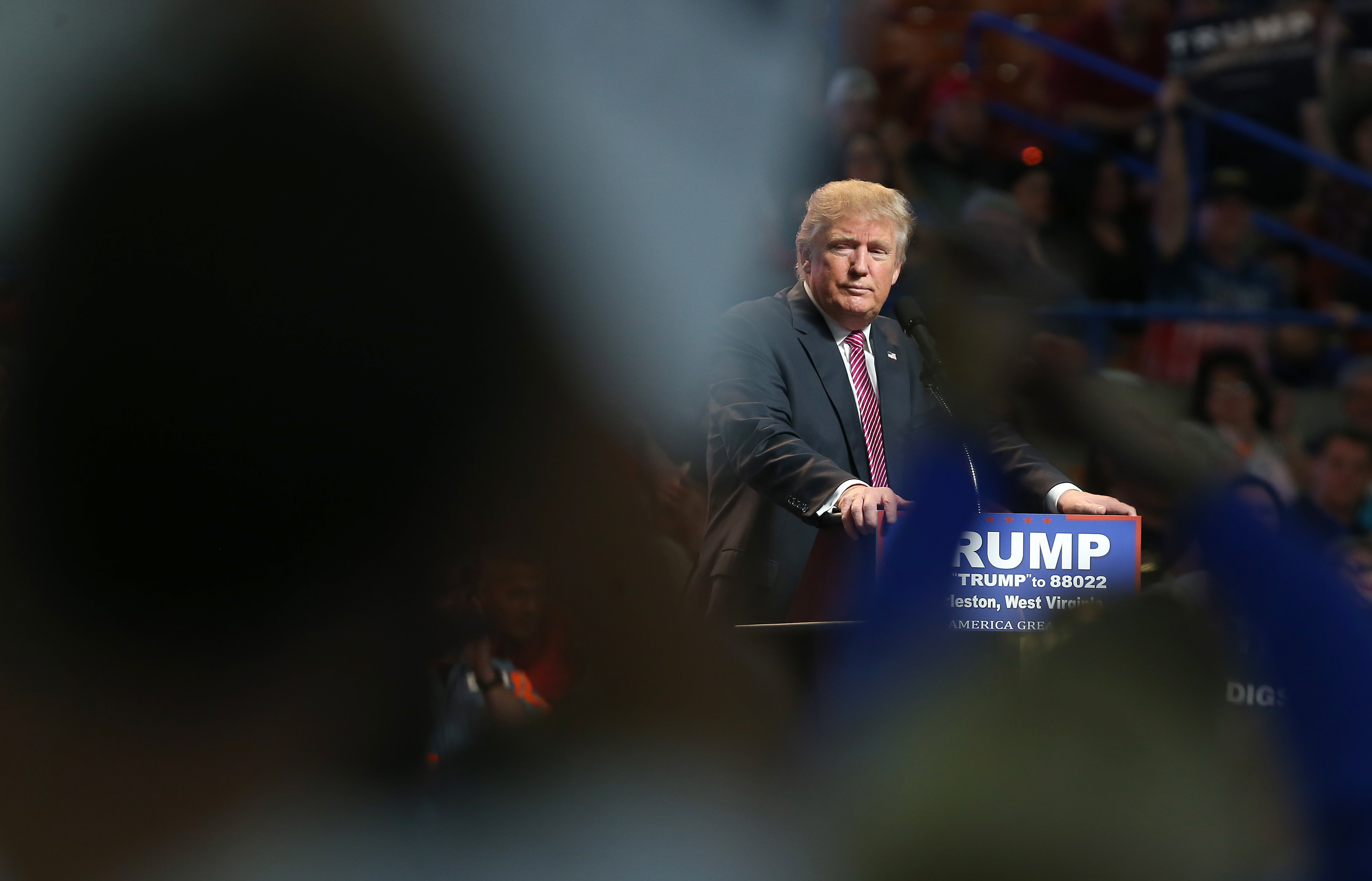 With his dominating win in Indiana this week, followed by the withdrawal of both Senator Ted Cruz and Governor John Kasich from the race, Donald Trump is now essentially the Republican Party's nominee for the presidency. Once he is officially anointed as the GOP's choice this July in Cleveland, Mr. Trump—whom hardly any pundits, this one included, expected to get the nomination when he joined the race—will enter a new, decisive phase of his campaign.
Part of being the presidential nominee of one of our two major political parties is getting classified intelligence briefings. Since the days of Harry Truman, the Democratic and Republican nominees have received top secret updates from our Intelligence Community, to prepare them for the weighty job they have made the shortlist for, should they move into the White House in a few months.
Thus it's only a matter of time before Mr. Trump starts getting classified briefings from Intelligence Community experts, something the putative GOP nominee has expressed interest in receiving. These presentations, while classified, are not especially detailed. Seldom are sensitive matters like intelligence sources and methods presented to nominees. In essence, the briefings are a more detailed take on the day's foreign headlines than presented in the media, with a side of secret juiciness. It's a teaser for what nominees will get if things go well for them in early November.
That said, for people like Mr. Trump—who have never served in the Federal government—such classified updates can be a genuine eye-opener, since they reveal aspects of the top secret side of Washington, a world to which even well-connected citizens like New York real estate moguls are not normally privy.
Predictably, the news that Mr. Trump will soon be getting intelligence briefings has driven his critics to gloating on social media about what a security risk the likely GOP nominee is, based on his tendency to speak freely on almost any subject. It's clear that few of Mr. Trump's social media critics have any experience with intelligence briefings or secrecy rules themselves.
More seriously, Mr. Trump's political opponents have joined the fray, deriding him as a security risk. Senator Chris Murphy, a Connecticut Democrat, denounced Mr. Trump as having "no moral or ethical grounding," adding, "he wouldn't think twice of taking classified information and putting it out in the public realm if he thought it served his political purposes."
For every spy who can't stand Trump, there's at least one who despises Clinton, because she walks around free after breaking rules that any IC employee would be arrested for violating.
There is no small irony in this, given that the Democrats' likely nominee, Hillary Clinton, is a proven security risk of a serious kind. This column has reported in detail on Ms. Clinton's troubles with our nation's secrecy laws, the year-long scandal known as EmailGate that is currently under far-reaching investigation by the FBI. More than a thousand of the "unclassified" emails on Ms. Clinton's private server of bathroom infamy were actually classified, with at least 22 of them being top secret, the highest official classification level.
Some of those top secret emails include incredibly sensitive information about intelligence sources and methods, such as details about our spies operating abroad under deep cover. Other emails Ms. Clinton and her staff considered unclassified actually included top secret-plus intelligence reports, including verbatim lifting of highly classified information, a felonious sort of plagiarism.
There is every reason to think that multiple foreign intelligence services had access to Ms. Clinton's unencrypted email. The Romanian hacker who was extradited to the United States for his successful cracking into Ms. Clinton's email in 2013 stated, "it was easy… easy for me, for everybody." If a lone Balkan hacker was able to do this, imagine how simple a task this would have been for the Russian and Chinese intelligence services, with their thousands of highly trained cyber experts.
Nevertheless, the mainstream media continues to low-ball the national security implications of EmailGate, resorting to wordsmithing to obfuscate what Ms. Clinton and her staff we really up to at the State Department. The Obama White House has followed suit, insisting that, despite the FBI investigation into EmailGate, Ms. Clinton represents no security risk, and she should receive intelligence briefings as the putative Democratic nominee—while they seem less certain that Mr. Trump should get them too.
The Washington Post has now joined the fray, with assertions that Mr. Trump may represent an unacceptable security risk, bolstered by comments from former top intelligence officials indicating that giving Mr. Trump access to any secrets may be a bad idea.
Furthermore, The Daily Beast has alleged that the Intelligence Community is up in arms about giving classified presentations to Mr. Trump, based on his well-honed tendency to speak off the cuff, plus his occasional indulgence of conspiracy theories. There's no doubt that plenty of individuals in the Intelligence Community loathe Mr. Trump and hope he never becomes president. However, there's nothing like a consensus among our spies that the putative GOP nominee is a security risk.
In the first place, the IC, as insiders call it, is a vast, sprawling enterprise, with 16 different agencies that employ tens of thousands of Americans of every race, background, sexual orientation, and political persuasion. There is no "IC position" on much of anything, except that the sun rises in the East. For every spy who can't stand Mr. Trump, there's at least one who despises Ms. Clinton, particularly because she and her staff are walking around free after flagrantly breaking security rules that any IC employee would be arrested for violating.
It seems doubtful Barack Obama could have obtained a top secret clearance, given his admitted drug use, associations with convicted terrorists, and trips to strange places like Pakistan in his youth—Ms. Clinton definitely couldn't.
I've heard IC friends rail against Mr. Trump for all the reasons many average Americans do: his gracelessness, his preference for glib slogans over actual policy, his gleeful willingness to offend large swathes of the American population. However, I've also heard IC veterans speak warmly of Mr. Trump. Some see him as a welcome antidote to the political correctness that has stifled operations in our spy agencies under Mr. Obama. "With the Donald, we'll be able to go out and really break some china—finally," explained a senior CIA operations official. If you ask a dozen IC employees their views on Mr. Trump, you're likely to get a dozen different opinions.
There is reason to doubt that Mr. Trump could qualify for a top secret security clearance if he applied for any IC job. Investigators would have questions about his multiple foreign wives, his bankruptcies, his rumored ties to organized crime, plus the fact that several of his top campaign officials possess curious ties to Vladimir Putin's Russia.
Similarly, it seems doubtful that Barack Obama could have obtained a top secret clearance either, given his admitted drug use, associations with convicted terrorists, and trips to strange places like Pakistan in his youth. Ms. Clinton definitely could not "get cleared," as the spies say, while she is under FBI investigation for possible violations of the Espionage Act. Not to mention that some of her top campaign official possess ties to the Kremlin that are every bit as questionable as the Trump campaign's. The rules are different when you've got a 50-50 shot of moving into the Oval Office. 
I don't envy the IC briefers who will deal with Mr. Trump, in case he plans to treat them like cast members of The Apprentice. All the same, I've briefed cabinet officials during my time in the intelligence business, and it's difficult to guess in advance how they will react to what they hear. In many cases, businesspeople with zero background in security matters—much less spying—turned out to be savvy consumers of intelligence, listening intently, asking astute questions, and generally having no patience for the sort of hedging non-answers that too many IC officials are known for.
This is true of inhabitants of the White House, too. Some presidents have placed high value on intelligence while others have not (Mr. Obama tends towards the latter). Partisan politics is a poor barometer here. There have been liberals who thought regular spy briefings were a vital part of their presidency—always wanting top secret updates—just as there have been conservatives who found them of dubious value, even an annoyance in the Oval Office.
It's too soon to guess how Donald Trump will react when he has the veil of secrecy lifted and IC briefers start giving him classified presentations. He may find them valuable—or not. As always, much will depend on the quality of the briefers and how Mr. Trump interacts with them.
What's not in doubt is that, just like everyone else who is "read on" for top secret information, he will learn the rules governing how the IC keeps its secrets. If Mr. Trump chooses to violate those rules, for instance blabbing in public about what he's learned from the spy agencies, he will face grave legal consequences. The country would then be in the unenviable position of having the presidential nominees of both our parties under FBI investigation for violating our secrecy laws.
Disclosure: Donald Trump is the father-in-law of Jared Kushner, the publisher of Observer Media.
John Schindler is a security expert and former National Security Agency analyst and counterintelligence officer. A specialist in espionage and terrorism, he's also been a Navy officer and a War College professor. He's published four books and is on Twitter at @20committee.