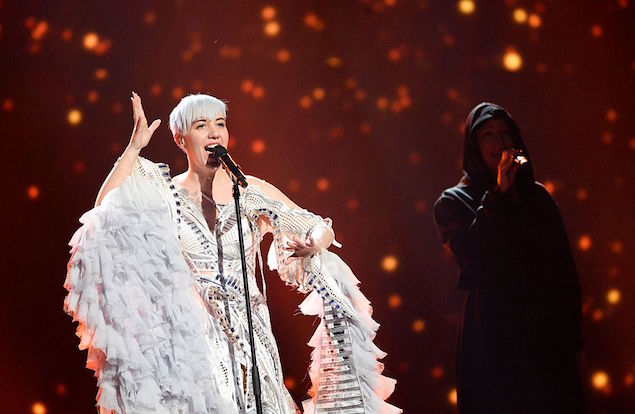 Imagine you're in high school and you find out for the past 50 years, there's been a massive annual party that everyone else goes to, but you were never invited. And this isn't just any party–it has glorious dance music, over-the-top costumes, and human-sized hamster wheels–and, to reiterate, everyone else has been going, every single year, except for you.
That's how it feels to be an American who is only now finding out about Eurovision Song Contest.
From what I can gather, the European Song Contest is like American Idol in its heyday, if you took every boring white guy with a guitar and replaced him with a techno dancer in drag and also everyone was huffing glue. It's a visual orgasm of sequins and visual effects that one can only hope to understand through excessive YouTube research of previous acts. And tomorrow it's airing live in America for the first time.
What is "The Eurovision Song Contest"?
In order to become better acquainted with the reality event/phenomenon that's captivated Europe since 1956, I spoke to British stand-up comedian Josie Long who was able to walk me through the madness in anticipation of the final round tomorrow night, which will be airing in America for the first time.
"The first thing I've got to say is the people who don't love it don't have a heart and don't love being alive," Ms. Long said.
Basically, it's a competition in which every country in Europe presents a singer and a song.  While Eurovision used to require artists to perform songs in their official national language, they've loosened the rules, and nowadays most performances are in English. Technically, the entry has to be a pop song, but the definition has been stretched to allow for a wide variety of musical styles.
In 2006, a hard rock band called Lordi comprised of members all wearing monster masks won for Finland (the lead monster wore a top hat with a Finish flag.)
[youtube https://www.youtube.com/watch?v=gAh9NRGNhUU]
The definition of "Europe" has also been stretched to allow countries to enter that might not technically be considered part of the continent.
"It's a bit political and it's a bit fucked," Ms. Long says. "They say Azerbaijan is in Europe, which it is not. Even Israel! Israel is the Middle East. It's not really Europe."
Americans might get a little sore seeing Australia allowed in again after being granted special permission last year, but Ms. Long is happy to have them. "Australia I have no problem with because Australia has loved Eurovision since day one, and they have been so desperate to get involved and they deserve to be involved because they're amazing."
So how does the actual competition work?
Countries compete in semi-final rounds to be one of the 27 nations that perform in the finale, but because The Big Five–Spain, France, Italy, the UK, and Germany–give the most money to funding the contest, they're guaranteed a spot. The host country also gets an automatic slot in the finale.
Since Sweden won last year with "Heroes," (an optimistic, bouncy pop anthem performed by Måns Zelmerlöw), they're hosting this year.
[youtube https://www.youtube.com/watch?v=5sGOwFVUU0I]
As for actually picking a winner, each country gives a certain number of points to songs, 12 points to the most popular, (decided through a combination of jury votes and citizens calling or texting in), 10 points for second place, then 8 points, 7, 6, 5, 4, 3, 2, and 1.
Voting isn't just on merit: allocating points is a political decision. "Countries don't vote for countries that boss them about," Long says. "And no one ever votes for England because England is so fucking xenophobic that all of Europe is like 'fuck you England.'"
Geographical blocks can be a key factor in who pulls ahead. "The Baltic states really clump together, so they all vote for each other. Like, Serbia votes for Macedonia, Macedonia votes for Croatia, and it's all really complicated and intertwined."
With 27 finale performances and only 10 rankings to give out, countries have to give some performances no points. "Nil Pois is the thing no one wants," Long says. "'Nil pois' is a Eurovision trope. Nil Pois is no points and if you get no points in Eurovision it's a fucking big deal."
Points distributions are read out by a representative from each country during their own live show at home. "You can see who the Ryan Seacrest of every European country is. I cannot tell you how fascinating it is." 
Why does all of this sound sort of familiar?
Does the name "Conchita Wurst" ring a bell? She won the contest for Austria in 2014 for the song "Rise Like a Phoenix," which established her as a gay icon and international advocate for LGBTQ rights. [youtube https://www.youtube.com/watch?v=SaolVEJEjV4]
ABBA and Celine Dion are the most famous winners, from 1974 and 1988, representing Sweden and Switzerland respectively. And although the competition hasn't produced superstars on quite the same scale since, representing your nation on Eurovision means a massive influx of support and patriotism flooding in your direction, and winning will give you a considerable career boost.
Other performances to watch right now:
Ukraine: ‪Verka Serduchka Performing "Dancing Lasha Tumbai" (2007) [youtube https://www.youtube.com/watch?v=hfjHJneVonE]
An insanely catchy dance tune that became controversial and showed just how political Eurovision could be when, in the aftermath of a Russian invasion, Ukraine's singers called, "Russia, goodbye!" on an international stage. But also, check out those dance moves. This is how bonkers Eurovision is on a regular basis.
Ireland: Jedward Performing "Lipstick" (2011)
[youtube https://www.youtube.com/watch?v=pXouSYabDig]
From Josie Long: "They're twins and I find them amazing because they're quite tragic. One is really happy and one's quite sad all the time. They were on Eurovision and they didn't do as well as I wanted because I adore them and I wanted them to win."
The UK: Gemini Performing "Cry Baby" (2003)
[youtube https://www.youtube.com/watch?v=XAJ62IG3gBo]
"We never do good entries. We once did an entry three or four years ago where for whatever reason the singers were out of tune for the entire song and we didn't get a single point!"
Norway: Alexander Rybak Performing "Fairytale" (2009)
[youtube https://www.youtube.com/watch?v=uiH4BFTELME]
The 2009 winner is adorable and this song is so catchy that I've been listening to it on repeat.
I'm sold. How do I watch?
For the first time, we'll be able to watch the Eurovision finale live on this side of the Atlantic, by tuning into Logo at 3 p.m. ET. Americans might not be invited to the party yet, but we're finally allowed to watch from outside the window.