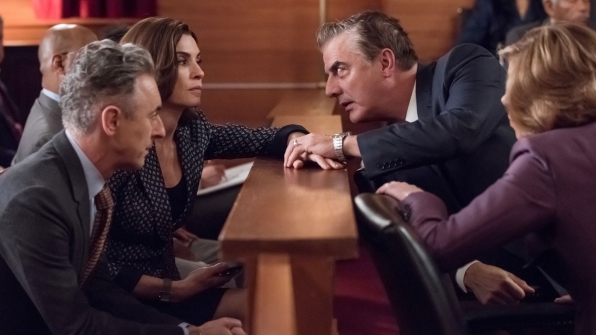 For seven seasons, The Good Wife fought the good fight.
Not only did the series remain on the air for longer than most network shoes, but in the ever-changing world of content consumption, it managed to hold its own against highly-acclaimed cable dramas, most of whom produced far fewer episodes every season than the ensemble drama.
Amid all of that, The Good Wife managed to not only remain aloft, it soared, taking home numerous awards, including Emmys, Golden Globes, as well as Television Critics Association and Writers Guild Awards. Now, on the eve of the final episode of the series, the cast and writers shared a few thoughts about the run of the show.
Creators Robert and Michelle King explain why they felt it was time to bring the series to a close, with Robert explaining, "It felt like a show you had to end. You can't keep having crazy things happen. At a certain point you escape the realm of probability."
Matt Czuchry (Cary Agos) added, "And, our fans will have closure. There's a huge benefit in knowing the end. You don't get that always with TV."
When asked about her favorite episodes, The Good Wife herself, lead Julianna Margulies, initially answered, "Jesus, we did
156." Then she said, "One that always hits me first is the pilot. When I read that opening sequence of her standing behind her husband, picking the lint off [his jacket] and just that slap [across the face that she gives him], I feel like the whole show started there because that was her slap into this new life."
She also points the episode in which her character and Czuchry's character decided to leave the Lockhart Gardner law firm. "That episode was so fast and furious and frightening. There was line that Will [Gardner] says to me, 'God, you don't know how awful you are.' It was devastating for me to play it."
Spoiler alert (but not really) she also added, "And of course Will's death. That was just horrible."
Czuchry agreed with all of Margulies' choices but added that he felt strongly about the episode after Will's death, saying, "I was only in one scene but I was angry in that scene and after that people stopped me on the street and said that's the way they felt as well."
During the tenure of the series, there were hundreds of guest stars, many of them recurring. Robert King said his among favorites were 'The NSA Guys,' while Michelle King added Jeffrey Tambor and Margo Martindale to the list. Margulies rattled several other actors that included Michael J. Fox, John Benjamin Hickey. Mary Beth Peil and Stockard Channing, explaining, "Every day I was among masters of their craft. It was a master class in acting for me."
Speaking about her favorite aspects of playing Alicia Florrick, Margulies revealed, "When actors commit to doing a TV series their fear is that they'll get lazy, complacent and bored by playing the same character for that long. Up until we wrapped the show, every day I was challenged as an actor. I never for a second got bored. I always looked forward to peeling these layers off of her and finding out who she was. That was my ultimate gift form the Kings – they wrote a very complex character that I was proud to play."
Margulies talked about the show's legacy when it comes to other female characters on TV, saying, "I can only guess it's because they saw a successful show with a lead that allowed studio execs to say yes to scripts that have been sitting around for a long time. It's also a testament to the writing and people watching saying, 'yes, women leads are watched.' I think it opened doors for women all over TV."
Wanting to give praise that she feels is due, Margulies added, "I wouldn't want to take [sole] credit for it because I feel like when Kyra Sedgwick did The Closer on TNT, she started that movement because it was a highly rated show and at the time it was TNT's cash cow. By the time The Good Wife came along I thought networks were slowly starting to get it."
Robert King explained his philosophy on series finales, saying, "I don't think the best finales have to wrap up all of the loose ends. You want a last episode that resonates. If you get to the last show and you want to start over at the beginning with all 156 episodes, I think that's a triumphant." He points to series like Six Feet Under, Breaking Bad and The Sopranos as excellent examples of this.
Asked about Alicia getting a happy ending when all is said and done, Michelle King replied, "There's always a chance." She also wouldn't confirm or deny internet rumors that Josh Charles would be making an appearance as Will Garner or that Frist Lady Michelle Obama would be in the episode.
Margulies talked about reading the finale, saying, "It was hard. I read it once and I couldn't talk to anyone. I was emotionally confused. Then I read it again [and discussed it with my husband]. Then I read it with a bottle of wine that the Kings had sent with a note that said, 'Alicia should be drinking while reading this.' I poured a class and read it and then I could digest it. It took me a while to process it."
Czurchy admitted that he drank a bit while reading the episode as well, saying, "But I drank bourbon."
Cush Jumbo who plays Lucca Quinn, offered her thoughts on how fans will react to the finale, saying, "They'll be satisfied." She said that fans should trust that the writers won't let them down, adding, "They're not going to sleep with you and walk away. They're going to cuddle you for a while, and then they're going to leave."
Wrapping up her time as Alicia Florrick, Margulies said, "I want her to stay true to herself. I wish I had her answers all the time. I'll love her forever."
The Good Wife series finale airs Sunday at 9/8c on CBS.