"Thank you for coming to Happy Ending's bat mitzvah," said Amanda Stern, the founder of the music and reading series of the same name, to the sold-out audience at Symphony Space. Long a fixture of the downtown scene—when there was a downtown scene—the buzzy event had moved uptown last year, and loyalists gathered last week for the final show at its Upper West Side home (or, as Ms. Stern dubbed it, "Manhattan's Canadian border.").
Thirteen years into the series, Ms. Stern decided to close down the event to concentrate on her own literary endeavors. "I gave birth to Happy Ending in a small, decrepit Chinatown bar, and I raised my little reading series on the Lower East Side,." she noted. "We moved a lot, to Joe's Pub, the Box, Salon and now Symphony Space. Happy Ending is technically officially a teenager now, and I want her to see the world…and the world is Brooklyn," added the former self-proclaimed bad actress, middling comic and abused film lackey.
The theme of the evening was "This Life," a topic Ms. Stern described as "a celebration of lives lost well before their time, of young love and broken promises, of all that had to exist in order for every moment we call now to be realized."
Before the evening began in earnest, Ms. Stern rattled off a list of her proudest accomplishments. These included writing and starring in an off-Broadway play, kissing Ricky Schroeder and John Malkovich, picking a fight with Don Johnson and having two pen names—one that actually receives royalty checks. Still, she described Happy Ending as one of her greatest joys. "I'm hard pressed to find ways of expressing my gratitude to everyone who supported the series over the years and helped her grow into the strong, feminist teenage girl she is today," Ms. Stern kvelled.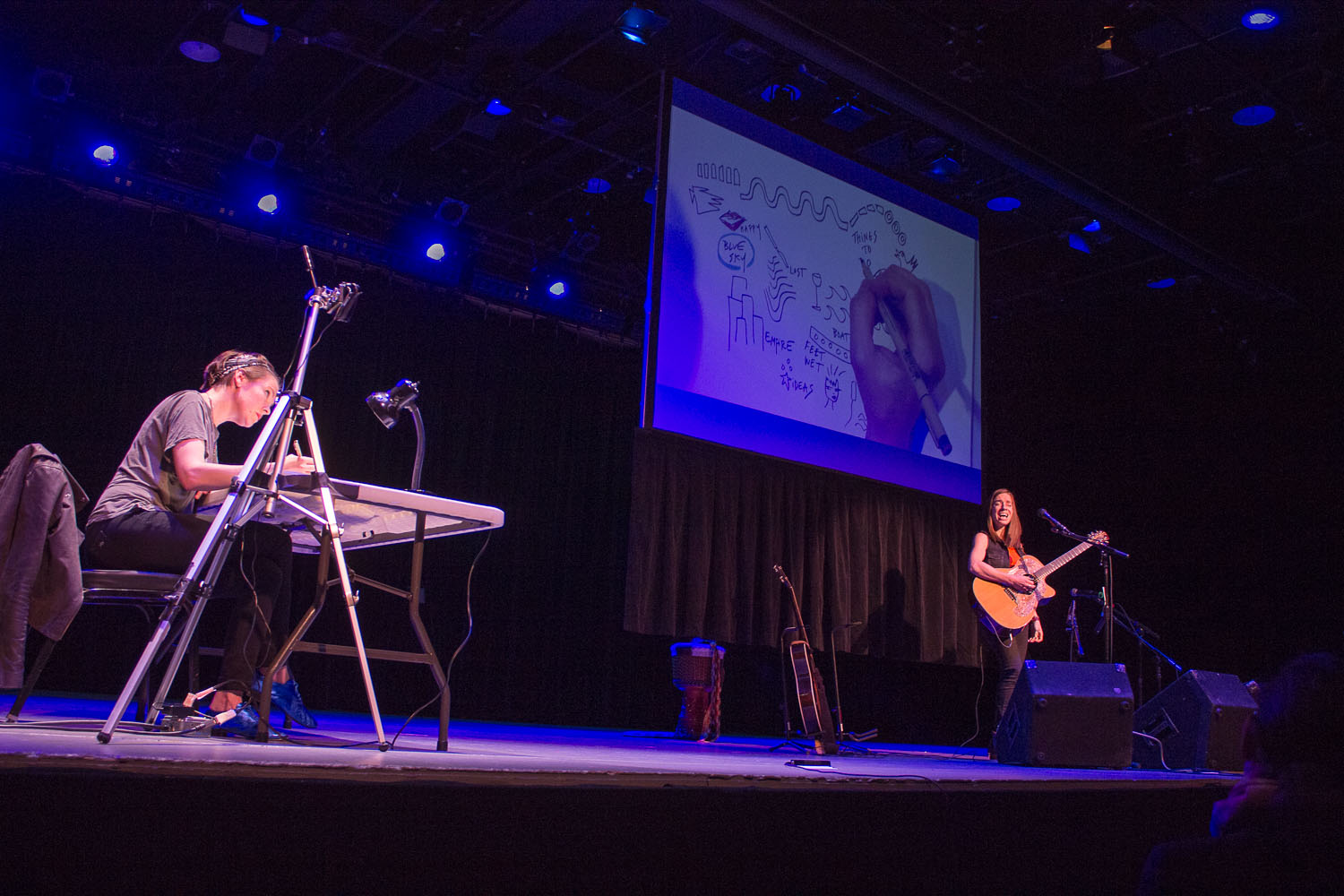 "A deep-spirited, life-sustaining, soul-altering friendship began four minutes ago between Ani DiFranco and me," Ms. Stern announced to laughter. Ms. DiFranco was a major get, though past performers weren't too shabby either. Acts have included Aimee Mann (who Ms. Stern had to "help her remember lyrics to a song I forced her to play"), Vampire Weekend, Moby, Lucius and Glen Hansard of Once fame.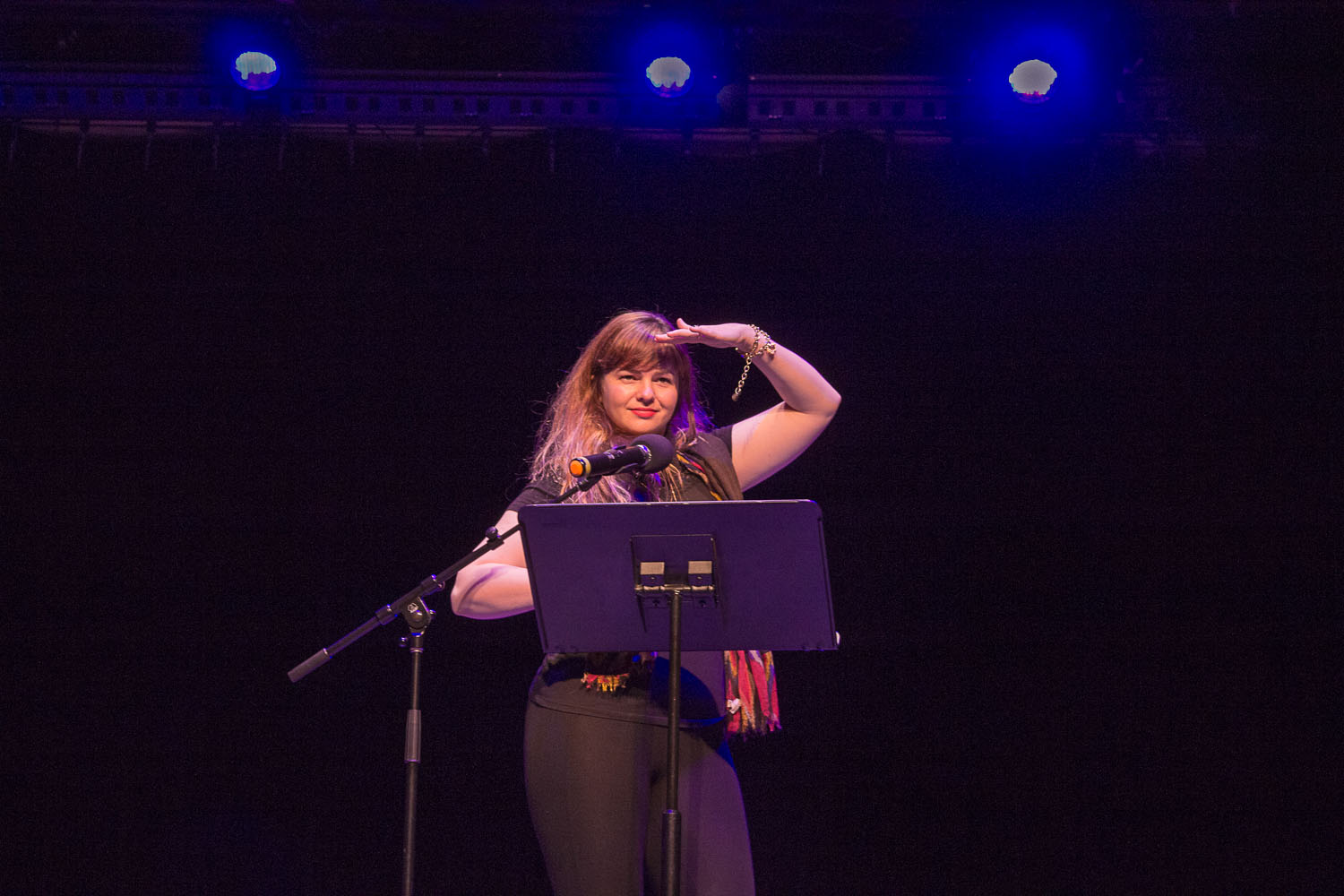 A Happy Ending evening typically consists of three readings and one musical performance, with all performers required to participate in one "risk" or dare. Previously, musician and author Paul Harding, best known for his Pulitzer Prize- winning debut novel Tinkers, read a few of his one-star Amazon reviews aloud; author and professor Hannah Pittard called her mom on Skype to tell her she wasn't a virgin. On Wednesday night, Belinda McKeon, the author of Faber Prize-winning novel Tender, read an overwrought entry from her 1999 teen diary about a boy who wouldn't go home with her. In a poignant moment, Charles Bock, author of the semi-autobiographical novel Alice & Oliver, brought out a signed poster Ms. DiFranco had sent to his late wife when she was going through chemotherapy. Actress and poet Amber Tamblyn then read the second teenage journal entry of the night about Ms. DiFranco, and acted it out onstage while Ms. DiFranco performed. 
Ms. Stern has mixed feelings about her baby growing up. "It's an interesting dilemma because I spend my time promoting and publicizing other authors, and they're doing the work that I'm not doing because I'm busy promoting them and creating this series," she explained.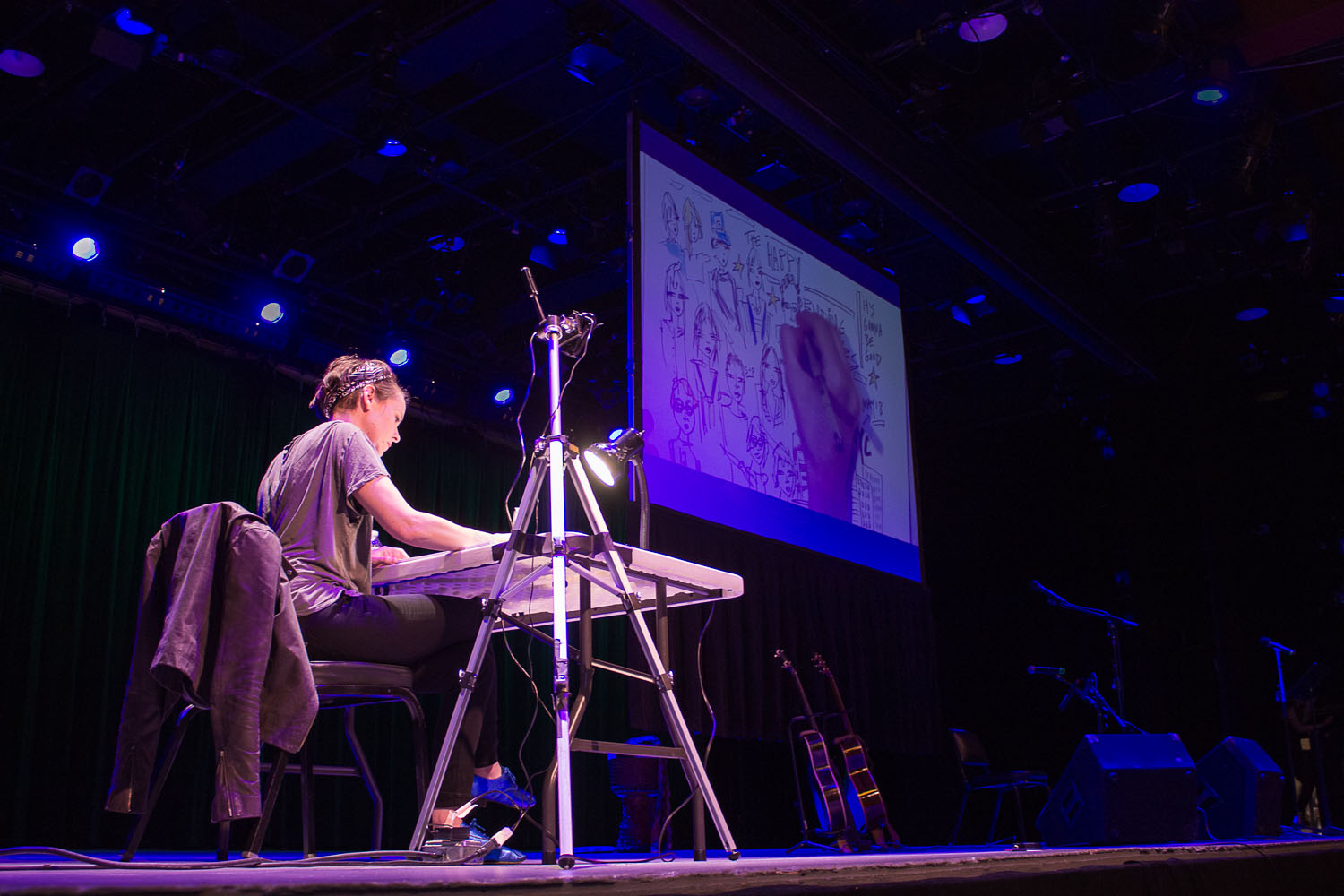 Writer Nelly Reifler was Happy Ending's first-ever reader, graduating to guest host when Ms. Stern was out of town. "I did the first risk ever," Ms. Reifler recalled. "I sang my Girl Scout camp song, and it was a great night. I was much younger, and I was quite drunk. I remember drinking two whiskies, and I had a teacher there who said, 'I never thought of you as that type.' "
This winter, Ms. Stern will begin recording Happy Ending podcasts at her her brother's Goop-approved yoga studio, Brooklyn Yoga Club. "It's hard for me to end this series," she reflected. "I get something out of it that's more than just attention."